Amazon FBA Vs Walmart WFS: Which One To Choose & Why?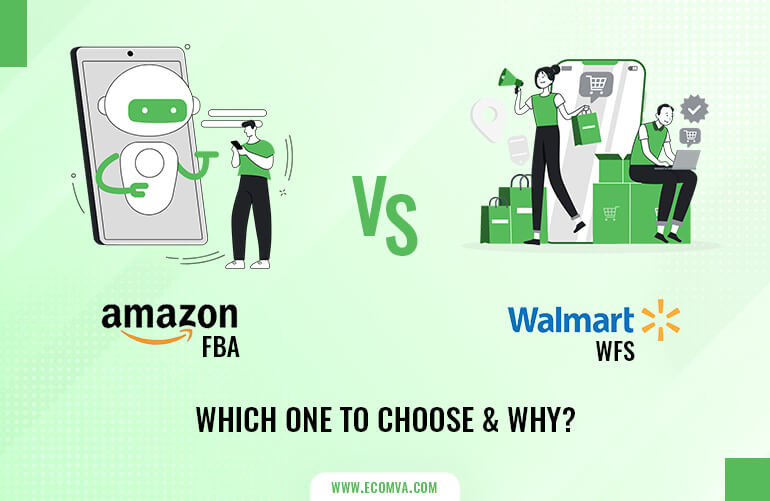 In the world of ecommerce, you need to be highly active to meet the demands and expectations of the customers. There are too many ecommerce sellers, increasing the competition to grow and scale your business effortlessly.
We will discuss some important insights of working with Walmart WFS and Amazon FBA virtual assistants. For years, marketplaces and retailers have been looking for a solution to dominate the market.
Let us give you a fair comparison between both services to ensure that you are making the right choice for your business.
What are Amazon FBA and Walmart WFS?
Amazon FBA
This is a service provided by Amazon to handle storage, packaging, and shipping while you run the business. The sellers are not responsible for the most complicated tasks and get the flexibility to boost their performance.
The process of this platform are:
Sellers get the products and ship them to the Amazon warehouse. They will provide all the important addresses and content information to the sellers.
The products will be stored at the Amazon fulfillment center until a customer places an order. They have enough space for storage, but the sellers will be charged based on the size and volume of the products.
After the order is placed, Amazon will manage transactions and updates in the inventory, which means the retailers do not have to deal with some hectic solutions.
The order will be packed and shipped by Amazon itself.
The retailer or business owner will provide customer issues and take follow up on orders.
While Amazon also manages returns and refunds.
After every particular interval, Amazon will send the profit from the sales.
Walmart WFS
This is Walmart Fulfilment Services, provided by Walmart to handle inventory, order fulfillment, returns, and customer support. It allows the sellers to manage other aspects of the business, which will boost growth.
The working procedure of the Walmart WFS is as follows:
It is important to join the seller community in the Walmart Marketplace
Set the products in the seller center dashboard, which needs to be perfect
Shipping the inventory into a WFS facility to handle orders easily and convenient
You have to deal with a cost-effective fulfillment solution for the sellers.
What are the differences between Amazon FBA and Walmart WFS?
1. Sign In
Amazon
The sign-up process is focused on customer experience. They ensure that everything is easy, readily available, and easier for the sellers. Some useful things that they provide are:
Tax details
Chargeable credit card
Identification
Contact information
Active bank account
It also provides great resources, tools, and apps to grow your online business. At the same time, you might require to hire Amazon virtual assistant to launch your products perfectly and generate better revenue. There is a single portal to manage everything like sales, payments, selling, and more.
Walmart
This might be a tricky place when compared to Amazon. The platform will only accept sellers capable of proving the success of their ecommerce business and registered platform. Some other necessary items are:
US tax ID number
Active bank account
Business detailsNow, you will have to complete a checklist comprising business information, bank account, shipping, and taxes. Also, the page accepts sellers only from the countries listed on the sign-up page.
2. Order Fulfilment
Amazon
It has a robust and well-established network available to complete orders. It is essential to take over important tasks to make it easier for the sellers. Selling the products through FBA means they will store, pick up, pack up, ship, and manage returns for the products.
Walmart
It has its network known as Walmart Fulfilment Services to provide the right inventory management services. The platform only allows completing shipments within the US. They also have limitations when it comes to the dimensions and weight of the package.
3. Profitability
Amazon
The sellers can update the product prices, which can be as higher or lower as they wish. If the product is unique, you can increase the cost to get complete control over the profit margins. You might want to hire virtual assistant that has all the knowledge and strategies to bring the best for your business.
Walmart
The platform has some price-related rules which hinder the seller's experience. It will remove the products if they can be bought at a lower price from another platform. Products with high prices due to the competition will also be removed. The main focus is on the low prices of the products for the customers.
4. Customer Base
Amazon
It has an estimated customer base of over 300 million. The recent expansions will have more warehouses to provide more storage space. It is safer to consider Amazon provides a safe option for people dealing with ecommerce business.
Walmart
It has a lower customer base when compared to Amazon. The platform has around 220 million customers globally after adding physical stores.
5. Tools and Resources
Amazon
It is known as the largest ecommerce platform globally, which means it has a wide range of premium sellers. Some amazing tools and resources will help you optimize your Amazon store's selling process.
Walmart
Selling on this platform requires dedicated tools to bring the best solutions for the business. Here, every tool has a specific goal, meaning you need to deal with multiple resources to work on the store and optimize it for selling.
6. Customer Support
Amazon
One of the best reasons behind this platform's success is how they handle customers. The company has a clear structure to prioritize the customers, build trust, personalize delivery, and provide solutions to customer issues.
Walmart
They also have a very responsive platform and provide around-the-clock customer support. This means they do maintain customer relationships by providing instant solutions.
7. Product Listing
Amazon
The permissible products depend on the category, as some require prior approval, some have complete freedom, and some need professional accounts. A skilled virtual assistant for Amazon seller will provide the products with a product identifier like a Universal Product Code, which is necessary for some products. It makes the product listing user-friendly by supporting videos, guides, and tools for beginners.
Walmart
The different methods used in this platform for product listing are:
API
Third-Party Tools
Seller Centre
On this platform, the seller must provide a product identifier for every product. There are methods to exempt, but the whole process is too complicated and might be confusing. There are many resources on the platform, but they have a specific prohibited product policy that should be considered during product listing.
Overall, they have a strict approach, making product listing time-consuming and tough for a beginner.
8. Shipping Services
Amazon
The FBA (Fulfilment By Amazon) provides sellers with an affordable method to outsource storage, packaging, and shipping products. They also manage the returns, exchanges, and customer service if required. You might want to get a VA for Amazon FBA that will help you to unlock the benefits like:
Getting a prime membership to provide featured listings with a prime logo
Special services like subscribing and saving products for the customers
Discounts for inbound shipments to the Amazon inventory
Free shipping for some orders
Great opportunities to scale the business internationally
Multiple channels to provide better customer services
Walmart
When it comes to WFS (Walmart Fulfilment Services), they provide end-to-end services at cost-effective rates. They have a few benefits:
Affordable two-day shipping at the peak times
Strong customer and seller support
Cost-effective shipping rates from the preferred carrier
Better visibility with tags on featured items
Great recommendations for customers
Real-time analytics to understand performance
Free shipping for certain products or customers
Online and offline returns support
What are the benefits of Amazon FBA and Walmart WFS?
Amazon
Strong Support: The whole platform is dedicated to making everything customer-friendly and building long-term relationships. They have 24/7 services to handle customers and provide them with efficient solutions.
Logistics Support: The platform saves money by providing the services to handle the products' storage, packaging, and shipment. So, sellers do not have to invest in such hectic tasks and easily grow the business on a large scale.
Discounts in Shipping: It has contracts with major shipping services, which means they have affordable deals. Sellers dealing with FBA will have to invest less in shipping and sometimes even get it for free.

Walmart
Two-Day Free Shipping: The WFS will be provided with your subscription program and deliver the products within two days.
Enhance Product Visibility: Some products will have tags like two-day delivery, which increases the sales of your product and boosts the revenue.
Clear Pricing: It manages the ecommerce business with a clean and simple pricing structure. Depending on the product's dimensions, there will be a monthly storage fee and shipping cost.
The Final Verdict!
The ecommerce business is different for every seller and product. People must adjust and bring unique strategies to beat the existing and dwelling competition in marketing. Be it an FBA virtual assistant or a WFS support system, people are looking for best practices to scale their businesses.
Amazon is a global service platform, which might give you a better opportunity. But you should also consider Walmart if you are looking for potential leads from the US. Ensure that you aim to provide a smooth customer experience and retain them with quality services.