9 Proven Strategies to Skyrocket Your Client Base as a Virtual Assistant in 2023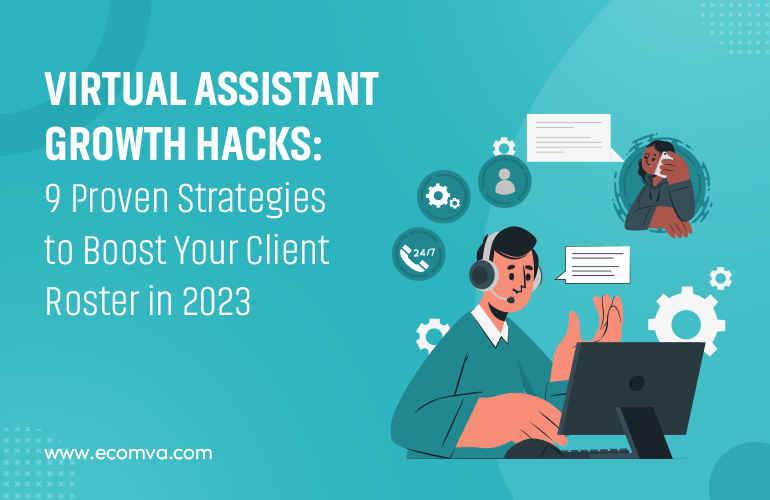 Are you a dedicated virtual assistant for Amazon sellers or looking forward to boosting your client base in 2023? Confused about what strategies you need to adopt to approach in the same direction? If your answer to these questions is yes, you have arrived at the right blog post! 
Here, in this comprehensive guide, we will focus on discussing the key strategies that help in increasing your client base as a virtual assistant. In this regard, you can even reach out to professional virtual assistant companies in USA to get the best assistance. So, let's get started:
How to Get More Clients as a Virtual Assistant?
As a Virtual Assistant or VA, it is imperative for you to secure clients for making a thriving career in this field. In this section, we will talk about the proven strategies that will help in expanding your client base and boosting your success in 2023:
  1. Establish Local Connections
You would be able to open up a whole new world of opportunities by focusing on building a strong local network. To do so, you should attend business meetups, networking events and conferences in your area. Engaging with entrepreneurs and local businesses can result in client referrals and valuable collaborations. If you aim to get referrals, you should consider asking your acquaintances, friends and anyone else in your social circle. 
The more people you reach out to, the higher your chances of getting new clients. In this regard, you can prepare some business cards and hand those to your friends and acquaintances at local events. It is regarded as one of the best approaches that you can adopt for reaching out to prospective clients who are looking forward to hire virtual assistant USA. Your primary focus should be to raise awareness about your business in your local community to reach out to more clients.
  2. Engage with Fellow Virtual Assistants
If you are seeking new clients, one of the easiest ways involves asking other Shopify virtual assistant. Reaching out to VAs who provide similar services as yours might offer you the best suggestions. 
They can even provide you with the names of companies and people that they have worked with in the past. You can consider joining social media groups and online forums and attending virtual conferences that are tailored to virtual assistants. Sharing experiences, tips and insights helps in building your knowledge and also results in potential client referrals.
  3. Encourage Current Clients to Write Reviews
Client testimonials are known to be powerful endorsements for the services you are dedicated towards offering. So, it is always a good idea to request feedback from your present clients. You should encourage them to write reviews on your professional profiles or website. Whenever you manage to collect positive reviews, it helps you to gain the trust of your prospective clients. 
They will get to know that you are efficient, polite, punctual and easy to work with, which will make them feel more confident in hiring your services. Thus, it is regarded as a great way to showcase your expertise and reliability. With more positive testimonials, you can easily advertise those on your website or portfolio, which helps attract more clients.
  4. Re-establish Contact with Previous Clients
Another fantastic way to get more clients involves establishing contact with the clients or virtual assistant companies in USA you have worked with in the past. In this regard, you should make sure to reach out to former clients with updates about recent accomplishments, your services, etc. 
You can consider sending them an email to inform them about your availability for future work opportunities and offer help to them. This way, you can manage to receive new projects or referrals. The best part about reaching out to old clients is that you only require to send a few emails to them, which does not involve an investment of a lot of effort and time.
  5. Maintain an Updated LinkedIn Profile
LinkedIn serves as a vital platform for professionals. Although it might not be the primary means by which you source your clients, reviewing the LinkedIn profiles of prospective hires is considered to be a standard practice in most industries. Potential clients or virtual assistant companies in USA are most likely to search for candidates on LinkedIn. Due to this reason, this platform holds a lot of opportunities for individuals who are looking for work. 
So, to leverage the maximum benefits of this platform, you should focus on keeping your LinkedIn profile updated with your latest skills, achievements and experiences. Also, you should join relevant groups, actively engage with your network and share valuable content to boost your visibility and attract prospective clients. Some other best approaches that you can adopt to ensure that your profile looks professional involve adding links to your site, adding former clients to your employment history, etc.
  6. Enhance Your Customer Support Experience
Any client hiring you is expecting quality work and smooth service. Due to this reason, you should focus on improving your customer support experience. Whenever you offer outstanding customer service, it helps set you apart from the others. You should be attentive and responsive and go the extra mile to meet the unique requirements of your clients. Also, it is important to make your pricing plans and services as transparent and flexible as possible. For example, if you are involved in offering specific services at set prices but also want to consider tailored requests, you should make sure to offer a consultation option along with your standard services. It will allow prospective clients or virtual assistant companies in USA to easily avail of your services.
Another important thing is to ensure that you always respond to client's messages promptly and professionally. You should also be honest and upfront about your work to avoid future issues. This way, you would be able to get satisfied clients who are most likely to refer you to others and become your repeat customers.
  7. Participate in Groups and Promote Your Services
Online communities and forums can turn out to be great places for finding prospective clients. You should focus on offering valuable insights, engaging in discussions and revealing your expertise to get maximum benefits out of this platform. One such platform includes Facebook, which you can use for promoting your business and as an active job board. You can even consider joining networking groups that are aimed at virtual assistant for Amazon seller, which allows you to get access to a vast number of opportunities. Some of these groups are involved in posting jobs on a daily or weekly basis. 
So, it is vital to frequently check them out. Another place that people often turn to at the time they search for a virtual assistant is Reddit. There is the availability of many Reddit communities that can prove to be beneficial for you. All that you need is to invest some time to conduct research about the platform and advertise your services. Checking those subreddits on a daily basis is also a good idea. Whenever any opportunities arise, you should try to respond to them at the earliest, which will help you to get discovered.
  8. Streamline Your Payment Process
An efficient and smooth payment system is crucial for ensuring client satisfaction. Due to this reason, you should always try to make it easier for clients to pay you, which in turn helps improve your customer service. 
In this regard, it is crucial for you to make use of secure and reliable payment platforms. You should make sure that your clients have clear instructions on how to make payments. It will allow you to offer multiple payment alternatives to them, which will help ensure their convenience.
  9. Monitor Freelance Platforms Regularly
Freelance platforms act as a central hub for clients or virtual assistant companies in USA who are searching for virtual assistants. So, it is suggested to keep a close eye on these platforms. Some of the best freelance platforms where you can find work include Flexjobs, VAInsiders and Upwork. To increase your chances of landing a client, you should consider frequently checking these websites. It can help you discover and respond to new posts and ultimately find the most-suited work for you. Also, make sure to frequently update your profiles on these platforms and actively bid on pertinent projects. Highlighting your experiences and unique skills helps you to stand out from the competition.
Another vital thing involves adopting a proactive approach to advertising your own services wherever you can. Reddit, Facebook, LinkedIn and many other similar websites are the best places to promote your services so that clients can reach out to you in case of their requirements.
Thus, the implementation of these strategies helps in expanding your client base. Not only that, but it also helps in improving your reputation as a reliable Shopify virtual assistant. However, it is crucial for you to remember that professionalism, persistence and adaptability serve as the key to acquiring and retaining clients.
Final Thoughts
All in all, mastering the art of obtaining clients as a virtual assistant necessitates a multi-faceted approach. By implementing the above-discussed strategies, you will be able to position yourself for success in 2023.