Your marketplace can thrive with product catalog optimization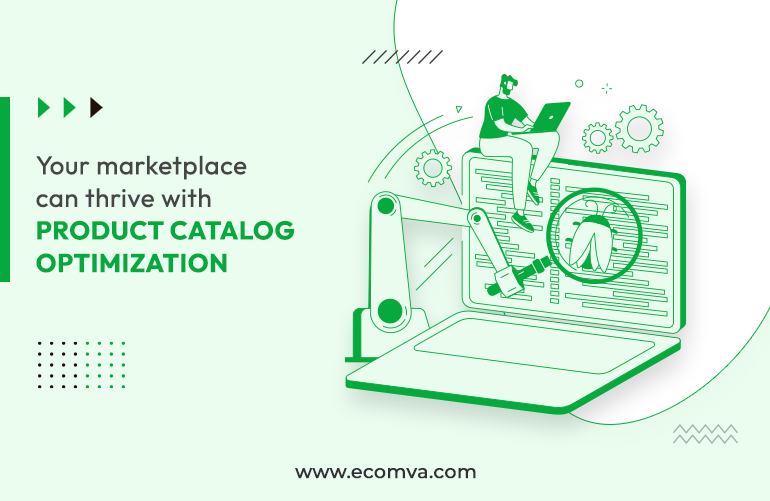 Have you looked into the customer journey on your eCommerce store? Many businesses have lost potential leads due to poor navigation and complex product catalog. 
What will be your approach to product catalog optimization? We will make sure that after reading this content piece, you will know your next step to generate better revenue with higher user engagement. 
As the business owner, you ensure a smooth customer experience and an organized website structure. 
What is an eCommerce product catalog?
This is known to be a detailed list of your inventory where the owner provides various information about the products and services. This will include images, pricing, shipping, specifications, descriptions, and more. 
Product catalog management is a process of keeping product details accurate, engaging, and consistent. It helps to ensure productivity when you expand the sales and marketing strategies. Also, the customers get access to information and experience to make a final purchase decision. 
Product catalog optimization is the process of organizing and structuring product information. This makes it easy for customers to find what they're looking for and for search engines to understand and index the products. 
This can include organizing products by category, using keywords and meta tags, and ensuring product images are properly labeled. It is a critical component of e-commerce SEO.
What are the elements of a product catalog?
CTA:

The Call-To-Action plays a huge role in the user's action on the store. Be it download, buy, share, mail, or anything. 

Credentials:

The customers' sensitive information that gives them access to your store and places an order. 

Description:

Informing customers about product usage and benefits. 

Features:

It is important to let the visitors know the unique features of the products and services. 

Dimensions:

This includes the size, length, height, width, volume, or weight of the product. It will help the customer to make the right judgment about the products. 

Deals:

This catches the user's attention and helps to make a purchase faster, as customers look for amazing deals and offers before making the final decision. 

Ideal Conditions:

It is crucial to mention the best situations and criteria for using the product. This might be the temperature, surroundings, temperature, or storage process,

Guarantee and Warranty:

In the online business, it is important to mention the guarantee and warranty of the products. 

Product Name:

It is crucial that your name is catchy and defines the product in limited words. 

Returns and Exchanges:

The conditions to exchange or return a product should be clearly defined with the product to avoid any confusion. 

Terms & Conditions:

The typical terms should be informative and precise for your products and platform. 
What are the strategies for product catalog optimization?
Update Information in Real-Time
As a customer, imagine you have finally shortlisted your favorite product, and all the efforts have gone in vain if it displays "Out of Stock" during checkout. This is one reason for the higher cart abandonment rate and losing potential customers. 
You are responsible for updating all the information in your store in real-time. Many tools and resources will help to automate such processes. 
Centralized Data Management
Dealing with an eCommerce store means you have to make a presence on multiple channels and ensure consistency on them. A centralized database gives you better control over the information and builds logical strategies. 
Some benefits of this approach are:
Easily create reports and analyses about the store's performance 

Remove data duplication and simplify the data management process

Lesser chances of product returns as you will be providing relevant and accurate information to the customers 
Quality and Engaging Images 
Did you know that your product image quality influences 90% of sales? They are considered the visual translation of the products to let the customers get an idea. Also, the appearance of the images makes a huge difference. 
It is important to ensure that your images have a fixed standard across the website, display different angles, have clean backgrounds, and are natural. With all this, it is important to ensure that your images do not affect the page loading speed and customer experience. 
Focus on Product Categories and Tags
Assigning categories and tags to the products help the customers to find the products faster and effortlessly. The common categories used are:
Product size

Color

Dimension 

Compatibility

Price 
The main focus of such information is to answer the customers' logical questions. Amazon product listing optimization is one process where products are added to the right categories and direct the customers to the ideal solution. 
Personalize Customer Experience
If your store maintains great relevancy while displaying authentic products to the customers, there are chances of higher returns. Effective catalog management will help the customers to find the right product faster and eCommerce store to generate more revenue. 
The best method is to provide a personalized experience by giving recommendations to the customers. To offer relevant products and services, you can integrate tools to gather customer information like age, location, interests, purchase history, price range, brands, and more. 
Define Website Structure
You should use the mega menu on the platform if you have a bigger product catalog. This enables the customer to explore new products and sometimes get a look at them. A detailed website structure ensures that you let the customer reach the destination within 3 – 4 clicks from the homepage. 
This also enables the experts to filter and categorize the products with multiple customer use cases. 
Know your target audience 
When you run a business, it is important to know the consumers who will bring revenue to your business. Even if you have created a quality product, your business may face losses due to poor judgment of the target audience. The right tool will help to gather the right information and generate better leads. 
What are the challenges of product catalog optimization?
Ensuring the product data is accurate, complete, and consistent can be difficult and time-consuming. 

Optimizing the search and navigation functions can be challenging. It requires understanding how customers search for products and finding ways to make it as easy as possible to see what they're looking for.

As the product catalog grows, it can become increasingly difficult to manage and optimize, particularly in ensuring data quality and consistency.

Optimizing the product catalog for multiple channels and languages can be a major challenge, as it requires adapting the catalog to different cultures, languages, and platforms.

Creating personalized product recommendations for different customer segments is difficult, as it requires a good understanding of customer behavior and preferences.

Keeping up with the competition and staying ahead of industry trends can be challenging, as it requires staying up-to-date with the latest technologies and best practices.

Protecting customer data is important when optimizing the product catalog and must be considered when collecting, storing, and using customer data.
Why must you pay attention to product catalog optimization? 
1. Improves User Experience
An eCommerce web page has images, reviews, pricing, and links to provide a better user experience. With the help of an eCommerce assistant, you can ensure consistency for different product categories and move customers one step ahead to make a purchase successfully. 
2. Boosts Productivity 
Be it a small business, content curators, or eCommerce store managers, everyone plays a crucial role in running an online store successfully. Adding products and their information accurately is an important responsibility. 
With efficiency in the product catalog, it becomes easier to manage information and ensure better productivity of the users, customers, and sellers. 
3. Better scalability and flexibility 
Product catalog management allows businesses to easily add, remove or update products as their product offerings change, making it easier to adapt to market changes and grow their business.
4. Enhance Brand Reputation
An organized product catalog helps boost conversion rates by reducing the customers' discovery and redirection issues. It ensures that your brand will deliver all the information to the customers to make informed decisions and motivate customers to make a successful purchase. 
5. Seamless Information Flow 
Applying the right strategies for product catalog optimization will ensure you have the ideal flow of information between your business's internal and external resources. It ensures that you have the correct product information on all the channels. 
6. Accuracy in information
You will lose potential customers if your store has the wrong product title or information compared to images. Sometimes your customers might not read the description as it is highly complex and might confuse them. Ensuring accurate and clean information is a crucial part of product catalog optimization.
7. Better data analysis
With accurate and organized product data, businesses can gain insights into customer behavior and preferences, allowing them to make data-driven decisions to improve their products, marketing, and sales strategies.
The final note!
We have disclosed the best product catalog optimization insights to bring your business better returns and target the ideal customers. It has become the necessity of the hour to ensure you keep up with the competition and get a great customer experience.