9 Tasks You Can Outsource to Ecommerce Virtual Assistant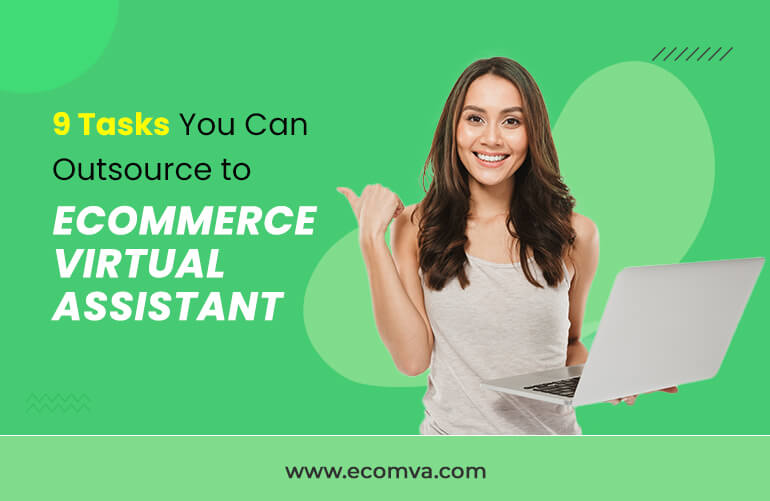 The innovations in technology have been empowering businesses for better solutions. Handling an ecommerce business means a great responsibility and challenges. An ecommerce virtual assistant service will help win the competition and boost the store's performance.
What is an ecommerce virtual assistant?
They are people that are used to handling everyday responsibilities and giving you time to focus on the growth of your business. The rise in online shopping has increased the workload on business owners. This might lead to handling repetitive and tiresome tasks for the company, which are avoidable if you hire a virtual assistant.
Let us look at some benefits of a virtual assistant:
Saves Time: They have the capability to manage routine tasks or any other that is time-consuming. This can be used to focus on the priority tasks of the business.
Vital Tasks: You can assign secondary tasks that need specialized skills. It allows you to focus on the growth of the business.
Quality Work: Virtual assistants have the right experience in every niche, which means they maintain quality standards. They are updated with the information, technologies, and trends related to your business.
Order Management: Admin tasks require too much effort and time. These tasks need attention, and a virtual assistant will prepare the reports to enhance the productivity of your business.
Cost-Effective: When you get a virtual assistant, you have to pay only for the task assigned.
What are the tasks that can be assigned to an ecommerce virtual assistant?
Ecommerce SEO Virtual Assistant
The main element to reach the top ranks in Search Engine Optimization. Various segments need to be handled to make your platform SEO-friendly. Things that an SEO virtual assistant is brilliant at are:
User-Experience: Website performance for visitors plays a huge role in SEO. Search engines prioritize the platforms with faster loading speed and responses to ensure a good experience.
Increase Target: It is inevitable to have a strong online presence of your brand on all the platforms. A virtual assistant will apply multiple marketing strategies to grow your business and reach a potential audience.
Link Building: This is the exercise to make the users stay longer on your platform or redirect them to lead. Link building virtual assistants will integrate trustworthy links that increase the chances of gaining visitors' attention.
Amazon FBA Virtual Assistant
Operating an Amazon business means spending too much time on repetitive tasks that decrease productivity. An Amazon FBA virtual assistant has the right experience in the market to handle the task:
Product Research: They will conduct proper product research and gather the right information. This includes the wholesale price, negotiation, securing samples, and stock management.
Competitor Analysis: Being highly efficient, they will generate reports for the competition in the market and build strategies to beat it.
Customer Support: Running an ecommerce business needs consistent customer service to gain positive feedback by providing a high-quality user experience. Your virtual assistant will create message templates, address customer issues, deal with refunds, product replacements, and more.
Shopify Virtual Assistant
Being a wide ecommerce platform that is already empowering a great number of businesses, it is your responsibility to integrate the best features. The Shopify store must be aware of the trends and demands of the industry. Some tasks you can assign to the Shopify virtual assistant are:
Generate Sales: They will increase the demand for your products by targeting the right traffic. A Shopify virtual assistant is familiar with the marketing strategies to convince users to get your products.
Store Setup: From creating an account to setting the basic tools, you need to be precise for an ecommerce store. VA will consider all the factors and use the best methods to meet the goals of your business.
Website Design: Your website look will define your brand in the online world. A virtual assistant website design will match your expectations and gain attention from the visitors.
Data Entry Virtual Assistant
This deals with entering data and updating in the electronic forms. The purpose is to maintain records with a clear structure. A data entry virtual assistant team has the right knowledge and resources to handle tasks like:
Data Entry: An ecommerce data entry virtual assistant will collect data and categorize them as per your specifications.
Data Conversions: They will convert the data from one state to another based on your demands.
Data Processing: format documents, reproduce records, check the accuracy, and process data with the right software and applications.
Data Management: It maintains the database, access data, and updates it regularly.
Graphic Design Virtual Assistant
This might be a great asset to your business as they provide high-quality design. With their technical skills and knowledge, this task becomes effortless. Some common tasks that a graphic design virtual assistant will be able to manage are:
Logos: This is the first thing you need to promote the brand on a large scale. They might look simple, but many things go behind. A graphic designer knows the right process to translate your brand into a visual presentation.
Social Media Graphics: This is something that you need to focus on to target users. An effective social media page will maximize potential audiences on multiple platforms.
Infographic Designing: It is one of the best methods that delivers visuals, marketing, and information. A virtual assistant will make it seamless to digest the information and increase the brand value.
Email Marketing Automation Virtual Assistant
The responsibility is big, from choosing an effective email marketing platform to sending emails. It is a win-or-lose opportunity. An experienced virtual assistant might help Email marketing Klaviyo and Dot Digital to use some unique features for a better and more effective approach. Let us look at some tasks you can assign a VA:
Template Designing: It is important to have a captivating template to impact the receiver. The audience will be expecting a consistent and attractive format. When you hire a VA, they will make a strong brand presence and deliver the right message in a clean design.
Scheduling Emails: The virtual assistant will schedule emails to increase user engagement. The emails should be on the spot for design, time, and appeal.
Organizing Emails: A useful feature is email automation that makes the process more approachable. This includes cart abandonment, challenging competition, purchase follow-ups, and welcome emails.
Walmart Automation Virtual Assistant
You always require a professionally trained and skilled person to generate revenue for your Walmart automation. Some tasks you can assign to a virtual assistant are:
Store Setup and Management: They will fill in the necessary details and validate the ownership. They are also responsible for maintaining the authenticity of the platform.
Product Addition: A virtual assistant will analyze the popularity and demand of products to generate better profits. Having the right collection means better chances to approach the customers.
Stock Management: Once you hire a virtual assistant, they will organize the stock, and you will never go out of stock. They will also build algorithms to understand the product demand in the future.
Dropshipping Virtual assistant
A virtual assistant is tech-savvy, which means they are familiar with the best tools, resources, and solutions to provide great customer services. Some tasks that you can rely on a dropshipping virtual assistant are:
Increase Profits: They will understand the market and sell the most profitable products. A VA will perform SEO and keywords research to increase your online visibility, leading to easily reaching the target audience.
Product Listing: The virtual assistant services provider will use the price maximization strategy to increase revenue and growth of the business. They will upload bulk products in a particular format to provide a great user experience.
Order Fulfilment: This includes receiving, picking, shipping, packing, and returning the orders. Each task must be handled properly to ensure a smooth experience on your platform.
Operations Management Virtual Assistant
These are your day-to-day processes that need to be done to run a business successfully. Identifying them and assigning them to virtual assistants is significant to save time and effort. Some tasks related to this process are:
Client Management: They will manage your client relationship and resolve their queries if needed. This might be dealing with project information, status, deliverables, issues, tools, or communication.
Handle Tasks: This is all about handling the deadlines and workload of the daily tasks. They will use the right tools, track time, monitor progress, deadlines, task assignments, and generate reports.
Business Management: It is time to make decisions that decide your business's success. Some of the minimal tasks are generating invoices, monitoring office hours, scheduling holidays, payments, referrals, and trusted partners.
The Final Note!
Getting virtual assistant services is a cost-effective investment to grow your business at a high pace. With the right knowledge, resources, experience, and skills, they are the perfect support for your business growth.