A COMPREHENSIVE GUIDE TO SHOPIFY STORE MANAGEMENT – MANAGE YOUR SHOPIFY STORE EFFECTIVELY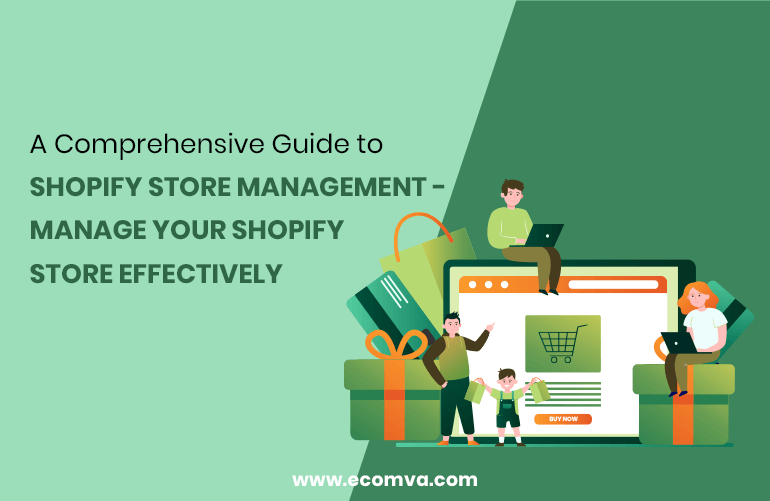 Shopify is one of the most popular and biggest ecommerce platforms globally, currently powering more than 1.7 million businesses worldwide.
The key features contributing to the platform's success involve its intuitive user interface, affordable and economical pricing, great merchant support from the platform itself, and the presence of several Shopify app developers. 
Shopify merchants' online sales growth was found to be approximately 59%, more than double the worldwide eCommerce market growth. However, to achieve success as a Shopify merchant, you will need to focus on seamless Shopify Store Management. 
Fortunately, Shopify offers several tools to streamline your store management and present an immersive shopping experience to your customers. Shopify store management involves inventory management, marketing and promotions, and streamlining the sales funnel. 
The best part? You can hire professional experts to manage Shopify Store.
This article will discuss what Shopify is and how you can optimize your store management to achieve maximum sales. 
Without any further delay, let's get started!
What is Shopify?
Shopify is one of the largest, most favorable, and prominent E-Commerce platforms used by small and medium businesses as well as established brands to build online stores for selling products via websites or social media. Small businesses having brick-and-motor stores can use the point-of-sale or POS software for utilizing the Shopify platform. 
Shopify offers several add-ons that can be utilized by professional Shopify Store Management Services to help you get maximum benefits from the platform.
Noteworthy Shopify store add-ons include Shopify Payments, used for accepting credit cards; Shopify Shipping, which facilitates the generation of shipping labels and shipping discounts and Shopify Markets which enables international business operations. Those add-ons might entail additional charges.
How Does Shopify Store Function?
With Shopify, small businesses can get an online Marketplace established quickly and easily. Here's a summary of how Shopify works:
Develop Your Store
Shopify offers over 70+ store themes and several drag-and-drop capabilities to simplify the store building process. You have the choice to customize the colors, product images, store content, and fonts to align with your brand. You get the option to add unlimited products within your store. You can hire experienced Shopify Product Store Management services to make the entire store set-up and management easier.  
Establish your payment process
Shopify Payment is an independent service that enables you to accept credit cards from your customers. 
Include a Buy Button with Embedded Product
Using a "buy button," you have the option to embed a product card and facilitate checkout through a social media platform or another website.
Leverage multiple sales channels
As a small business, you can leverage multiple sales channels apart from your website. You can use the Shopify platform to list your products on Google, eBay, Walmart, Pinterest, Facebook, Instagram, and several other sites. 
Track and manage your business. 
Shopify has a fully-functional and practical dashboard that displays reports, analytics, and other information on both desktop and mobile interfaces. 
Shopify allows you to manage Shopify store from a mobile app as well. You can upload product images, set the prices, deal with exchanges and refunds, analyze your sales and traffic, receive order notifications, and communicate with your staff. 
Who Can Sell On Shopify Platform?
The Shopify platform can be incredibly beneficial for businesses venturing into product-based offerings. Shopify's unique features are explicitly crafted for uplifting online businesses. 
Additionally, if your business model is dependent on repeat purchases such as household products, apparel, lifestyle, and health products, Shopify add-on features can make your business profitable by making the purchase process easier and faster for your customers. You can enjoy enhanced customer loyalty and reduced risk of abandoned shopping carts. 
With professional Shopify Store Management, you can quickly set up your business marketplace and ensure smooth operational management. 
Apart from product-based brands, the following service-based businesses can also benefit from the Shopify platform:
Appointment-based services 

Paid membership services 

Consultations (online and physical)

Experiences

Digital products

Event support

Professional classes, lessons, and workshops

Rentals

Installation services

Charity and donation management services

Event tickets

Digital gift cards
Shopify Store Inventory Management
Inventory management is a vital component spect of any ecommerce business. Without active inventory management, you will fail to establish a strong foundation for tracking inventory and correctly reflecting the availability of your products on the online store. Consequently, it will lead to dissatisfied customers, reduced sales, and, in many cases, a pile of unsold products. 
Professional Shopify Store Management Services can streamline your inventory management process.
Importance of Shopify Store Inventory Management
Shopify inventory management offers the following insights:
Customer buying patterns, online browsing behaviors, and preferences

Financial store performance and overall business profitability

New business opportunities and product ideas

Evolving consumer interests and purchasing trends
The industry-leading Shopify Product Store Management software provides a practical structure for brands of almost e every size and scale, providing them the framework required to establish and run a profitable retail business.
5 major components of Shopify Inventory Management
Individual listings inventory
Define individual listings for every product and organize them by several filters such as category, type, usage, occasion, etc. Each listing encompasses an inventory field that can be manually adjusted.
Manage several variations of a particular product, all in a single platform. You can develop several versions for a single product to reflect sizes and color variations and customize the pricing, weight, SKU code, and inventory number for every variation. 
By using Shopify's bulk editor, merchants can manage Shopify store inventory quantities for multiple product variants and locations. When you import bulk inventory, they'll be shown in rows and columns of data, giving you a similar layout to a spreadsheet for easy management.
Log, track, manage and receive transfers between your suppliers and warehouse locations. For third-party fulfillment services, it is recommended that you use an inventory management tool or software. 
As a business owner or eCommerce store manager, you need to have a complete overview of your store's inventory history for a product or variant. Tracking history helps you determine several aspects of customer buying patterns and plan future stocks accordingly. Inventory history entails important dates, details of the person ( through unique identification code or name) who made the change, the details of the particular adjustments, and the updated quantity.
What are the best tools and software available for Shopify product store management? 
Professional services for Shopify store management use several tools and software for efficient inventory management. Some of the industry-leading tools which have proven to be expert favorites include:
Skubana

Inventory Planner

SkuVault

StoreAutomator

Inventory Source
These software and tools have become incredibly popular due to multi-warehouse and multichannel functionality, automated order routing, purchase orders creations and inventory replacements, comprehensive analytics and reporting features, cross-channel functionalities, and much more. 
Shopify Store Promotion and Sales management
Another vital part of Shopify store management is maintaining a streamlined and strategic process for marketing your business and boosting your sales.  
While inventory management helps you keep track of your stocks, promotion and sales management deals with ensuring that the product and services get maximum visibility and acceptance from customers. 
A Reputed Shopify Product Store Management Services agency ensures both inventory and marketing management. 
Best practices for improving marketing and promotion of your Shopify Store
To help transform your dream of owning a successful business into reality, professional agencies follow several best practices to market your Shopify store effectively.
Engage your target audience on social media

Run personalized email marketing campaigns

Leverage influencer marketing by partnering up with industry influencers

Prepare content strategy and invest in blog postings

Stand out with rich snippets 

Invest in paid ads and PPC ads management

Attract customers back to your website or store with web push notifications

Launch a referral marketing program

Optimize your store for the search engine algorithms

Collaborate with similar brands and media sites

Add FAQ section for SEO and improved user experience

Invest in Print ads and offline campaigns
Before hiring a professional Shopify store management agency, confirm the marketing services they provide. Some agencies have expertise in inventory management, while others provide both inventory and promotional management. Choose a service package that suits your unique business requirements. 
What Is Included Within Professional Shopify Store Management Services?
Comprehensive store management services

: Involve active management of the store's daily operations, website designing, web hosting, payment processing, marketing efforts, and fulfillment.

Inventory Management

: Inventory management is vital to any business' success. Excessive inventory will reduce cash flow and add up to old stock waste. However, limited inventory would increase the risk of customer dissatisfaction and poor brand image. Therefore optimizing inventory is the best practice for successful business operation.

Fulfillment Services

: Fulfillment services involve order acquisition process and efficient and accurate order delivery from your online store to the customer's doorstep.

Customer Service and Delivery Consulting

: Professional Shopify Store Management

experts are well-trained in offering sophisticated customer service delivery strategies.

App Integrations and Updating

: Help you automate operations through powerful app integration that saves several hours of precious time, resources, work, and money.

Blog and content development and editing

: To consistently increase your search rankings and user experience, professional SEO writers can help you develop, update and publish high-quality and targeted marketing content ( blogs, videos, infographics) and product descriptions.

Support and maintenance

: Professional experts help you with the maintenance of a consistent store database, troubleshooting, and website audit with detailed reporting. 
15 Tasks A Shopify Virtual Assistant Can Do For Your Business
Conclusion 
Shopify offers an incredible platform for small businesses to build their brand and succeed in the market. With professional assistance for store management, you can easily amp up your business and create a brand name for yourself in the market. What are you waiting for? Connect with our experts today to start your store management journey.