9+ Actionable Strategies for Shopify Store to generate better sales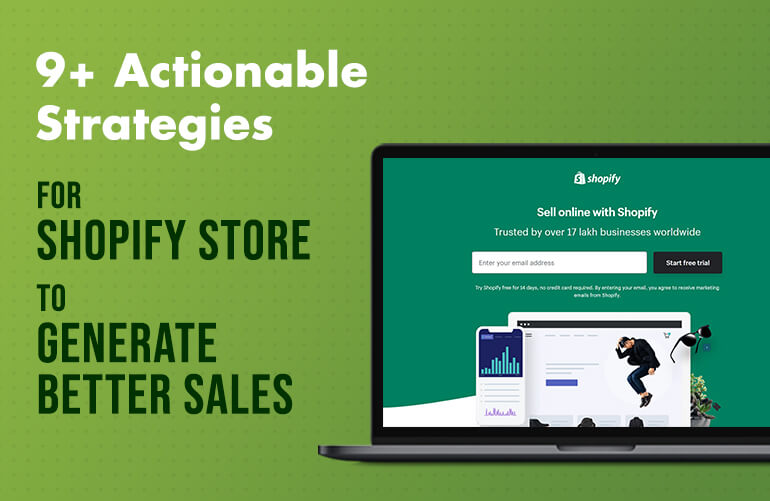 Looking for more Shopify traffic? What affects your Shopify Growth? How will you generate better sales for your business? Have you invested the right amount of time and effort to set up your store? 
To succeed in the e-commerce world, be like the epic dialogue in The Godfather,
"I'm gonna make him an offer he can't refuse."
You need to have a Shopify store with the best products that visitors are drawn towards. As a salesperson, you must present the best deals that people can't refuse.
Why do you need to drive traffic to the Shopify store? 
Once you increase traffic on Shopify, it will build the bridge between your store and customers. To keep it simple, the less Shopify traffic, the fewer buyers. Some methods of e-commerce marketing help to reach potential customers and increase brand awareness.
It is vital to present your Shopify store to the customers to generate sales and earn profits. Otherwise, you might get higher bounce rates that will affect your rankings on the search engines. This will lead to losing customers and affect your brand value in the e-commerce market. 
Some reasons you have low Shopify traffic are: 
You might be targeting the wrong demographic 

There is a chance you have added poor quality images

Have missed improving the quality of feed 

There is no Call-To-Action on your website 

Missing social media links 

Have not added informative or contact details 

You have forgotten to generate policy pages for refund, return, or exchange 

Do not have a navigation menu 

The design misses delivering your brand idea and gives bad user-experience 
What are the main sources to drive traffic to Shopify stores?
You must use online tools to monitor your Shopify growth in the market. The sources to reach your platform and the number of visitors you get. There are many resources available online, but the ones that are dominating are:
Search: Paid and Organic

Many customers will directly go to search engines for shopping. Here, you can reach them through paid advertisements or gaining top ranks on the Search Engine Result Pages.

Referral

This is the traffic generated from other sources in the digital market, not the search engines. Generally, this comes from the third party linking to your Shopify store directly.

Social Media

This part of the traffic is generated from social media platforms. You need to post recent updates and maintain consistency on your social media profiles to engage users.

Email Marketing

You need to perform email marketing campaigns to reach your customers. It will tell you how well and effective your user engagement is through emails.

Direct

This refers to the direct Shopify traffic when someone already knows your URL and adds it into the browser directly. This happens when they have already visited the website and remember your URL.
What are the strategies to generate sales on your Shopify store?
Conduct a Content Marketing program

Every e-commerce business should try to add a blog section to improve rankings and connect with customers. If you already have this section, then consider maintaining consistency in featuring blogs on your online store. 

There are many methods to enjoy the benefits of content marketing: 

Work on a podcast to connect with the experts and build a strong community

Guest post on other genuine websites to generate backlinks 

Add guides and long-form content for the customers 

Using the right methods will boost your rankings on the search engines.

Use the powers of search engines

They are the best method to generate Shopify traffic and enjoy Shopify revenue growth. It would help if you worked on the Search Engine Optimization of your store. If you think, how many times have you gone through the 2, 3, or 4 pages of the search engines? For an effective SEO, you need to focus on the keywords, user experience, page loads, and bounce rates. There is more to SEO that helps in driving organic traffic. 

Gain better rankings

Some strategies that will help in achieving top ranks are:

Keywords:

Check the keywords that your competitors are using and link with your Shopify store services. Adding the right keywords will ensure that you reach the target audience. 

Quality Content:

Ensure to add high-quality content which is simple and informative for the readers. 

Titles and Meta Description:

Prefer adding ideal keyword phrases in this section for a better conversion rate. 

Internal Linking:

This provides an opportunity in the Shopify store to increase user engagement. Add links from one page to another but keep it easy and smooth like connecting dots. 

It would help to keep your platform interactive by adding blog posts, podcasts, e-books, or videos. This will improve your customer journey. 

Introduce Referral Programs

These are also known as the win/win situation. You can introduce this when you achieve a certain goal and provide some incentives to loyal customers. When people look for new platforms, they turn to their connections, and if you have interesting offers, your Shopify store will come up. 

Plan and Research

Begin by knowing your targets and ensure that your promotions make sense for your business. Here are certain things you might want to try to ensure Shopify revenue growth:

Refer X amount of connection to get some credits

Have X amount of people to make a successful purchase to get some discount or free products 

Buy some amount and get cash back for the same 

Give free goodies after subscription 

Make sure these help in generating sales for your Shopify store. Inform your customers about each program you introduce to your platform.

Build Profit-Driven Email Campaigns

You must plan your campaigns, such as every investment you do must bring some Shopify revenue growth. Email marketing is the most cost-effective method to reach potential buyers.



Image Source: DataFeedWatch.com

You can add categories in the below segment:

Users:

One-time users, first-time users, cart abandonment users, and first-time users

Emails:

These might be marketing, promotional, or transactional emails

Build your Email Copies

Create an Email copy for every segment of your Shopify store. Some emails you can work on are:

Welcome emails 

Successful Order Emails 

Abandonment Reminders 

Post-Purchase Emails 

Re-Engagement Emails 

Recent Updates of Deals 

Personalize your emails to grab readers' attention. Do not spam the customers as it might lead you to the spam folder. You have an option to outsource some Email marketing tasks to Shopify Virtual Assistant.

Add User-Generated Content

This helps to build social proof about your products and services. When your visitors look at the quality service reviews, they will feel more confident to purchase from your Shopify store. Over 54% of the visitors trust the information from the recommendations and reviews. This means you have an opportunity to generate sales on your Shopify store.

Make your store mobile responsive

More than half of the online traffic is generated through the mobile device. It is crucial to make your platform mobile-friendly. Design your website by keeping in mind mobile visitors. Make it easier for the customers to access your features and functionalities on every device and browser. You might want to get help from the Shopify VA for better assistance and making your website responsive. 

Add Wishlist Support

This feature is similar to the window-shopping experience for the customers. Sometimes Shoppers are in doubt about certain products. In such cases, let them save it in the Wishlist. You can use their curated list to send emails, know their interests, and more to stay connected. 

Upsell and Cross-Sell Products

A customer might not always know what they want from your Shopify store and need some guidance. By providing more options, you might want to upsell and cross-sell the products on your e-commerce platform. 

In some cases, you group some products and sell them as a bundle at a higher price. Sometimes, they suggest relevant products on the product page or checkout page. Shopify has various tools that support cross-selling and upselling of products with great deals. 

Make your landing page effective

A great landing page leads to higher conversions which will bring Shopify growth. At the same time, some fail to convert visitors by having ineffective CTAs, slow page loads, poor designing, and too much information.

Some must-have features on your Shopify platform are:

Straightforward Call-To-Action buttons 

Interesting headlines 

Appealing images and videos 

Accessible contact us details 

Social proof 

This will provide all the relevant information about your services to the customers.
What are the metrics you must track to know Shopify revenue growth? 
This can be a daunting process for the Shopify store as tons of data need to be tracked. Some vital segments are:
Revenue:

This is the total sales your store is generating. It would be best if you dive deeper to know what influences the sales both positively and negatively. 

Returns on Ad Investments:

It is the perfect metric to measure the success of your paid campaigns. This lets you know if you are spending more and generating less revenue. 

New VS Returning Customers:

As your store grows, you need to know your loyal customers. The cost to acquire a new customer is higher than a returning customer. 

Average Order Value:

This displays the amount of money customers are spending on a single purchase. 
The Key Takeaways!
We have shared some key vitals on the Shopify world, which will definitely boost your sales. You are always advisable to connect with an expert Shopify Virtual Assistant for the tasks where you feel stuck. Also, contact us now! We have the best resources and knowledge of the Shopify world, bringing better sales for your business.