A Step-By-Step Guide to Hiring Amazon Virtual Assistants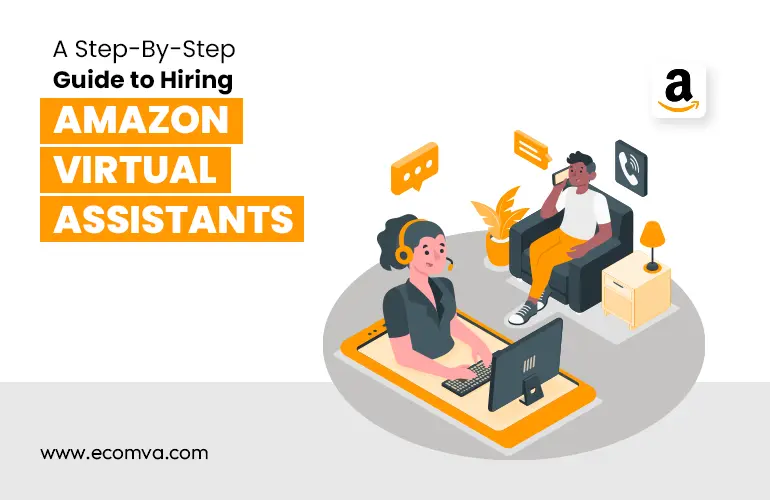 Are you planning to choose Amazon virtual assistant services to assist you in effective management of your business? If yes, then you have made a great decision!
Amazon virtual assistants can be a valuable asset to your business as they can assist you with task delegation. It helps you to concentrate on other critical core business activities. 
Multiple benefits are associated with hiring a virtual assistant. They possess the ability to handle diverse tasks, which range from administrative work to product sourcing. In turn, it leads to increased productivity and streamlined business operations. 
Moreover, compared with hiring in-house employees, Amazon virtual assistants often provide a cost-effective solution; in this case, you do not have to worry about benefits and overhead expenses. 
However, if you wish to find the most suitable VA or virtual assistant for your business, you should invest considerable time in detailed research. Also, consider comparing to discover the best one for your needs. 
If you are unsure about the particular steps to make the right hire, then all you need is to continue reading this blog post. Here, we are going to guide you through the process of hiring a VA. Let's find out: 
Who are Amazon Virtual Assistants?
Amazon Virtual Assistants are professionals who are involved in working remotely within your business. It helps in easing some of your work and responsibilities. 
By opting for their assistance, you could lighten your workload and invest more time towards carrying out essential business activities that promote the growth of your business. As a result, it lets you scale your business and ensure your store is in great shape. 
Based on their expertise and skill, you can offload different time-consuming tasks in your schedule, ranging from tedious tasks like product listing to critical ones. Depending on your business requirements, you can consider hiring them for full-time, part-time or a specific product. 
Why Should You Hire Amazon Virtual Assistants?
Here are the three big reasons why you should consider hiring a virtual assistant:
   1. Boost Your Earnings
Amazon Virtual Assistants possess the experience and skills to propel your business to a new level. They can assist in optimizing your ads and help you to receive more sales. All of this helps considerably increase your profit. 
   2. No Need to Pay for Extra Equipment
As already mentioned in the above section, these professionals work remotely. So, it means that they already possess their equipment. As a result, you do not have to be concerned about buying new furniture, computers and workspaces as they already have those. 
   3. Only Pay for the Particular Services You Need
Amazon virtual assistants are independent and private contractors. So, they get paid per-project basis or the hours they have worked. As they are not your employees and thus, you do not have to be concerned about paying them health benefits and insurance premiums. 
Critical Steps That Are Involved in Hiring Amazon Virtual Assistants
Here is the step-by-step process that you need to follow to hire the best Amazon virtual assistant for your business requirements: 
Step 1: Define Your Requirements Well
The first and most important step involves identifying your specific requirements. As a part of it, you need to compile a detailed list of tasks for which you would need assistance. 
Another important thing is to consider specific factors like the task complexity, performance frequency and if that requires specialized experience or skills. You should also consider the amount of time you are allocated towards onboarding and training a new Amazon virtual assistant. 
Once you are clear on your requirements, you must begin searching for a virtual assistant who aligns well with your specific needs. To ensure that you only hire the best fit, you should thoroughly assess prospective candidates' experience, skills, communication style and availability. 
Step 2: Search for Virtual Assistants Who Can Effectively Cater to Your Business Objectives
As a part of the next step, you need to look for virtual assistants. There are different avenues available that will help you to locate Amazon virtual assistants or virtual assistant services USA. Below, we are going to discuss a few major ones. So, let's find out:
You can contact a VA agency that can connect you with professional virtual assistants with the desired skills and experience. These agencies are involved in maintaining a curated pool of pre-screened virtual assistants. It helps in effectively streamlining the overall hiring process, saving you valuable time. 
You can rely on various social media platforms like Facebook and LinkedIn to find the most suitable virtual assistant for your requirements. 
Several VAs are involved in maintaining their profiles on these particular platforms, which showcases their background and expertise. You can ask about their availability and comprehensively discuss your unique business requirements by directly reaching out to them. 
You can even explore freelance job boards such as Freelancer or Upwork to search for the best virtual assistant for your business. These are the places where you can post job listings and get proposals from genuinely interested Amazon VAs. Assessing different VAs' profiles will let you come across individuals who can perfectly cater to your specific goals. 
One of the easiest ways to discover and recruit Amazon virtual assistant services is to use your connections and ask for referrals based on their recommendations. 
You can join relevant Slack channels, LinkedIn communities or Facebook groups tailored to Amazon sellers for referrals. Within these networks, you can easily convey the specific skills you seek so that others can provide valuable recommendations. 
Step 3: Access the Portfolios and Resumes of the Shortlisted Ones
It is the most crucial step in locating the perfect Amazon virtual assistant for your requirements. While reviewing the resumes of different VAs, you should focus on their experience and skills. Check these, especially in relation to the particular tasks for which you require assistance. 
Along with that, it is also recommended to request references or samples of their past work. It will help you to get a clear idea of their skills, experience and capabilities. Ultimately, you can determine whether they are the right fit for your Amazon FBA business or not. 
Step 4: Conduct Candidate Interviews
After you have narrowed down your list by closely accessing the resumes and portfolios of different candidates, it is time to conduct the interview process. It is regarded as the best way to assess their skills thoroughly. 
During this process, you need to ask necessary questions regarding the skills and experience of the virtual assistant. By doing so, you can gain a deeper insight into their capabilities which will help you to know whether they are compatible with your business. 
Along with that, it is also suggested to inquire about their communication style and availability. It will ensure effective collaboration.
Below are a few significant questions you could consider asking an Amazon virtual assistant in an interview. You can ask similar types of questions when you hire Shopify virtual assistant. 
What are your expertise and skills?

What is your overall experience as a virtual assistant?

Do you hold any relevant diplomas or certificates?

Do you have any experience working with my kind of product?

What are the approaches that you adopt for dealing with confidential company data?

Are you comfortable with having regular feedback calls?

What are your working hours?

What are the specific skills that help you to stand out from the crowd?

Which tools do you commonly make use of?

What software and tools do you have experience with?

Are there times you prefer taking time off, like holidays?

Do you agree with my payment model?

Are you currently working with other clients?

Do you charge extra for certain things?

Are you comfortable with signing an NDA and contract?

What are your charges per month or hour?

What is important to you about your employer? 

Is there any specific area where you would like to improve?

And a lot more.
Other than asking your prospective Amazon virtual assistant these questions, it would be best if you could assign a trial task to them. It is an outstanding way to gauge their abilities and evaluate their performance which could ultimately lead to a more informed hiring decision. 
Step 5: Have Clear Expectations in Mind
Finally, while choosing Amazon virtual assistant services, you should clearly understand your expectations. For this particular step to work, you should effectively communicate the tasks for which they will be held responsible. 
It involves outlining specific responsibilities like product sourcing, data entry or administrative work along with general obligations such as the procedures followed by your company. You should provide instructions and guidelines to help them effectively fulfill their assigned tasks.
Along with that, it is equally important to define communication protocols. Their protocols typically include the preferred contact methods and the frequency of check-ins. By doing this, you can maintain consistent and transparent communication with the virtual assistance you have chosen for your business.  
Concluding Thoughts
So, after knowing about all the above-discussed steps in detail, we are sure that you can easily hire the best virtual assistant that will provide maximum benefits to your business. 
To increase your chances of making the right hire, it is strongly recommended to approach professional virtual assistant companies in USA. These particular companies possess the best-in-class resources, so it is best to rely on them for your requirements.