Social Media Listening a definitive guide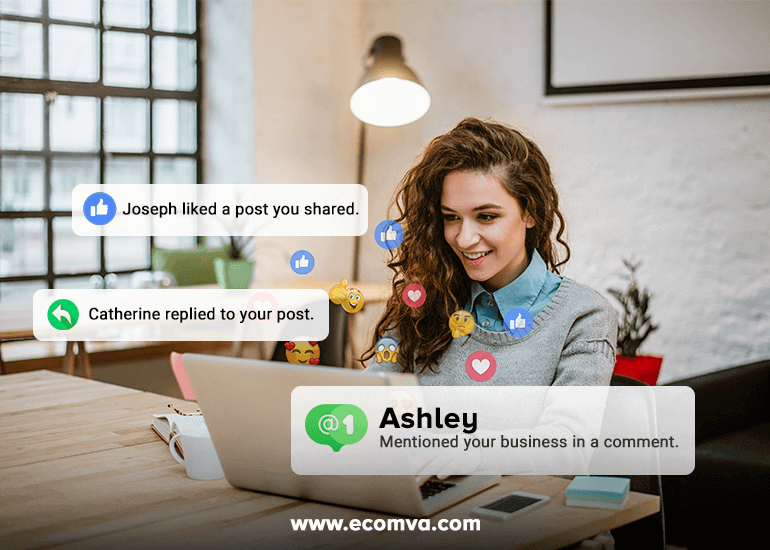 Aren't you curious to know about what your online audience is talking about you in the market? You might have thought or indulged with the Virtual Assistant Services to gain the right insights of your business. The digital world is a big platform where missing a single piece of news can affect your business performance. This blog will discuss how Social Media Listening services play a prominent role in connecting with the target audience. 
What is a social listening service?
It is the process of looking at the mentions of your brand on various social media channels. This can be a direct mention of your brand or discussion forums. The right e-commerce virtual assistant will look for specific keywords, competitors, industries, or topics to gain your business insights. Social media monitoring deals with keeping track of the conversations and mentions. It does not deal with analysis and responses for your brand.
While for social listening services, they will look for the root cause behind the conversations and help build the right strategies. They can help to create the content which your followers are expecting. Following the latest industry trends helps in improving customer interaction with your platforms.
Who can use social listening?
Business to Business:
They have a significant number of potential customers for their business. Their social media platforms play a vital role in the conversion rate. Here are few tricks to establish social media listening services that will help to meet business objectives:
 

Unless your business has high consumer crossover, your brand is bound to receive fewer conversions. The fact is, some companies cannot get potential customers even after receiving higher conversions. Even small data can be more valuable if you have the right tools and virtual assistants. 

  Many online businesses fail to have a robust online presence. Virtual assistant services

can help target the right audience. As they can track online conversations and help to add meaningful content. 

 

With the help of Virtual Assistants, you can quickly know when someone is writing negative comments about your business. Don't shy away from responding to criticism. Instead, respond to them instantly. This shows that you put effort to improve your business.

  Social Media Listening Companies

will help you build strong relationships with brand champions and influencers in the industry. B2B companies can find industry or company critics that are responding on social media platforms.

   

Social media provides companies an opportunity to get voluntary feedback. This has significant benefits for small businesses that have a limited budget for development and research. This helps in knowing the likes and dislikes of people, which can help to improve customer satisfaction. 
Business to Consumers:
●
Service Providers
Virtual assistant services can help to gain valuable insights into your brand, industry, and customers. Once you know the latest trends in the market, you can align a strategy for your services with them. Here is how Social Listening Services can help in improving your brand reputation:
 

You will know how the audience is behaving on various social media channels. Use the business insights to improve your services. 

   

Virtual Assistant will help analyze historical data to know what engages the audience for longer intervals and what does not.

    Use Social Media Listening Services

to determine your brand health. This information helps to address potential threats.

   

After knowing the conversations about your brand, you can fill the gaps and grab the opportunities to provide better services to your audience.
●
E-commerce Business
In terms of e-commerce, you need to know if you satisfied the customers with your product base. An Ecommerce virtual assistant will help you track your competitors, unhappy customers, monitor important trends, and identify the right opportunities. Some valuable features of Social Listening Services are:
   

Some tools help to provide accurate information about your brand reputation on various online platforms.

   

These techniques help to know your customers better and understand their expectations from your business. Tracking customer feedback is valuable to work on the products and company to deliver great products.

   

Tracking conversations about your products and services helps you reach potential customers.

    Social listening companies

can also help in influencer marketing. They will spot an audience that can be influencers or brand ambassadors to promote your products in the e-commerce world.
●
Government
Many government organizations are embracing the benefits of social media platforms. They help them connect with communities and their audience effortlessly. Social Media Listening Services are still making their place in government organizations. Standard methods where they can leverage social listening are:
 

To know what their constituents are thinking about their decisions. Virtual assistants can help you measure the sentiments of people around your campaigns and programs.

   

While performing social listening, they can come across the trending topics in the market. You can provide relevant information whether the subject is of concern or interest.  

   

Performing Social Media listening can help to know where your community is highly active. This helps in increasing user engagement and joining conversations to prove your stand.

    It gives you a chance to assist people who your guidance and help instantly.
    The Social media listening services

will give you real-time communications during any crisis or controversy.
Value of Social Listening
If you aren't using the perfect combination of virtual assistants and social media listening services, you are missing out on a lot. Stepping into the online platforms means taking a gigantic leap to be aware of what people are talking about your business. Some insights that help your business to grow with the help of social media listening are:
   

Know people's perceptions about your products and services

   

Analyze the discussions in your industry to grab the best opportunities

   

Get insights into your competitors and analyze their techniques

   

Generate reports on how your strategies are working in the market

    Monitor your audience response when you introduce campaigns and events
    The information delivered by social listening companies

can be a gold mine if you know the correct methods
Benefits of Social Listening
Customers like when brand connect
Social media platforms have become great service providers. Customers now prefer to post their feedback about products and services on social media instead of sending emails or calls. When virtual assistants perform social media listening, they can respond to customers instantly and resolve issues immediately. Customers will appreciate your efforts and deliver positive reviews, which will help to increase the conversion rate.  
Keeping track of brand growth
There are various scenarios where brands are stuck in a condition, and it is challenging to step out. This single thing can affect your brand reputation in the market, leading to losing potential customers. It can cause actual trouble when your negative comments are outweighing positive ones.
This is the right time to help virtual assistants who provide social media listening services for your brand. They can follow the leads and try to connect with unhappy customers to understand the issues. This will help to improve your growth in the market by resolving problems effortlessly.
New Opportunities
You might miss many chances to provide customer satisfaction if you do not monitor their actions on social media platforms. Hopefully, with the social listening services, you get to try different methods to bring results. Also, you can monitor customer response to your campaigns and events. Social listening does not just watch. Instead, it provides innovations to apply changes in your business.  
Increase of Customer Acquisition
Social media channels will help to reach a wider audience. You understand all the followers you have gained are not your loyal customers. They might be someone who loves your content, similar to receiving higher Click-Through-Rate but lower conversions. Virtual Assistants can help you add helpful content which forces your followers to take your services.
Taking help from social listening companies, you can know your mentions in the posts, hashtags, photos, or shares. Use this data to build relevant content that matches your follower's tastes.
Brand Trust and loyalty towards customer
Maintaining consistency is a crucial part of gaining trust from your customers. Your visitors expect to have a smooth bond with your business on all the social media platforms. Don't plan on having distinct personalities on every social media platform, as that will confuse the customers.
Build a brand personality that is easily recognizable in the market. Provide instant replies to your visitors to build a healthy relationship and get positive responses. Trust is something that grows over a period. So, it would help if you put your time and efforts into gaining loyal customers for your brand.  
How can you use social listening to improve customer experience?
   

Customers tag you in their content to engage with your business. They use social media platforms to support or complain about your services. Here,

social listening companies

use various tools to improve customer retention. They will address the unhappy customers and promote positive feedback.

   

It is vital to have a social engagement with your customers. Social listening helps you know how, when, and where to interact. This will help to gain long-term relationships with your customers.

   

Embrace the technologies and resources available in the market. You might want to hire virtual assistants who work around the clock and send responses instantly to your customers. 

    Social media listening services

will help in finding influencers who can help in targeting potential customers. It would be best if you have strong marketing campaigns which address the relevant content of your business.
Pro-tips for Social Listening:
Know what you want to listen
   

Direct mention of your brand name on various social media channels

   

Campaign names, relevant keywords, and hashtags

   

Terms of people connected with your business

   

Topics related to your business

   

Competitor actions on the social media
Be proactive
Stay connected with the latest trends in your industry. Some questions that you can figure out are:
   

What are the expectations of your target audience?

   

Is there any crisis that can affect your reputation in the market?

Can you fill the gaps in your business, which are listed by the social listening services?
Stay highly active on social media platforms, as you will get to know the target audience and their expectations. 
Be prompt while sending a response
This is the most valuable social media etiquette which ensures customer satisfaction. If you delay while reverting to the customers or miss your mentions, it can negatively impact your reputation. Many social listening companies are helping in social listening to ensure you never miss your brand mention on all the social media platforms. Motivate your customers who mention your brand and maintain a conversation with them continuously.
Chat Bot
While expanding your business to a large scale, there are chances you miss sending replies to your customers. Chatbot eases your communication with potential customers. Virtual Assistants can also help in this phase, as they can resolve customer queries and handle a conversation with them seamlessly.
Use effective tools
Your efforts and time are wasted if you don't look on the right platforms. Some major social media platforms that have built-in features that help in social media listening services are:
   

Facebook

   

Instagram

   

Twitter
They have room for third-party tools which can provide detailed insights about your business. 
Conclusion
There is a lot that runs behind social media listening for your business. Virtual Assistant services have made this process effortless. They help in getting better information and build strategies to improve your presence on social media.