How A Virtual Assistant Can Help You Scale Your Amazon FBA Business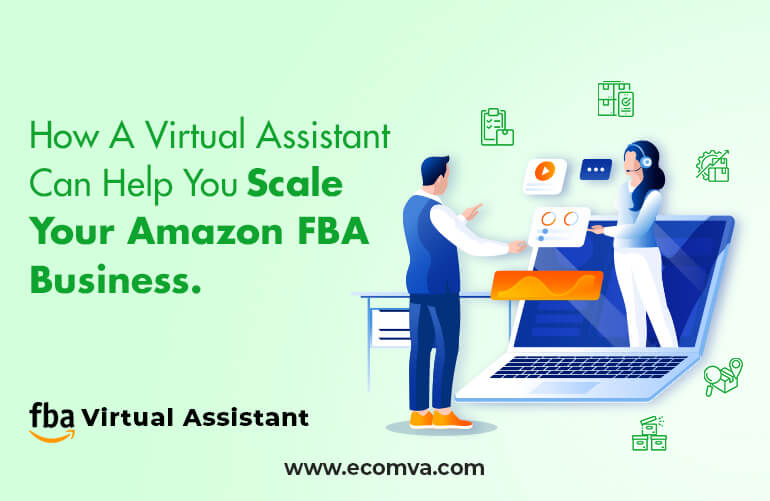 In terms of Amazon FBA virtual assistant, it is someone that works remotely on your business. You can hire the best Amazon virtual assistant for part-time, full-time, or specific tasks basis. This blog post will look at some interesting facts about your Amazon FBA business and the benefits of getting Amazon VA. 
What are the aspects as a business owner you need to manage?
There are three essential elements of selling your products through Amazon FBA. Things that you need to handle are:
1. Selecting the products, you will sell

Since Amazon has a wide variety of products for the customers, you can sell everything you want. The crucial thing is you need to sell products that match the customer's interests and sell fast.
2. Inventory Management
Once you successfully sign up for the Fulfillment by Amazon, you can store the products in the Amazon warehouse. It is your task to track your stock in stores and avoid stock-out, leaving customers unsatisfied.
3. Product Marketing
FBA will not provide any ad services, but it does have a separate advertising program to promote products. You might use this service or handle your marketing on your own and engage with potential customers.
What is VA for Amazon FBA?
A Virtual Assistant is a person that supports your Amazon business from a remote location. They give you the freedom to pay them based on a specific task or working hours. The FBA (Fulfillment by Amazon) is an excellent method to increase online sales and marketing on the Amazon Marketplace. 
The concept of Amazon FBA is: "Sellers Sell, Amazon Ships!"
This ensures that Amazon will handle your product's shipping, returns, picking, packaging, and refunds. You need to pay specific fees, and in return, you get:
24/7 customer service from Amazon 

All order fulfillment and shipping costs handled 

Access to the best order fulfillment network. 
What can a VA for Amazon FBA do?
They are more than just handling your mundane tasks on a daily basis. A few tasks that you may assign to an Amazon FBA virtual assistant are:
1. Product Sourcing
This is the most time-consuming and complex task. It will help you save time and sell quality products on Amazon
2. Customer Support
You need to be available for the customers all the time. An Amazon VA has the capability to handle the issues and give them a better solution.
3. Listing Optimization
The hassle of FBA owners is to handle multiple tasks to run a business smoothly. When you have plenty of products listed, it is essential to pay attention to each one of them. Hire the best Amazon virtual assistant to track your product listing and track its performance. It will handle the inventory and make necessary adjustments in the listing.
What are the pros and cons of Amazon FBA?
Pros of having FBA 
Amazon will handle all your tasks, from shipping to logistics. As a business owner, you just need to track the listings and ensure the product is available in stock. For a small amount, you will be able to lift off huge stress. 

As a global fulfillment giant, you do not have to invest too much in shipping costs through the FBA program. The payment to Amazon will be lesser than the standard charges of shipping your products.
An Amazon VA will handle refunds and returns to the fulfillment process.
Amazon also provides customer services to the FBA sellers. The Amazon FBA virtual assistant will use this to provide customer satisfaction and provide ease of management.

Products added in the FBA get the Prime badge, making them eligible for free shipping and quick delivery. 

Do you have space to store your products? Are you capable of moving and manage the inventory as per customer demands? The Amazon FBA gives you unlimited storage space to hold your goods. 

Your VA for Amazon FBA

will take benefits of an Omnichannel fulfillment feature. As it allows you to sell the products on various channels while Amazon will fulfil them. 
Cons of Amazon FBA 
Some small-scale businesses might not be able to pay the money to access the Amazon FBA solution.

The service may not be suitable for low-cost items, so you need to be selective about the products you sell through Amazon FBA. 

There are cases where sellers have seen more returns due to the Amazon ease of return policy.  

You need to pay more if you want your products to stay longer in the inventory.
Amazon has a detailed list of products they store in the warehouse for FBA, which cannot be affordable for everyone. Your VA for Amazon FBA will ensure the products are according to Amazon and ensure proper labelling, shipping, and package.
Sales tax is varied globally, which might be costly and complex to calculate. The VA for Amazon FBA will use the best tools to handle the tax cases and rules to figure out your charges.
What are the top tasks the best Amazon virtual assistant is capable of handling?
Customer Response 
It is evitable to respond to the customers within 24 hrs, or Amazon does it. Your Amazon VA will send these messages, which saves you time and effort. 
Provide Answers 
A swift answer is crucial to convince buyers to make a successful purchase. Hire the best Amazon Virtual Assistant who is knowledgeable about your products and provides quick answers.
Respond to reviews
Choose an Amazon VA with a strong customer service background as they will give perfect responses to positive and negative reviews.  
Matching Orders 
As a business owner, you might have received negative reviews without knowing what went wrong. An Amazon FBA virtual assistant will match orders to the reviews and try to resolve the issues.
Follow up with negative customer reviews 
Some owners panic when they get negative reviews as it hinders customer satisfaction. An experienced Amazon VA will build robust strategies to provide efficient customer solutions and stay updated with them.
Manual Shipping FBA units 
When you sell your products using Amazon, you need to send your inventory to Amazon for fulfillment and pay the cost, or you may ship it yourself. A VA for Amazon FBA will ship the products and save you money and the hassle of product deliveries. 
Sampling, Invoicing, Manufacturing, and Contracting 
It is vital to get the right products that need product research and obtain samples to test. It needs negotiation with the supplier or manufacturer and handles invoicing. They are capable of handling all the functions. 
Create Interesting Content
It helps to differentiate your products from the common ones and stand out from the competition. Content is the only way to convince users to make a successful purchase of your products. 
Optimize Product Listings 
Everything you present will catch the attention from potential buyers. The Amazon VA helps to optimize the elements of product listings like titles, images, and descriptions.
Keyword Research 
The buyers use some short phrases and words to get your products. The right keywords will help to reach top ranks on the search engines.   
Inventory Management 
It is very critical to manage inventory for Amazon's FBA business. A talented Amazon virtual assistant will help to run your business smoothly. 
Handle Ad Campaigns 
It is vital to have advertisements on Google Ads, Instagram, and Facebook to increase your target audience. The best Amazon virtual assistant has the expertise to create and monitor these ad campaigns, increasing your conversion rates.
EndNote 
The Amazon FBA virtual assistant will help to sell products effortlessly and increase your profits. You need to invest your time, efforts, and knowledge to get your hands on the best Amazon VA. Virtual assistant services are taking over the digital world as it is easier to manage and run your online business.