What are the 6 Essential Things to Know about Amazon Virtual Assistants?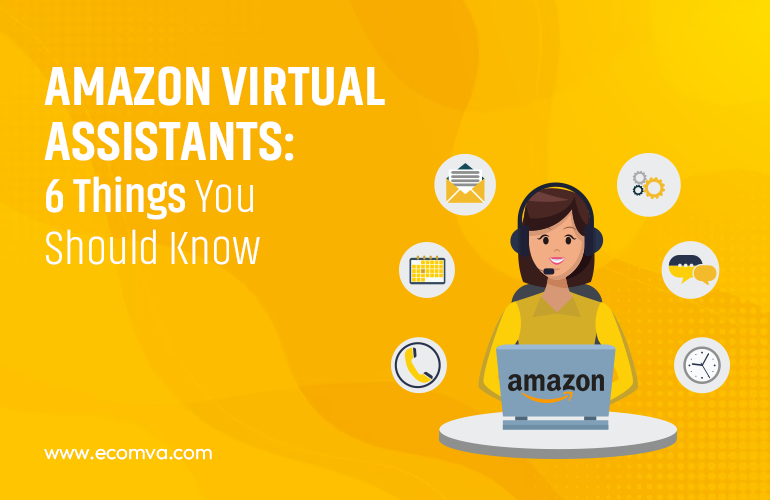 Many of the recent studies show that business owners can save a maximum of 78 percent of cost every year by hiring a virtual assistant. From this, you can understand how vital a role they play in the current times. These professionals possess the best skills to help them navigate the complex world of Amazon. So, they are inclined towards offering invaluable support in different aspects of your business.
If you are planning to opt for Amazon virtual assistant services, then there are some essential things that you should know about Amazon Virtual Assistants. Here, in this detailed blog post, we are going to inform you about these things along with the key activities that are carried out by them. So, let's get started:
Who are Amazon Virtual Assistants?
Amazon Virtual Assistants are individuals or professionals dedicated to offering remote administrative operations and other specialised services to business owners selling products on the Amazon platform. They specialise in providing comprehensive support to entrepreneurs. These professionals again possess a varied skill set incorporating a wide diversity of tasks, all targeted towards optimising your presence on Amazon.
What are the Key Activities Performed by an Amazon Virtual Assistant?
An Amazon Virtual Assistant is involved in carrying out a wide range of crucial activities, which helps support and optimise your business operations. You should be clear on this before you hire Amazon virtual assistant services. These are as follows:
  1. Research Activities
Conducting In-Depth Market Research:

Amazon Virtual Assistants are known for assisting you in carrying out adequate product research so that they can provide you with important info.

As a part of it, they focus on finding potential products, analysing market trends and assessing competition and demand. So, they can help you choose products that tend to have a high chance of success on the Amazon platform.
Supplier and Sourcing Research:

Virtual Assistants also explore and establish connections with reliable manufacturers or suppliers for sourcing products. In this regard, they thoroughly evaluate many factors, including quality, pricing and shipping options, to make well-informed decisions.
  2. Product Listing and Optimisation
Crafting Compelling Listings:

They craft product listings with informative bullet points, catchy titles and persuasive product descriptions. Also, these experts highlight the product's unique selling points to grab prospective buyers' attention.

Keyword Research and Optimisation:

They are inclined towards conducting a thorough keyword research to find pertinent search terms. After that, they strategically incorporate these keywords into the product listing to boost its visibility in search results.

Image Optimisation:

They also ensure that the images of the product are clear, high quality and eye-striking. So, they can help considerably improve the overall listing with the help of appropriately formatted images.
  3. Customer Service
Responding to Customer Queries and Inquiries:

These professionals are always dedicated to quickly addressing customer inquiries by providing precise info about products, returns and shipping. They aim to deliver exceptional customer service and efficiently resolve any issues.

Handling Refunds and Returns:

Virtual Assistants also play a significant role whenever customers request refunds or returns. While doing so, they are focused on strictly adhering to the guidelines and policies of Amazon. As a part of it, they are involved in issuing return labels and processing refunds promptly.

Managing Reviews and Feedback:

They are also known for monitoring and managing customer reviews and feedback. It ensures that the positive experiences are acknowledged and any negative feedback is addressed and resolved properly.
  4. Running an Amazon Ad Campaign or PPC
Ad Copywriting:

These experts also have the right skills to carry out ad copywriting activities. They are dedicated to crafting compelling ad copies that persuades users so that they are encouraged to click on the ad. It incorporates writing catchy descriptions and headlines that reveal the benefits offered by your products to your potential customers. 

Budget Management:

Virtual Assistants also handle the work of budget management efficiently. As a part of it, they set and manage the ad budget for the PPC campaigns. They also allocate funds to various ad groups or products depending on priorities and performance.

Monitoring and Optimisation:

They constantly monitor the performance of the advertisement campaign. It involves evaluating key metrics such as conversion rate, click-through rate or CTR, and return on ad spend or ROAS. Depending on data insights, these professionals adjust keyword bids, optimise ad content and refine targeting—all of these help enhance the campaign's effectiveness.
As Amazon Virtual Assistants are involved in proficiently handling these activities, they contribute to your business's overall success and growth. Their years of expertise and attention to detail play an integral role in maintaining operational efficiency and driving sales on the Amazon platform.
However, if you are seeking assistance with managing your Walmart store, you can hire virtual assistants or agencies specialising in offering Walmart automation services.
What You Must Know about Amazon Virtual Assistant?
Below are the things that you should essentially know about these professionals: 
  1. They Possess Diverse Skill Set
A proficient Amazon Virtual Assistant is known for possessing a diverse skill set beyond basic administrative activities. They are adept at handling a wide assortment of responsibilities. It includes order management, customer service, listing optimisation, product research, etc. Along with that, they also possess expertise in managing customer feedback and reviews. 
So, with this multifaceted expertise, they can seamlessly integrate into your existing operations and offer immense support in different facets of your Amazon business. This way, they play a significant role in assisting you in maintaining a positive brand image on Amazon. Hiring virtual assistants or companies who specialise in Magento store management is suggested if you need assistance with managing a Magento store.
  2. They Help you to Stay Updated with Amazon Algorithms
One of the most essential duties of an Amazon Virtual Assistant is to stay updated on the ever-evolving algorithms and policies of the platform. By ensuring this, they can help you to maintain a competitive edge. These professionals are well-versed in these intricate algorithms, ensuring that your products remain visible and pertinent to your target audience. 
They possess expertise in product categorisation, keyword optimisation and SEO strategies, so they can help improve your rankings. Not only that, but they also help in boosting your visibility on the platform by always remaining updated about the changes.
  3. They Assist in Boosting Productivity
Hiring an Amazon Virtual Assistant is considered one of the most effective ways to improve productivity. Delegating your repetitive and time-consuming tasks to them frees up your valuable time and resources. As a result, you can concentrate on other important initiatives such as product innovation, strategic decisions and expanding your market reach. 
This way, approaching these experts helps in effectively driving your business growth and overall profitability. With their support, you can accelerate processes, streamline operations and achieve more in less time, increasing customer satisfaction. 
  4. They Offer Time and Cost Efficiency
It is not a good idea to hire a full-time, in-house team of professionals to manage your Amazon operations. The main reason behind this is that, in this case, you may have to incur a lot of money. Not only that, but it can consume much of your time. So, one of the best options is hiring an Amazon Virtual Assistant. 
These experts are always focused on offering cost-effective Amazon virtual assistant services without compromising on quality. You only have to pay for the services you require when you engage these professionals. As a result, it lets you efficiently allocate resources and focus on other core activities of your business. In this case, you even get the flexibility to scale the services up or down depending on your unique business needs.
  5. They are Dedicated to Offer Data-Driven Insights
Amazon Virtual Assistants are not merely task executors, but they are known to be valuable contributors to your business strategy. They aim to provide data-driven analytics and insights by identifying trends and analysing crucial data. 
It again helps in facilitating better decision-making processes. So, in this manner, they can assist you in making well-informed decisions related to marketing campaigns, pricing strategies and inventory management.
  6. They Show Customer-Centric Approach
Unmatched customer service is considered to be the cornerstone of any thriving business. As a business owner, you could achieve this by hiring a professional Amazon Virtual Assistant. These professionals are always dedicated to ensuring a positive and seamless customer experience. 
They handle feedback, manage returns, resolve concerns and address inquiries. In this manner, they play a significant role in building loyalty and trust with your customer base.
You can opt for the best-in-class virtual assistant services USA to reap advantages from their expertise. 
Final Thoughts
So, in the ecommerce world, using the expertise of Amazon Virtual Assistants is no longer an option, but it has turned out to be necessary if you want to survive the competition. Their varied skill set, along with their in-depth know-how of the Amazon platform, helps them to use their best capabilities, ensuring your business's success. Along with streamlining operations, they allow you to unlock new avenues for profitability and growth.