Why Hire Amazon Virtual Assistants For Strategic Business Growth?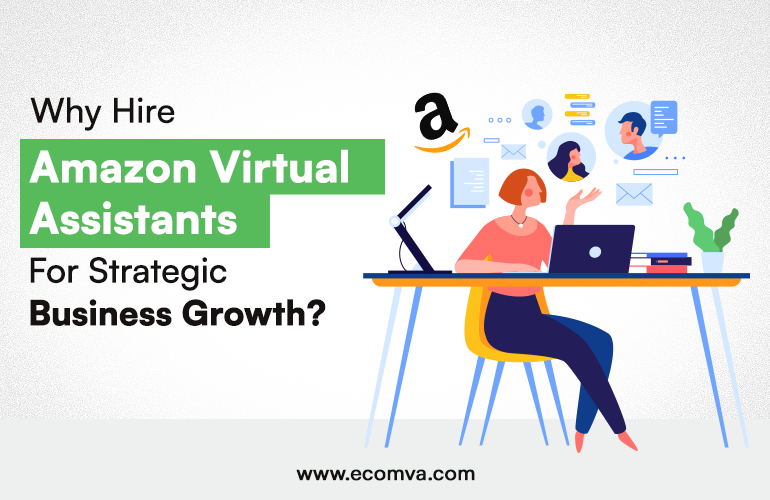 Did you know that approximately 35% of high-earning executives rely on virtual assistants? In today's competitive market, dealing with technologies and an efficient workforce has become essential for bringing strategic growth to the business. 
One solution that has gained immense popularity among businesses, particularly those operating on the Amazon platform, is to hire Amazon virtual assistants. They offer many services that significantly boost your performance and bring effective outcomes. 
In this blog post, we will explore the benefits and why you should consider to hire virtual assistant USA .for your business.
Who are Amazon Virtual Assistants?
They are highly skilled professionals who provide remote assistance to businesses dealing with the Amazon platform. So, instead of physically working in office premises, these virtual assistants work remotely, utilizing technology and communication tools to collaborate for your requirements.
These professionals offer various services related to Amazon operations, including product research, listing optimization, customer support, PPC advertising, inventory management, and more. They have all the insights of the Amazon platform and the latest trends to provide effective solutions. 
While working remotely, they communicate through email, phone calls, video conferencing, and project management tools. They ensure seamless collaboration and constant communication to provide timely updates and follow the necessary standards for your business.
Business owners are not required to invest in physical office space, equipment, or employee benefits. This makes hiring Amazon virtual assistants cost-effective and a great choice for people with a fixed budget. 
Why should you hire Amazon Virtual Assistants?
Enhanced productivity
Businesses can save time by assigning repetitive or time-consuming tasks to Amazon virtual assistants, allowing them to focus on essential business activities and improve overall productivity.
Flexibility and scalability
Businesses can easily scale based on market demand and customer expectations. There are experienced Amazon VA in the industry that will strategize your business growth to bring effective revenue.
 
Reach globally
With access to a wide range of tools and resources, expert Amazon virtual assistant can easily monitor your target audience globally. This ensures that your business can provide a smooth experience to the customers even in different locations. 
Monitor Competition
By outsourcing Amazon-related tasks, business owners can focus on their competitors and find the scope of improvements to stay ahead of them. 
No Training required
Virtual assistants are already experienced in Amazon operations. This reduces the need for training, and just start with your business tasks instantly. It helps get faster outcomes and makes a strong customer presence.  
Improved customer service
With their expertise in multiple segments, they can handle customer inquiries, address concerns, and provide exceptional customer service, enhancing customer satisfaction and loyalty.
Increased efficiency and accuracy
With a wide range of experience, they perform tasks precisely and efficiently with their specialized knowledge and expertise, minimizing errors and ensuring high-quality outcomes.
How to hire the right Amazon Virtual Assistant?
Business requirements

: It is essential to define specific tasks and responsibilities where you will require expert assistance. This can be product research, listing optimization, inventory management, or customer support.

Relevant experience

: Look for virtual assistants that have already dealt with similar Amazon operations and managing tasks similar to the ones you require. This ensures that they can deliver the expected results for your business. 

Testimonials and reviews

: Connect with their previous clients to understand their work quality and communication skills. This will help you assess their ability to handle your requirements effectively. 

Evaluate communication

: This is vital to ensure that your business progress is progressing correctly. So, before taking any final decision, ensure the virtual assistant possesses excellent written and verbal communication skills to interact seamlessly.

Availability

: When working with remote resources, ensure they are available round the clock in case of any issues. It is essential to get promptly respond to queries and tasks.

Technical skills:

Depending on your specific requirements, evaluate the virtual assistant's expertise in relevant tools, software, and platforms used in Amazon operations.

Conduct interviews

: Schedule interviews with shortlisted candidates to have a conversation and assess their knowledge and problem-solving skills required for their business.

Ask for a demo

: Consider taking a demo of their services to evaluate their performance, adaptability, and ability to meet deadlines. This will help you make an informed decision before committing to a long-term partnership.

Contract and terms

: Once you have selected the right

virtual assistant services USA

, clearly define the terms of the engagement, including responsibilities, working hours, payment structure, and confidentiality agreements. Ensure both parties are clear on the terms before moving forward.

Collaboration tools

: Set up effective communication channels and tools to ensure smooth interaction and task management. This also helps you stay connected regularly and get instant solutions for queries. 

Regular evaluation

: It is essential to monitor the tasks of virtual assistants and provide constructive feedback to ensure continuous improvement and meet your business targets.
Getting the right Amazon virtual assistant requires carefully considering their experience, skills, communication skills, and compatibility with your business goals.
When should you hire a virtual assistant for your business?
  1. When you need faster results in limited time-span
There are times when you need to handle multiple tasks and are running short on resources. In such cases, an experienced virtual assistant can provide better results with a flexible working culture. 
  2. Repetitive and time-consuming tasks
Most business owners spend time on repetitive tasks, which reduces productivity and produces ineffective results. Here, a VA can help you handle such tasks and save time and effort. 
  3. Require special skills
Managing and running a business at some point might require expertise in multiple segments, and you might need expert advice to handle it. Virtual assistants have a wide range of tools and experience they can easily provide effective solutions. 
These are some common sections where skilled resources like Amazon virtual assistants have proven to be a cost-effective yet efficient solution. 
What tasks can Amazon Virtual Assistants handle?
Product research and sourcing
When you run a business, it is important to conduct market research to identify profitable products and reliable suppliers. Your Amazon VAs can analyze trends, competition, and customer demand to help you make informed product selection and sourcing decisions.
Listing optimization
They have expertise in optimizing product listings on the Amazon platform. It becomes easier to create compelling titles, engaging descriptions, and relevant keywords to increase conversion rates. They also ensure that product images are high-quality and appealing to potential customers.
Inventory management
Virtual assistants can effectively manage your inventory on Amazon. They monitor stock levels, coordinate with suppliers for timely deliveries, and implement inventory management strategies to prevent stockouts or excess inventory. This ensures smooth operations and maximizes revenue for your business.
Customer support
They are skilled to can handle customer inquiries, providing support, and addressing issues. They respond instantly to customers. Also, if needed, they can assist with returns or exchanges to provide an excellent buying experience to the customers.
PPC advertising
These virtual assistants can create and manage advertising campaigns for Amazon PPC (Pay-Per-Click). They conduct keyword research, optimize ad copy, monitor performance, and adjust bidding strategies. This will help you generate better visibility and returns. You can assign VAs to run promotions and manage campaigns for your business if needed.
Competitor analysis
This information will help you to define strategies, pricing, product offerings, and customer engagement techniques for better results. This information helps you beat the competition and make informed decisions to improve your performance.
Data analysis and reporting
Having skilled resources to analyze sales data, customer feedback, and key performance indicators is essential. A skilled Amazon virtual assistant generates reports that provide valuable insights into your business's performance on Amazon. These insights help you identify trends, areas for improvement, and growth opportunities.
Review management
Virtual assistants can monitor and manage customer reviews for your products on Amazon. They respond to positive reviews, handle negative feedback, and ensure that your reputation on the platform remains positive. This contributes to building trust and credibility with potential customers.
Selling Globally
If required, they can assist you in scaling your business globally and gaining new leads effortlessly. They will perform in-depth research and help you to sell on different Amazon marketplaces, ensuring compliance with local regulations and optimizing your product listings accordingly.
By assigning these tasks to Amazon virtual assistants, businesses can save time, increase efficiency, and focus on tasks essential for business growth. They will be highly dedicated to helping you handle Amazon operations and achieve success on the platform.
Conclusion
It might seem that when you hire Amazon virtual assistant, it will be a  game-changer for your business. But it is essential to go through the right hiring process and ensure they have the right skills to handle your requirements. 
 To streamline operations, save costs, and drive strategic growth, they are the ideal solution that works remotely. Ensure they have expertise in Amazon operations, flexibility, and scalability to get better returns.  
This can be considered a modern approach to business growth and gaining a competitive edge on the Amazon platform.