Dropshipping Vs. Inventory: Which Is Best For Small Enterprises? (2023)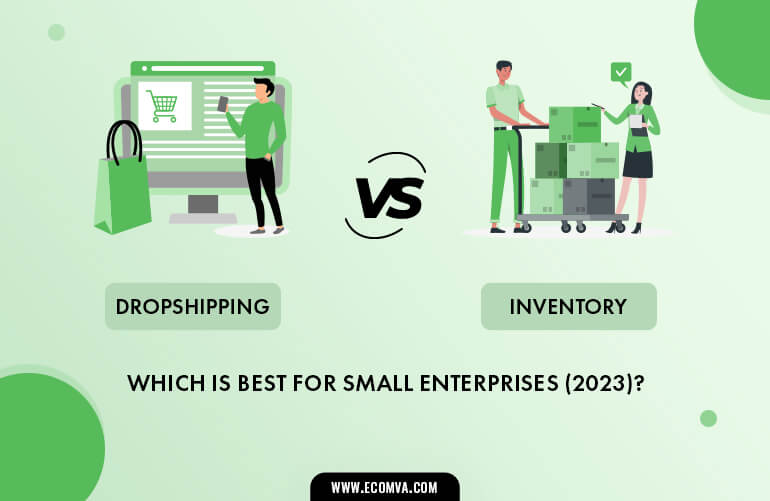 In retail, people always look for better strategies and resources to make their journey seamless.
Around 76% of people stop doing business with an organization after two poor customer experiences. So, you know the stakes are high for your business, especially when deciding to get an inventory or dropshipping virtual assistant for your business.
If you are planning to launch an online store, there is time to explore some insights to run it smoothly.
What is dropshipping?
This is the latest solution which is gaining quite an attention in the ecommerce world. It is a business that will sell a product and service they do not manufacture or own. The company pays the supplier to manufacture and ship it to the customers.
This business model is a huge success as it helps to start selling quickly and cost-effectively. These businesses can set up ecommerce stores easily and build brand value.
What is inventory?
It is a stock of products that you keep ready to sell. There are normally the goods that are stored at a specific place and then shipped to the customers. It is the business's biggest asset as it holds all the products.
Business owners need to manage all the aspects, like orders and shipments, to maintain the right level of stock in the inventory.
The key differences between Dropshipping and Inventory:
1. Investment
Inventory
The users need to handle products and set up the warehouse, which means a huge investment before starting a business.
Dropshipping
It does not require any initial investment as users do not require any inventory or warehouse to store the products.
2. Ease of Business
Inventory
The process becomes complicated because the business owner's responsibility is to store, save, and pack the products.
Dropshipping
Even a beginner can run a business with the help of Amazon dropshipping virtual assistant, which will avoid product costs, storage, and packaging.
3. Profits
Inventory
The profit margin will increase as you purchase the products at discounted pricing. There is also a great scope that you can get lower shipping and packaging costs.
Dropshipping
The profit margins will be lower as the investment is great for managing the products. The supply chain will cost you more as the business owner needs to invest in fulfilment services.
4. Risk Management
Inventory
There are chances of higher losses for the products that do not sell. People also get control over the complete sales process and do not have to manage any legal issues with a third party.
Dropshipping
Even if you do not get quicker sales, there are no risks as you do not handle the inventory and shipping. You can encounter legal troubles if you do not follow the right standards and regulations.
5. Brand Value
Inventory
Users have complete control over the products they will be selling. They have the power to represent their brand as they wish and provide a better customer experience.
Dropshipping
Business owners have minimal control over the products as the drop shipper will acquire the products. Users will not be able to sell custom products with unique branding.
What are the pros and cons of Dropshipping vs Inventory?
Pros of Inventory
Users have control over the brand and quality of the products
People can easily build unique selling points
The brand will sell rather than a product that helps to beat the competition
There is a potentially large profit margins
It has a lower potential for legal issues
The inventory information is completely available for the retailers and easily fulfils the customer orders
Business owners will customize the products and adds brand value for better customer retention
Cons of Inventory
Investing in the inventory can be costly for beginners
The changing demand for the products in the market may result in increasing the cost of storage in the warehouse as it requires more space
The storage of products for longer intervals can affect the quality and value
It might become important to get help from experts to maintain inventory, packaging, loading, and unloading products.
Pros of Dropshipping
It is a safe option for beginners and people looking for a cautious approach.
Avoid the hassle of picking, packaging, and shipping the products.
The products do not require any investment in the inventory before selling them, which means you can start with minimal capital.
It is easier to manage as you do not require any physical products and rent the warehouse. Also, they can hire virtual assistant USA to complete packing, shipping, and handling inventory.
If there is an internet connection, you can connect with customers, retailers, and manufacturers from multiple locations
Cons of Dropshipping
There are chances that suppliers can make some mistakes. It is important to correct the errors like missing items, delays in deliveries, poor packaging, or complicated shipments.
It has lower profit margins as the competition is high in the ecommerce world and it becomes challenging to maintain sales
Due to poor inventory management, certain products might not be available at a specific time.
How to start with dropshipping for small businesses?
1. Plan the things you want to sell
If you do not define a target audience, you won't be able to build the right strategies to scale your business. This will also waste your efforts to advertise and appeal to potential leads. So, take help from dropshipping virtual assistants, who will understand your requirements and build the right plan for the future.
2. Build a buyers persona
Once you understand the target customers, building a buyer's persona for your audience will be easier. Focus on the below information:
Psychographic Data: The things motivating your customers to buy products and the keywords that are getting noticed in the search engines.
Demographic Data: This means knowing the age, location, qualification, work industry, gender, income, and more about the customers.
Audience Behavior: It is important to focus on the channels that bring you great revenue and the devices generating huge traffic.
3. Understand the right traffic channels
When running an online business, knowing the resources bringing traffic to the site is crucial. There are two different types:
Organic: The visits to the store are from search engines, where you must have an SEO-friendly platform to gain visibility.
Direct: This is when the potential customers directly reach your website by adding your URL into the browsers.
As a business owner, if you aim to build a strong customer base, your marketing strategies should be more inclined towards direct traffic.
4. Build Brand Awareness
It is simple if no one is familiar with your brand, then there is no scope for gaining attention. Many tools will offer the right method to bring customers towards your business. Once you get attention, it will be easier to boost your online presence.
Some easy methods you can follow are:
Know more about your competitors and try to take over their strategies by bringing something unique. You might want virtual assistant services USA assistance to get effective solutions for your business growth.
Launch campaigns that will gain attention in the digital world and target to reach the maximum audience.
Maintaining a balance between the frequencies with which a person views your ad campaign is important. It should be enough for them to remember the brand and not get annoyed.
Be authentic, as people expect a human touch on your platform and provide them instant solutions for better reliability.
5.Make everything SEO-friendly
It is important to understand that two types of SEO should be managed:
On-Page SEO: This deals with search engines like tags, content, internal links, and more.
Off-Page SEO: Everything that takes place outside the website, like brand mentions, backlinks, and more.
If you can handle SEO, it will have an everlasting effect on your platform. A professional virtual assistant dropshipping service will provide the right techniques to bring effective results for the business and retain a great brand value in the market.
How to start with inventory management in small businesses?
1. Understand your forecasting
The business's sales should be made after considering various factors relevant to the products and services. These can include market trends, economy, target audience, promotions, etc.
2. Apply the FIFO approach
This means the First In, First Out approach for the products. It is highly usable, as many items in the inventory are there for longer and might be damaged, outdated, or unsellable after a while. Applying this approach, you maintain the right balance of products in your inventory.
3. Monitory the stock levels
It might become difficult to track the stock levels when you have your inventory. But this is a priority when you run an online store, as it will help make important business decisions. This also gives an idea of the products that are in high demand.
4. Perform quality control regularly
After a while, it becomes important to ensure that all the products look great and work perfectly. A quick examination will help store the perfect quality products and remove damaged ones occupying space in the inventory.
The final call!
Regarding inventory vs dropshipping, both solutions have their pros and cons for the small business. It is better to deal with a dropshipping virtual assistant that will ensure that your store is working smoothly and gives you more time to focus on the core elements of the business.