Ecommerce Link Building Everything Your Should Know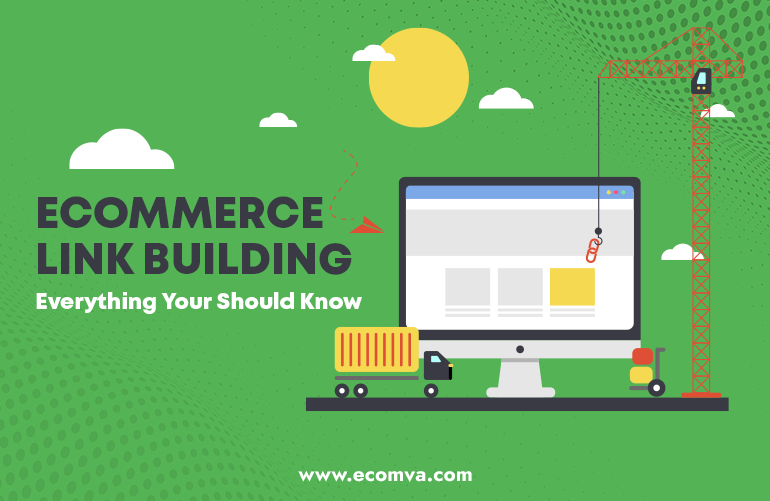 Did you know you just need to be at the right place to gain a ton of sales? Ecommerce link building plays a vital role in improving the SEO of your business.
It can be a challenging but also the most rewarding ecommerce SEO strategy. The main aim is to develop quality content and implement outreach strategies. Once you begin by adding links in the content, it increases your visibility and customer engagement on the website.
What is ecommerce link building?
This strategy contributes to more than 50% of the SEO success rate. When you focus on link building, you should know the authority of the platform you are linking. It would help if you also considered important properties like the link origin, target, Nofollow attribute, and anchor text. The three types of links used in the online platforms are:
Internal links: They link from one webpage to another on the website itself.
Outbound links: These take users outside your website to another website. They can help in improving page rankings.
Inbound links: They are the links that redirect to your website from another website. If this is from an authoritative platform, you might gain better reach.
Backlinks: They are the links to your pages, content, or site from other domains. The main target is to gain links from reputable websites and ensure relevancy.
The important segments of link building are:
Authority
This plays a crucial role, and there are three types of authority:
Domain Authority: This includes all the links towards the domain.
Page Authority: It takes links to a particular page on the website.
Link Authority: This is all about the authority of link redirects.
The higher authority you achieve, the better your chance of reaching top ranks on the search results.
Relevancy
You should always add relevant links on the website to avoid distractions and increase the bounce rates. The relevancy of the topics helps to engage users for longer intervals and provide them with more information about your services.
Trust
It is the level of your website decided by search engines based on trust. Search engines have various elements to decide if your platform is trustworthy or not.
What are the ecommerce link-building strategies that work for ecommerce SEO?
Focus more on blogging
Many businesses still miss the right opportunity by avoiding blog creation and management. Unless you make millions in revenue and high traffic, you can ignore the blog section. Adding a block of blogs relevant to your business works perfect SEO strategy.
You can also engage with the best ecommerce SEO Company to build SEO-friendly content and establish high authority on search engines. Having blogs on your website also gives you an opportunity for link building and share-worthy content with visitors. A few tips that might empower your blog linking:
Make valuable content that ensures that you give the right information to the customers and increase the chances to link to other services or products.
Add evergreen content like how-to guides, case studies, infographics, and buying guides. These are something that people will always interact with, and you gain more engagement.
You must create and post new blogs consistently. Whether you post once a week or a month, the main aim is to add quality content and build a customer base.
Do not be too much with a sales pitch, as they might not help you gain trust or links. Instead, to direct traffic to the product or service pages, use your content smartly.
Make your content perfect for sharing with others. This means you need to work on different content and keep the visitors interested in the next move.
Your blogging section has a huge potential for inbound linking. An SEO virtual assistant might ensure to improve the overall ecommerce SEO and keep traffic by linking content to another piece.
Add case studies, web page content, and research blog posts. These are the original reports and research which has higher backlink rates.
Create more linkable assets in your content
This is an excellent method to add links in the blog sections. The main target is to find content that will attract more links. Various linkable assets are:
Tools and Widgets: They are a powerful asset and engage referrals.
Guides: These must be related to your niche and provide better backlinks.
Reports: It helps to convey facts and information.
Work on video marketing
This is now becoming the king of social engagement. You can use videos in multiple methods to drive traffic and increase the backlinks of your store. Simple methods you might want to use to promote your backlinks are:
Add comments on relevant posts but do not spam the posts. If you have something valuable to add or links that might be relevant, then only add them in the comment section.
Have an online presence on multiple video-sharing platforms and maintain consistency while sharing content on them.
Build partnership, as when other blogs or influencers link with your videos, and they better affect the visitors.
Create Deep Linking
There are various types of links that you can include like product pages, categories, content pages, and more known as deep links. It is right to invest in internal, backlink, and outbound linking strategies.
An ecommerce SEO agency helps improve your SERP rankings and ensure search engines see your website. They will help grab the right opportunity by being selective and precise with the deep linking strategy. Some recommendations that might help you are:
When you create and submit guest posts, instead of redirecting them to your home page, prefer adding links to store, products, or blog posts.
Share the blog posts, category pages, and blogs at multiple places and include the mentions. This helps to redirect to various mentions instead of just the homepage
Add relevant and specific page links in the forum engagements and comments.
Add FAQ Pages
They have been the resource to give solutions and handle major issues of the customers. They are the best asset, but they engage customers differently. You cannot improve rankings, but there are chances of appearing in the result pages when people add the search queries.
The main reason for having a better online presence is their problem-solving nature. Some common queries that you can add if you deal with virtual assistants are:
What does a virtual assistant do?
Do virtual assistants have time limits?
Is there any expert virtual assistant?
How to hire virtual assistants?
And many such relevant queries that people are commonly concerned about your niche.
Build Community Program for your brand
This is another method to build influencer channels for your business. The goal is to add posts from the people that love your brand and services. It helps to drive traffic, engage directly, and find ideal customers. Some methods to ensure positive responses in the community are:
Provide top-notch services to the customers
Be transparent and honest
Collect reviews
Provide user-friendly environment
Hassle-free shopping experience
Create loyalty programs
Give free goodies
Communicate often
The Final Take!
When you are working on ecommerce link building, you need to try multiple strategies to know which is bringing results. We have shared some of the best strategies that ensure growth and better returns for your business. Know that link building plays a huge role in the success of your platform. Grab the right opportunities at the right time!