Hiring SEO Virtual Assistants – A Perfect Guide for SEO Agencies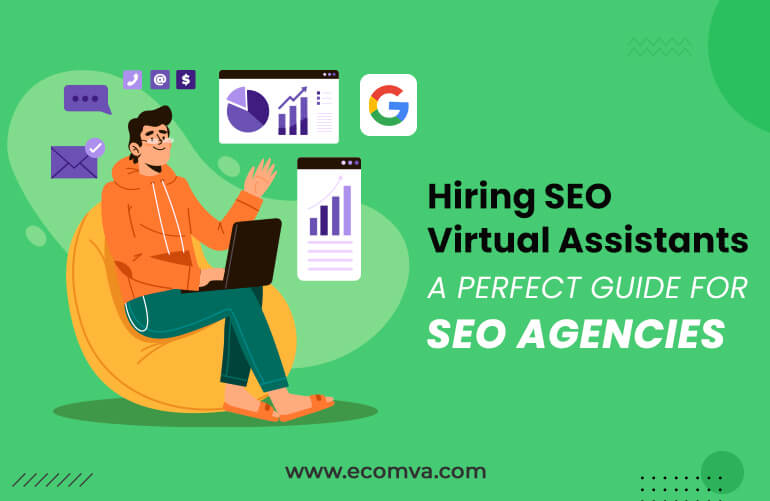 Many business owners have tried to use virtual assistants at least once to make their tasks effortless. Most of them are tired of putting in countless hours to increase their online visibility.
Haven't you thought about getting a
SEO virtual assistant
to handle your tasks? The right one will have great expertise and skills to bring effective results to your business. We will be sharing the best insights to get you the best SEO Agency for your requirements.
What is the role of an SEO virtual assistant?
This person is well versed in Search Engine Optimization and trends of search engines. They are someone who will work remotely in applying SEO strategies to increase online visibility. Your VA will help to optimize the website, increase page rankings, and enhance your online presence. Some skills that an SEO Virtual Assistant must have are:
Critical Thinking: They must be smart enough to handle correlation and causation on your platform. They need to understand, What happened? What is happening? And What can be done? Your VA must have a thought process to provide a solution using data and logic.
Efficient in Speaking, Writing, and Reading: They need to perform deep research to bring valuable content to your platform. These skills will help you connect with them easily and make them understand your requirements effectively.
Technical Skills: An SEO expert deals with page loading speed, lazy loading, microdata tagging, HTML tags, rendering, and server-side redirects. Technical knowledge gives them the ability to make these processes effortless.
Socially Active: Nowadays, businesses need to have an online presence on social media platforms to target their audience. So, it is significant that your virtual assistant is familiar with the latest trends in the market.
Analytical: They must possess a basic understanding of business KPIs to implement strong SEO strategies. Many online tools will help gather data and know your business performance.
Management: With so many targets, your VA must handle the task by its priority. This helps to bring better and faster results.
How to hire an SEO virtual Assistant for your business?
This process needs to be perfect to shortlist the best candidates who fit your requirements perfectly. Let us begin the journey together:
Make a list of your requirements

The challenge is to narrow down the tasks as per their priority. To make this easier, you can use a delegation matrix. This is considered to help make the right decisions for your business with the help of the right information.

You can also engage with a search engine to research your competitors and the demands of the potential audience.

Be Descriptive


When you look for a Virtual Assistant, you need to apply a different approach when compared to getting a full-time employee. Find the answers to questions like:

What are the tasks you need to assign?
Do you have any deadlines for the task?
How much experience and education should a virtual assistant have to meet your job profile?
Have you decided the hours they need to invest in your requirement?

There might be many similar questions that will help you get potential candidates.

Post your requirements


After you work on your requirements and outline the services you need, it is time to hunt. Craft a job description that covers all information and gets the best applicants. There are multiple job portals available online which have the perfect collection of VA's for you.

You can also go through an ecommerce SEO agency to know the whole hiring process and detailed answers for your queries. Choose the organization that maintains great transparency and has great experience in your niche.

Shortlist the Eligible Virtual Assistants

There might be multiple profiles that will match your job requirements. It is vital to pick the best ones from the bulk. Prefer to hire a virtual assistant that has great experience in the market and has already dealt with similar projects.

It will help ensure that you get great support and solutions as they are already familiar with the industry. Focus on their personal and professional skills. Also, ensure to go through the portfolio to get a better idea of their deliverables.

The Final Take

After you find the best match for your tasks, conduct an interview. This helps to analyze their communication and management skills. They must understand your requirements to bring effective results.

You can also rely on organizations that provide virtual assistant SEO services. This is the best method to get to know the firm from online platforms and reviews. They will have a team of professionals capable of handling multiple tasks. You can also ask for a trial run to know their approach to managing your projects in the future.
What are the tasks an SEO virtual assistant can handle?
Performance: There are chances of getting issues if you do not maintain your platform. A Virtual Assistant will help you monitor the website's performance and provide a great customer experience. They are skilled in gathering the best insights to bring effective solutions.
Research: As a business owner, you need to handle crucial factors to boost your returns. So, you can hand over the research task to a virtual assistant. A virtual assistant SEO will look at the products, customer interests, conduct surveys, and competition. This data ensures that you have strong strategies for your business.
Off-Page and On-Page SEO: Once your store starts running, it is time to scale your business. It is crucial to grab the right opportunities and work on potential sources to profit your business. Also, you need to optimize the elements of the website to make it SEO-friendly.
Conclusion
The right SEO virtual assistant will increase your business efficiency, save money, and provide your time for crucial tasks. Getting a virtual assistant is the best decision when you have multiple tasks and limited resources for investment.