How a Reliable eBay Dropshipping Virtual Assistant Can Help in Boosting Your Sales?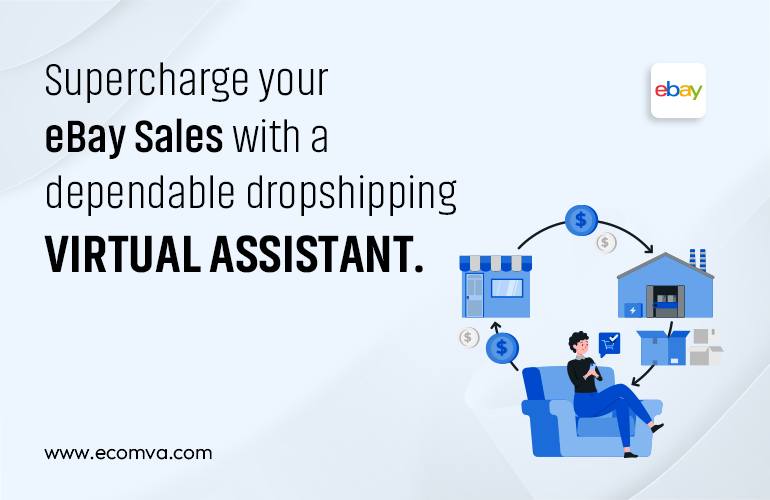 Do you know you can become 13 percent more productive by choosing to hire virtual assistant USA? Yes, you have heard it right! If you are an eBay seller looking forward to taking your business to the next level by increasing your sales, it is always a good idea to get in touch with these professionals i.e., an ebay dropshipping virtual assistant. By opting for their services, you would be able to offer top-notch customer services and maintain a diverse product range. 
If you are still doubtful about how these professionals can assist you in the best possible manner, then you have come to the right place! Through this definitive blog post, we will focus on discussing the invaluable role played by a skilled virtual assistant in driving your business's sales. So, without any further delay, let's get started:
What are the Key Benefits of eBay Dropshipping?
First of all, let's find out the significant benefits of eBay dropshipping in the following section. Knowing this is incredibly important before you hire an ebay dropshipping virtual assistant.
  1. Cost-Efficiency and Low-Risk
eBay dropshipping is known for offering a cost-efficient means of launching an ecommerce business. Unlike conventional retail models that necessitate upfront investments in inventory, dropshipping lets you list and sell products without having to purchase those beforehand. 
It helps considerably lower your financial risk as you are only required to buy products from suppliers whenever you make a sale. Thus, you do not have to be stuck with excessive inventory or face the cost of unsold items.
  2. Wide Product Selection
You can get access to a wide range of products with dropshipping. It allows you to explore various industries and niches. So, you can offer a large selection to your customers without taking the burden of managing a physical inventory. This flexibility lets you evolve to continuously shifting customer preferences and market trends.
  3. Scalability and Flexibility
Scalability is one of the essential features of eBay dropshipping. With your business achieving growth, it becomes crucial for you to expand your product offerings, which can be easily achieved through dropshipping. 
Ultimately, it helps you to reach out to a broader audience. In this case, you are not restricted to inventory or physical storage space constraints. Dropshipping is also known for its flexibility, which lets you run your business virtually from almost any part of the world with an internet connection. This flexibility means you can effectively adapt to your business and lifestyle goals.
What are the Challenges in eBay Dropshipping?
Besides offering a range of benefits, eBay dropshipping also presents many challenges for the sellers. It includes the following:
  1. Competition and Price Wars
There is always fierce competition in the ecommerce industry, eventually leading to price wars. Due to this reason, you as an ecommerce business owner should always focus on adopting the best strategies to differentiate yourself and offer value to your customers beyond just offering low prices.
  2. Inventory Management
Balancing supply and demand is considered to be an essential aspect of dropshipping. It is crucial for you to ensure that the products are always in stock and available for customers, which necessitates careful attention. With this, you can avoid the risk of stockouts or overstocking.
  3. Customer Service Demands
As an ecommerce business owner, you should always focus on offering outstanding customer service. By ensuring this, you would be able to maintain a positive reputation. But, it can be demanding to handle returns, address inquiries and resolve issues promptly as your business grows.
The Role of a Virtual Assistant in eBay Dropshipping
  1. What Is a Virtual Assistant (VA)?
A Virtual Assistant or VA refers to a remote professional inclined towards offering different operational, administrative and support services to business owners or individuals. They are involved in working remotely and can handle tasks across a diverse range of functions that facilitate the smooth running of your business.
  2. How Can a VA Streamline Your eBay Dropshipping Business?
There are many different ways in which a virtual assistant can help simplify your eBay dropshipping operations. Let's have a look at those in the forthcoming section:
Task Offloading:

By

hiring a virtual assistant for Amazon FBA

or eBay, you can focus on your business's core and strategic aspects as they take over your time-consuming tasks.

A Boost in Efficiency:

These professionals are dedicated to efficiently and quickly performing routine tasks. As a result, it helps in reducing the chances of errors and bottlenecks in your processes,

Cost Savings:

When compared to hiring full-time employees, it is often more cost-effective to hire a virtual assistant. It's because, in this case, you are only required to pay for the specific tasks being carried out.

Scalability:

As your business grows, a virtual assistant can perfectly adapt to the increased workload, which helps ensure streamlined operations.
  3. Key Tasks and Responsibilities
An ebay dropshipping virtual assistant is involved in handling the below-mentioned tasks and responsibilities:
Product Research and Listing:

VAs are dedicated to researching trending products, finding profitable niches and coming up with compelling listings that help attract prospective buyers.

Order Processing and Tracking:

They can assist with processing payments on time, managing orders and ensuring timely shipping. Along with that, they are also involved in keeping track of shipments and thereby offering customers precise delivery information.

Customer Inquiries and Support:

Virtual Assistants can effectively handle customer inquiries, address concerns and offer timely and helpful responses. All of these help in ensuring a positive buying experience.

Pricing Strategy Optimisation:

They are inclined towards providing assistance in adjusting pricing strategies and monitoring market trends. It helps you to maximise your profit margins while also remaining competitive.

Inventory Monitoring and Reordering:

An eBay dropshipping virtual assistant is known for keeping tabs on inventory levels, which helps ensure that popular products never go out of stock. Not only that, but they also assist in preventing instances of stockouts.
How to Find the Right Virtual Assistant?
  1. Qualities to Look for in a VA
While you are searching for a virtual assistant for your unique business requirements, you should essentially look for the following qualities:
Reliability:

You should always look for a virtual assistant with a proven track record of reliable and consistent work. They should be able to meet deadlines and maintain a smooth-running business.

Communication Skills:

Effective communication plays a crucial role in ensuring a successful collaboration. So, you should focus on hiring a virtual assistant who can comprehend and express ideas clearly.

Relevant Skills and Experience:

Based on your specific business requirements, it is imperative for you to look for an eBay dropshipping virtual assistant who possesses skills that well aligns with the tasks you will be assigning. It can include order management, customer service and product listing.

Adaptability:

Another essential thing is to hire a virtual assistant who can adapt to new platforms, tools and processes as your business evolves.

Problem-Solving Abilities:

A good virtual assistant should possess excellent problem-solving capabilities. They should be resourceful and able to find solutions to challenges they are most likely to encounter.

Professionalism:

They should always show a professional attitude, which includes punctuality, prompt responses and a solid work ethic.
  2. Where to Hire a Reliable eBay VA?
There are many platforms and resources where you can find a trusted eBay virtual assistant. Some of these include the following:
Freelance Platforms:

You are expected to come across certain websites offering a large pool of freelancers, including experienced virtual assistants. It includes Fiverr, Freelancer, Upwork, etc. Depending on your unique requirements, you can consider browsing their profiles on these platforms and reviewing their past work and ultimately make the right hire.

eCommerce Communities:

You could network with other sellers by joining eBay seller forums and eCommerce communities. It's because expert VAs who possess knowledge of eBay dropshipping are often active in these communities.

Specialised VA Agencies:

Many agencies specialise in offering qualified virtual assistants to businesses. In many cases, they are involved in handling the training and screening process for you. This way, they can assist you in finding a VA who possesses the right skills to cater to your business requirements.

Referrals:

You can even ask for recommendations from fellow eBay sellers or business contacts who have previously worked with virtual assistants. Personal referrals are regarded as a great way to come across reliable VA.

Social Media and LinkedIn:

You can use LinkedIn and social media platforms to discover and connect with potential VAs. Having a close look at their LinkedIn profiles helps you to get an idea about their experience and skills.
However, while hiring, you should always check references, conduct interviews and clearly outline your tasks and expectations. Building a robust working relationship with your virtual assistant is crucial to ensure the success of your eBay dropshipping business.
  3. How These Professionals Can Help in Kickstarting Your Sales Volume?
A dependable eBay dropshipping virtual assistant can be a game-changer for increasing your sales. Here is how:
Streamlined Order Processing:

A VA helps ensure the orders are processed correctly and swiftly. It ultimately results in higher customer satisfaction rates and brings repeat business.

Efficient Product Research and Listing:

They have the skills to find profitable products and create appealing listings. It helps in attracting more prospective buyers.

Optimised Pricing Strategies:

Your VA can help you stay competitive and maximise your profit margins by conducting detailed market analysis and adjusting your pricing strategies.

Prompt Customer Inquiries Handling:

These professionals are dedicated to offering effective support and quick responses. So, they can assist in improving the overall buying experience, which, in turn, fosters customer loyalty.
Wrapping Up
So, it is evident from this guide that to get an extra edge over your competitors; it is a great decision to have a trusted virtual assistant by your side. Their ability to take up complex tasks, from product research to customer service, can free you up to focus on strategic aspects of your business. 
However, it is always suggested to hire from reputed virtual assistant companies in USA to get best-in-class outcomes. By ensuring this, you can come across the best talents.