How to Sell on Walmart – Definitive Guide for Ecommerce Growth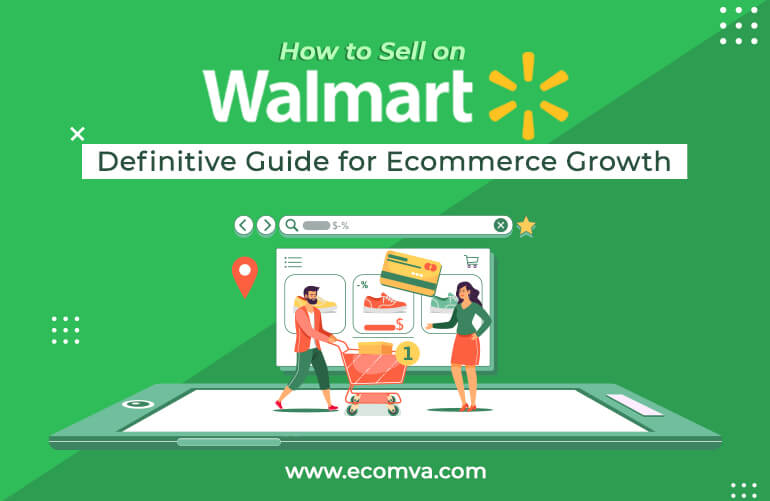 Many people know about Walmart, and for those who don't know – Walmart is an American retail corporation running a chain of hypermarkets. In 2009, Walmart launched Walmart Marketplace, allowing third-party sellers to sell their products on this platform. Many of these sellers availed Walmart automation service to run business with the least effort.
Selling on Walmart can be very beneficial for sellers as you will get the benefit of the wide audience of Walmart. When you sell on Walmart, you also get the advantage of Walmart's reputation. This may increase your sales a lot.
You can reach more people by selling on Walmart, which might not be possible when you sell through the physical store. You can even hire Walmart Marketplace management services to run your store effortlessly.
Today, Walmart Marketplace has gained the trust of a large number of sellers. Today, the Marketplace of Walmart is a big community of sellers offering the best quality products and customer service.
We can also consider Walmart Marketplace similar to Amazon Marketplace, where you can list and sell your products.
Walmart has a large audience, and thus selling on their online marketplace is one of the most straightforward methods to get your products seen.
Selling on Walmart can provide you immense benefits, but many sellers don't know how to sell their offerings on Walmart. So, the purpose of this post will be to give a guide to people about selling on Walmart.
Steps to start selling on Walmart Marketplace
Give the application to be a Marketplace seller

The first step to start selling on Walmart is to give the application to be a Marketplace seller. You need to visit marketplace.walmart.com/ and click "Request to sell." A form will appear by clicking, and you need to fill all the fields of the form. This process will take five to ten minutes; just keep all the details ready with you.

Once you fill out the form, click the 'save' button at the bottom. However, make sure to double-check the details before you save the information. Finally, you need to click on the 'Apply now' button. You will receive communication through email once your seller accounts get approved.

Complete the Registration

Once your account gets approved, you will get a link in your email. You need to follow the link to create the partner profile. In the registration process, you need to go through various sections named Account creation, partner registration, tax form, payment details, and shipping information.

We will see all the sections in short:

Account creation – This section is mainly for creating a username and password. The username will be automatically created; you just need to create a strong password. Remember these details because you will need these details to log in to the seller account.
Partner registration – Here, you need to register your firm by adding a name for display and the address of your entity.
Payment details – Here, you need to add the payment details so that you can easily receive your money. Register on Payoneer or Hyperwallet, as it is mandatory to receive payments.
Shipping Information – You need to enter your preferred pricing model and shipping methods in this section.

Complete partner profile

You'll get access to the seller center once you've completed the partner profile. You will see a 'checklist' showing the requirements you need to fulfill before launching the account. This step gets completed when the bar of your profile readiness reaches 100%.

The reason why there are so many requirements and details to fulfill in the partner profile is that it is the most important part of your account on the Walmart Marketplace.

Complete Item setup

This is one of the most important stages of creating your account. You need to add all the details like pictures, video, descriptions, and attributes in this stage.

It is important to fill out all the required fields in this stage, and once you complete filling the details, you need to 'validate fields.' If any field is highlighted, it means filling it would be missing, or there may be an error in that field. Correct the highlighted field, if any, and upload the file to the seller center.

Once you complete the process, your seller center will be activated. You can also hire Walmart automation business services. By availing of these services, everything will be managed by the service provider, whether it is starting the store or operating the store.

Test items and orders

Once your seller center gets activated, you need to select 'preview item' to verify the details and the pricing structure of the products that are in the active status.

You must update your item inventory in order to test the items. So, click the 'update inventory' button and then click 'publish item' and 'buy item' in the seller center.

This is an easy step and can be completed within a few minutes, but make sure to complete this step with the utmost attention and detailing as any mistake can lead to problems in the other process.

Launch your account

The last step to start selling on Walmart is – Launching the account. When you tick done on all the items of the Launch checklist, a pop-up will appear on your screen, which may inquire about your readiness to launch your account or not. It will ask you to confirm if you are ready. And, when you click on confirm, your launch request will be triggered.

The Walmart Marketplace integration team will review your profile, and if everything goes well, your products will be up on Walmart.com within 24 hours.
Conclusion
At last, we would say that selling on Walmart Marketplace can provide you numerous benefits, especially the benefit of Walmart's reputation and its huge audience. So, selling on Walmart can be the best decision for your business. If you do not know how to sell on Walmart, you can refer to the above steps to set up your store and start operating it on Walmart Marketplace.