How Can Amazon's Virtual Assistant Benefit You?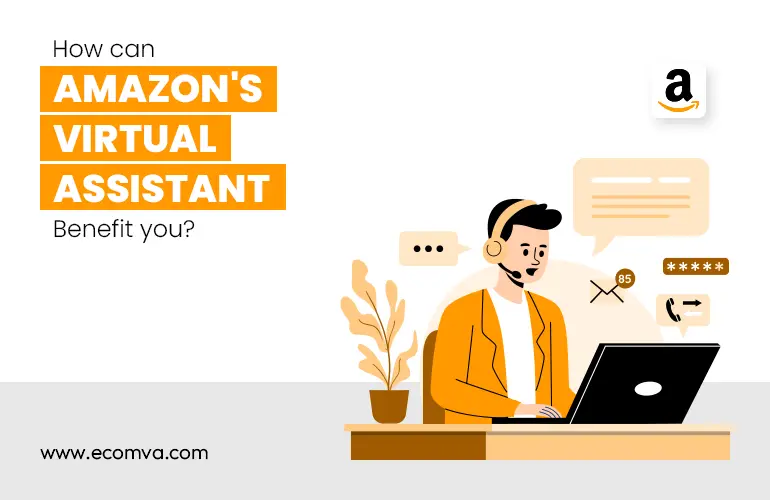 Are you planning to hire an expert Amazon virtual assistant for your store? If yes, then you are not alone!
Global businesses that sell on Amazon are continuously striving to beat the competition. However, growing your business on Amazon to stay ahead of the game and maximize profits and revenue requires your attention and time.
Tasks like answering queries, replying to comments, fulfillment, and creating and managing product listings demand ongoing diligence. So, if you want to avoid these time-consuming tasks, hiring an Amazon virtual assistant is a good idea.
In this comprehensive blog post, we will inform you about who they are and the key benefits you could reap by hiring these professionals. So, let's get started:
Who is an Amazon Virtual Assistant?
An Amazon virtual assistant refers to a professional inclined towards carrying out different activities and tasks related to your Amazon business. Most of them are involved in working remotely.
Throughout the years, Amazon virtual assistants have revolutionized business operations. So, whenever you hire one for your business, you are assured to reap many unique benefits. Due to all these benefits, many business owners focus on signing up for virtual assistance services. 
These professionals will work full-time or part-time based on your unique project requirements. But, if you wish to reap these advantages to the fullest, then it is essential for you to carefully choose your Amazon virtual assistant and assign tasks to them. 
Key Responsibilities that You Can Assign to a Virtual Assistant
As an Amazon store owner, you have decided to hire an expert Amazon virtual assistant for your business. But before you start the hiring process, learning about their roles and responsibilities is essential. One of the crucial things to note is that there is no task that a virtual assistant cannot carry out. However, you must assign them the tasks carefully. 
The first and most important thing is to list all the activities and functions that will consume much of your time. 
After that, you must decide on only those business activities you can perform. Once you are clear on your responsibilities, you must assign the rest of the activities and tasks to a virtual assistant. 
How Can You Hire an Expert Amazon Virtual Assistant for Your Store?
Note that the concept of one size fits all does not apply when hiring a virtual assistant for your Amazon store. So, it is highly recommended that you make a checklist of all the business activities and tasks that you want to be performed by the virtual assistant. 
By doing this, you would get a clear idea about how many virtual assistants you will need and in what area of specialization.
Once you are well aware of your business requirements, you can hire the suitable Amazon virtual assistant who can effectively fulfill your needs. 
In the following section, we are going to discuss a few activities and tasks that a virtual assistant can manage for you: 
How Can a Virtual Assistant Assist You?
1. Conduct Research Activity
Research is one of the most important aspects of any business. An Amazon Virtual Assistant is dedicated to offering you all the needed information by conducting thorough product research. It includes researching items, acquiring at wholesale price, negotiating with suppliers, attaining the best bargains, and securing samples of products you will sell on Amazon.
Besides carrying out product research, they even assist you with researching and presenting the most recent trends in your business domain.
With the help of detailed research, you can get a clear idea about what specific strategies your competitors are currently working on. Although the Amazon seller virtual assistant will manage the research part, you can focus on planning and implementing a solution that will help you survive this fierce competition.
2. Offer Customer Support
As an Amazon store owner, you will admit that customer support is crucial to your business. However, hiring an in-house team to manage the customer support activities of your business requires a lot of investment and can be time-consuming. 
In this case, you are also responsible for offering training and grooming your in-house customer support team. To successfully avoid these problems, you can hire a professional virtual assistant or a team of VAs. They will take care of customer support so you can concentrate on your business activities.
Consistent customer service is crucial in maintaining a high-quality user experience and positive reviews. An expert virtual assistant can assist you in creating message templates, answering customer queries, addressing negative feedback, commenting on reviews, confirming FBM orders, locating past orders, and dealing with product replacements and refunds. These are some of the critical customer service tasks.
3. Run Amazon Ad Campaigns
Running ad campaigns on Amazon is one of the most remarkable ways of driving traffic to an Amazon store. So, by investing in ads, you could generate a high sales volume.
Whenever you hire an Amazon virtual assistant, they will help run Amazon ad campaigns as they possess related experience and skills. As a part of it, they will set up campaigns employing Seller Central tools and input negative key terms to prevent unnecessary spending. 
Also, they are focused on monitoring analytics to check your campaigns' performance and make necessary ad adjustments.
4. List and Optimize the Product
One of the critical factors that help in driving sales includes product listing and optimization. You will need to seek the assistance of an Amazon VA to ensure that the listings are accurate and cohesive as per Amazon guidelines. 
They will help make your work easy by effectively listing and optimizing your store's products. Whenever you rely on an expert professional, they will track and double-check everything you have done, ensuring effective management of all the listing optimizations. 
They will keep a close look at how you rank for particular Amazon keywords to manage the optimization of your listing. This way, they can help track your Amazon store's performance.
However, it is essential to note that Amazon could frequently update the rules and regulations of its listing. So, whenever you hire an Amazon virtual assistant, it is their responsibility to be aware of all the changes to ensure that they adopt the best practices.
5. Offer Translation Assistance
Amazon is a platform that is popular across the globe. So, there are chances that you could be geographically located in one region, and your customer could be from other regions. In this situation, language can become a barrier. 
As an Amazon store owner, you must communicate effectively with your customers about the services and products you are involved in selling. Hiring an experienced Amazon virtual assistant agency is a good idea in such a situation. 
They will convey your message to the customer in the best possible manner, which will significantly help you. Furthermore, the Amazon virtual assistance you will hire for translation will help you understand what the customer from the other end is attempting to convey.
6. Do Processing of Order
It can be a time-consuming task to process orders. So, if you want to save time, hiring an Amazon virtual assistant who will manage order processing is a good idea. Ultimately, you can focus on other business activities that demand your attention and time.
A few order processing tasks they can assist you with include checking the received units, monitoring shipments, downloading shipping labels, obtaining Amazon barcodes for every unit, and sending in FBA inventory.
Other than the ones mentioned above, these professionals also have the capability to do more than this. As a store owner, you can decide what tasks a virtual assistant can assist you with in achieving your business objectives.
Before assigning tasks to them, consider asking yourself a few questions, which include the following:
What is consuming most of your time?

Which particular tasks seem most monotonous to you?

What are those activities which someone else could do better than you?
Once you know about these, you can make a well-informed decision and understand what responsibilities to assign to them.
Final Thoughts
So, it is evident from this blog post that hiring an Amazon virtual assistant can bring multiple benefits to your business by handling many of your key responsibilities. You can delegate to them the tasks that are expected to consume most of your time. 
However, to reap these advantages to the fullest, you should choose a suitable virtual assistant and carefully assign them your tasks and responsibilities. 
Thus, by asking yourself the appropriate questions, you can make a clear decision on which particular tasks a virtual assistant can perform in a better manner than yours. Based on that, you can allocate those tasks to them. 
Hiring the best Amazon virtual assistant can help streamline your business and boost profitability, efficiency, and productivity.