Magento: A Robust Solution to Kickstart Your Business Growth in 2023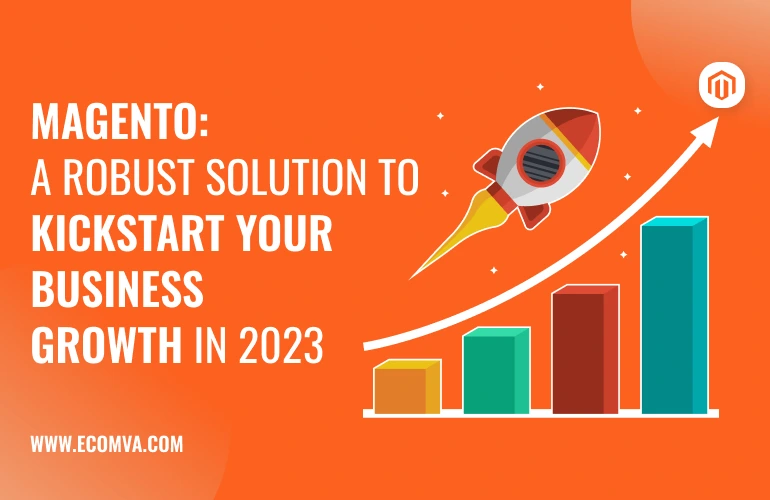 Are you an e-commerce business owner planning to opt for Magento store management services? If your answer to this question is yes exploring details about this platform is crucial before you choose any service provider.
With many commercial websites and contemporary online stores built using this platform, you can get a clear idea about its demand in the present times. Magento is still trendy in 2023 for businesses, effectively assisting them in carrying out several activities.
We have dedicated this blog post to inform you about this platform in detail. As part of our discussion, we will first examine what Magento is and the key benefits businesses can reap by leveraging this platform. So, let's delve in:
What is Magento?
Magento is a popular ecommerce store management and building platform which contains in-built PHP. It allows programmers to develop highly functional and efficient e-commerce sites. 
Big brands such as Samsung, Nike, etc., also use this open-source platform to improve their sales and grow their business. 
As per LitExtension's in-house data, Magento was one of the three platforms the merchants preferred to migrate to in 2020. Only a few store owners ended up selecting other carts.
Why Should Businesses Need to Employ Magento in 2023?
Magento is effectively used to carry out different business operations, which is why most modern businesses rely on this platform. The extraordinary level of efficiency of this platform makes it stand out from the other options available in the market.
If you are an e-commerce business owner, Magento will prove to be a boon. It is often employed for building online stores and other websites operating in the area of e-commerce. You can even use this platform to implement payment with cryptocurrencies and other major payment tools.
Magento's employment trend will continue throughout this year, i.e., 2023. Thus, it would help if you made yourself well-conversant with its main advantages. You can attract new customers, optimize basic processes, and facilitate optimal development by ensuring this.
Let's talk about the significant benefits in the following section:
Key Advantages of Using Magento for Your Business
The rising number of commercial websites built on Magento suggests an increase in the attractiveness of this platform. It means that most people are using it as the primary development tool. However, using all the main tools correctly is vital to reap full advantage of the service.
Here are the most important features of Magento for business:
Aids in Increasing Your Website Speed
Magento allows you to boost the loading speed of your portal pages. Users will likely lose interest in a website or brand if it loads slowly. So, slow  loading content is one of the significant issues that you should never overlook.
Magento is known for offering a wide range of e-commerce tools you can use to ensure fast-loading pages. 
Not only that, but it also helps to capture your customers' attention and increase customer loyalty. This platform tends to possess high-performance indicators, which lets you swiftly adapt to the specific requirements and tasks of the users at a low cost.
You can opt for the best Magento store management services to get efficient assistance from their end. 
Helps in Creating Convenient Conditions for Users
By using Magento, you can create optimal conditions for every visitor. It is due to the presence of its optimized hosting. It allows you to make optimal product lists. You can even manage all your available resources hassle-free by using Magento. 
The best part is that you do not need specific technical expertise or use any special functions for these tasks. The availability of page builders helps you achieve the most out of the process as it already adapts to the specific characteristics of a website.
Due to the presence of improved search engines in it, customers can also effectively search for the specific products and merchandise they are planning to buy. It helps increase brand trust and facilitate new sales to suit the unique requirements of any business.
If you need any sorts of related assistance, you can opt for Bigcommerce product store management services. 
Offers You Total Freedom on Choice of Services
You can independently select the best portal hosting services that suit your unique requirements and preferences. 
The best thing about Magento is that it lets you choose optimal and profitable platforms without using third-party tools and services. It facilitates easy storage optimization of all the company files, especially on the hosting site, using available resources and sources at a minimal price.
Provides You With the Option to Customize and Optimize Fully
Magento is easy to customize. You can fully tailor and adapt this platform to every client's individual needs. It is an outstanding open-source platform you can effortlessly rewrite and use to your advantage.
Magento is again free to use, so you can effortlessly use any version to optimize your tasks. If you are looking forward to increasing the speed and the efficiency of page processing, you can easily incorporate new features and utilize many different extensions. 
By relying on these services and extensions, you can considerably enhance the quality of all core workflows. This platform even allows you to optimize all activities for sellers.
Facilitates Effective Promotion
The platform of Magento can be employed for optimizing targeted traffic on the portal. So, by focusing on competent SEO promotion, you could boost the conversions and sales of your e-commerce store. As a result, it helps you attain high-quality traffic by utilizing different sources to achieve your desired goals with minimal costs and risks.
Another best thing about this platform is that it has many essential features crucial in facilitating SEO promotion. You can employ keywords, generate meta tags, product descriptions, and titles, and create sitemaps. 
Adopting these approaches could perfectly optimize your online store for search engine queries. Magento also possesses all the necessary ranking parameters to track visitors, create unique content, and optimize all processes.
Offers Multiple Store Support
Magento offers you the option to connect several stores simultaneously. It helps in the creation of a full-fledged online trading network. By utilizing this platform, you can effortlessly manage all of your products. 
You can also use the extended version of the software that comes with frequent updates. It also allows you to use helpful functional solutions which aid in streamlining the data-loading process. A professional Magento store management service provider can assist you effectively if you seek related help. 
Helps in Multi-channel Management
Multi-channel management, i.e., management at distinct levels, lets you keep close track of the changes in profitability and other characteristics of work processes. Rich functionality and a simple interface ensure optimal productivity for handling products and integrating 3rd party services.
Promotes Full Website Security
By choosing Magento, you could offer users high portal security. It facilitates the trust-building process and effectively lessens the risk of personal data loss and hacking. The security system of this platform is improved and updated frequently, which is considered its best part.
Easily Adaptable to Mobile Devices
You could develop a mobile site interface using Magento at no additional cost. It presents a fantastic opportunity in front of you so that you can provide high-speed data processing on various user devices. 
In the case of mobile devices, below are the key features that you would be able to configure:
Different Language Features:

It is well-suited for all those projects that want to enter the international market for cooperation with partners.

Push Notifications:

By using this feature, you can draw the user's attention to the most recent updates.

Product Comparison:

This feature will allow you to compare various product alternatives to discover the best option effortlessly.
Some other essential features of this service include great functionality, high adaptability, and well-functioning interaction with users at every development stage.
Effectively Integrates With Other Platforms
Magento possesses several extensions and add-ons that effectively boost the system's functionality and performance by all established standard norms. You can use a unique API to integrate the functionality of 3rd party apps. 
It will help you to create full-fledged software modules that are known for offering high-quality personal data processing for users with less effort and cost for everyone. 
Among the significant attractive 3rd party services that can be integrated, you should focus on the following:
Inventory Management

CRM Systems

Creation of Secure Payment Services

Accounting Education System

Provides Performance Analysis and Support Services
The integration of the analysis system is made easy with the help of this platform. Also, it assists in streamlining operational efficiency evaluation. Reports facilitate better decision-making, which will help you manage your online store more efficiently and much faster.
Final Thoughts
So, it is evident from this informative guide that Magento is a modern platform used for developing and maintaining different commercial projects on the Internet. It comes with several performance indicators that facilitate stable data processing and working with commodity items. 
The high level of security, flexible pricing plans, and strong support community set Magento apart from the other available options. 
To leverage the full potential of this platform, you can opt for professional ecommerce product store management services. It will help you to achieve top-notch outcomes.