The Klaviyo Automation Guide: Everything You Want To Know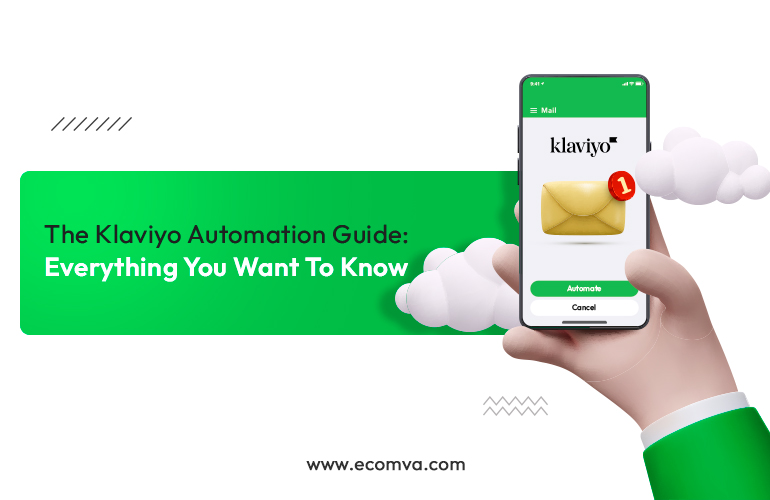 Are you still struggling with the email drafts? Email marketing is an ideal choice to connect with the target audience. There are 56% of consumers prefer email are a communication channel. 
We will give you a detailed insight into the Klaviyo automation to help you move towards growth easily. 
What is Klaviyo?
It is an email marketing, SMS, in-app notifications, and web automation platform that helps to grow your eCommerce business. It delivers great solutions to boost the shopping experience for small and large-scale companies. This tool can be easily integrated with Magento and Shopify for better marketing.
Setting an email flow with the right triggers makes everything simple. There are several types of flow triggers available in Klaviyo:
Date

: These are activated on specific dates for various users. Normally this is used for birthdays, anniversaries, or any special event. 

List

: The business owner can segregate the users into a list and set an automation flow. 

Segment

: This has certain rules under which the users fall, such as gender, age, or location basics. 

Price-Drop:

It is specifically shared with people who have viewed the particular item or added them to the cart

Action:

This will be activated when the customer takes a certain effort in the store, like adding products to the wishlist, completing a purchase, and more. 
It also allows businesses to analyze and use customer information to personalize and perform effective marketing strategies. This helps to send bulk mails and SMS while customizing the content based on the customer's interests and preferences. 
What are the unique features of Klaviyo automation?
1. Forms and Contacts
This is a basic feature that every eCommerce store must have to collect customer information like email addresses, contact, names, and more. In the Klaviyo dashboard, you can easily create a form to collect such information and ensure that users add it accurately. 
Also, owners can connect with the customers using the contact manager. It helps to receive information like if the email is opened, click on links, and potential customers. 
2. Template Segment
Users will get many email templates they can choose from per their requirements. This reduces your efforts as you need to add a text message in the draft. There are also themed templates that you can select as per your brand guideline. 
You can also use the basic templates for newsletters and product sections with the help of an email automation expert. There are templates where you can add links and products at per convenience. 
3. List Segmentation 
This is the strongest feature of the Klaviyo that every ecommerce store must use to generate better returns. It helps decide whether the customers are more likely to take the final action. People opening emails are the main focus of the segmentation feature, as the main goal is to increase profits. 
Also, with the right set of permissions, you can separate the subscribers who will engage with the email and will be interested in the campaign. It is better to create your customized list and segmentation based on the customer's action on the website. 
4. Social Media Marketing 
It has amazing tools for making a presence on social media channels to market your products. Like Facebook, advertising tools help add followers to your target categories. It is better to link the social media channels with Klaviyo so that it can start to work instantly. 
5. Analysis and Reporting 
Klaviyo automation has A/B testing that helps to decide the email campaigns that should increase the ROI. This means that users are informed about the sales with email marketing. Also, for better guidance, users can connect it with Google Analytics. 
Website tracking helps look at the visitors' activity in real-time with great customer support. This will also provide easier methods to customize the email marketing campaigns as per the target audience. 
Why is Klaviyo automation the right choice?
Feature-Friendly:

This tool has great features that generate robust data and actionable information to optimize your marketing campaigns. It has powerful automation support to target and segment the audience. 

Data Science:

The email marketing tool uses artificial intelligence, data science, and machine learning to gain insights if customer data. The main aim is to generate strategies for better sales and brand value. 

Ease of Integration:

It is easily integrated into Shopify, Magento, and every other ecommerce platform. There are 200+ pre-built tools for customer support, subscriptions, payments, UGC, loyalty programs, and more. 

Automation:

The tool has a drag-and-drop feature to map your store's customer experience. Share automated emails based on the data provided by you. 

Customer Profiling:

The CRM helps business owners access every individual's contact details, page visits, or time invested. With Klaviyo, it becomes effortless to know when the customer clicks on a link in an email, has active status, views a specific product, or places an order. 
What is the essential email marketing flows for an eCommerce business? 
Now that you understand the basics of email marketing, it is better to set up the correct flow:
1. The Welcome Email 
This is the first email flow that customers will view when they subscribe or take the right action on your store. These people are interested in your brand and taking a step forward to share their contact details. 
Whether it is a Walmart automation business or another, it requires your attention, and they are still on edge from making the final decision. It is high time to gain trust or convince that your product will bring a better solution. Some of the items that should be added to the email are:
Introduction by the founder to gain customers' trust and help them connect with the brand. 

Provide great deals to make them make their first purchase and improve sales which will help generate value for the customers. 

Provide tutorials explaining how the products will help the customers meet their targets and add social proof. 
2. Post-Purchase Email 
After a customer makes a successful purchase, send them an email containing coupons for future purchases, product recommendations, and praise for taking this action. The main purpose of this email is to gain customer loyalty and bring back customers. 
Most people look for other options, so sharing a post-purchase email with Klaviyo automation becomes hassle-free. Just ensure that you add some of the below elements:
Requesting the customers to leave a review about their experience with the store and products. 

Ask the customers if they want to subscribe to a loyalty program or reward

Reminding the customers to collect their cashbacks, warranty, and guarantee

Adding recommendations about similar products and services

Send them regular updates about their order. This will keep them engaged with your emails to find every order. It builds trust and possibly increases the repeat purchase metrics. 

Share with them information about the private groups for special customers. The main aim is to build strong bonds with your customers and create a community for your brand. 
3. Order Status Email
If the customer has made a purchase, you need to automate an email after placing the order. The main purpose is to reassure customers, reinforce social force, and secure brand preference over competitors. 
With klaviyo automation, you can add the below elements to the flow:
Thank your customers for making the purchase and informing them that the order has been accepted successfully. 

Informing customers about the status of the order. 

Show the customers the relevant products or things that can be added to the current developments. 

Add a discount, offer, or coupon for their next purchase
4. Cart Abandonment Email 
This common email is shared with customers who have added products in the cart but did not purchase them. The main aim of this email is to understand the customer's reason for not making a purchase which can be due to shipping costs, no discounts, not being affordable, or poor reviews. 
So, you need to focus on the below elements in the email with the help of virtual assistant services:
The User Generated Content will help you understand the customers better. 

Reviews of people that are satisfied with the products and achieved desired results.

Providing trust badges and cashback guarantees to the customers after making the purchase. 
5. Updates about delivery 
The main target of this flow is to reassure the customers that the product is shipped and drive customer retention. This should be shared after 1 -3 days after the order is placed. Klaviyo helps to focus on the following elements:
Be thankful to the customers for completing their purchase, and let them know that the order has been shipped. 

Inform the real-time status of the order

Provide an incentive to convince them to make another purchase from your store. 
Summing it up!
Dive into the above tips to guide you toward a better marketing approach. The best advice for dealing with klaviyo automation is to tailor the email flow and personalize the content based on customer insights.