What your business can gain by hiring a virtual assistant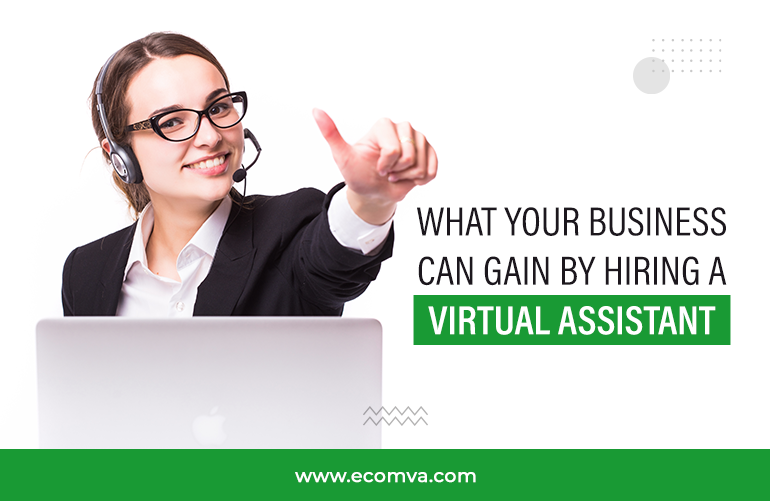 Hola eCommerce entrepreneurs!
Are you finding it challenging to keep up with the fast-paced demands of running an online store? From managing product listings to handling customer inquiries, eCommerce can be a challenging business to run. 
However, don't let the daily grind of these tasks slow down your growth potential! In this digital age, a solution is always around the corner. Enter virtual assistant services.  
Hiring an eCommerce virtual assistant can be a smart move for businesses looking to scale their operations.  
By outsourcing your time-consuming and often repetitive tasks to a skilled virtual assistant agency, you can focus on your core competencies and take your business to new heights. 
In this blog post, we'll dive deeper into the world of eCommerce virtual assistants and explore the many benefits they can bring to your business. So, grab a cup of hot coffee or your favourite beverage, and let's explore why you need an eCommerce virtual assistant today!
What are e-commerce virtual assistants?
E-commerce virtual assistants are remote professionals who specialize in providing support to businesses selling products online.  
The best virtual assistant agencies can help e-commerce businesses with a wide range of tasks, including product management, marketing, and sales, website management, and customer service.
Virtual assistants associated with an agency typically work from their own location and communicate with clients via phone, email, or other online tools. They are responsible for their own equipment, training, and taxes.  
The best virtual assistant companies charge by the hour or project, and their fees vary depending on their level of expertise, experience, and location. 
Some virtual assistants may have specialized skills or experience in specific e-commerce platforms or software, such as Shopify, WooCommerce, or Amazon Marketplace. Others may have expertise in specific e-commerce tasks, such as product listing optimization, email marketing, or SEO. 
By outsourcing e-commerce tasks to an experienced Shopify or Amazon FBA virtual assistant, eCommerce businesses can free up their time and resources to focus on their core operations and growth.  
E-commerce virtual assistants can help businesses to manage their e-commerce operations more efficiently, increase sales and revenue, and improve customer satisfaction.
What Tasks Can Virtual Assistants Do For Your Business?
A virtual assistant agency can help you manage business operations and grow your business.  
Product Management
Product listing and optimization

: Creating and optimizing product listings, including writing product descriptions, uploading product images, and selecting relevant keywords.

Inventory management

: Monitoring inventory levels, forecasting inventory needs, and coordinating with suppliers and manufacturers.

Order processing and fulfillment

: Processing orders, packaging products, and coordinating with shipping carriers to ensure timely delivery.

Product research and analysis

: Conducting market research, analyzing customer feedback, and identifying new products to sell.
Marketing and Sales
Email marketing

: Creating and sending promotional emails, newsletters, and other marketing messages to subscribers and customers.

Social media marketing

: Creating and scheduling social media posts, managing social media accounts, and engaging with followers.

Advertising management

: Creating and managing advertising campaigns on Google, Facebook, and other platforms.

Conversion rate optimization

: Analyzing website traffic and sales data to identify areas for improvement and implementing changes to increase conversions.

Customer retention

: Implementing strategies to increase customer loyalty and repeat purchases.

Content creation and editing

: Writing blog posts, creating newsletters, designing infographics, and editing videos or photos.

Graphic design and web development

: Creating logos, designing website layouts, and maintaining website content.
Website Management
Website design and development

: Creating and maintaining e-commerce websites, including designing website layouts, selecting and configuring e-commerce platforms, and optimizing website speed and performance.

Website maintenance and optimization

: Updating website content, monitoring website performance, and optimizing website design and functionality.

Search engine optimization (SEO):

Conducting keyword research, optimizing website content, and building backlinks to improve website visibility on search engines.
Customer Service
Responding to customer inquiries

: Providing timely and helpful responses to customer inquiries via phone, email, or chat.

Handling returns and refunds

: Processing returns and refunds, handling complaints and disputes, and issuing store credit or refunds.

Order tracking and support

: Helping customers track their orders and resolving any issues that may arise during the ordering process.
Reasons To Hire A Virtual Assistant Agency
Some of the benefits that your business can gain when you hire a virtual assistant include the following:  
Increased Productivity
Virtual assistant services can help you increase your productivity by taking on tasks that are time-consuming, tedious, or require specialized skills.  
For example, a virtual assistant can handle your email inbox, manage your schedule, book appointments, conduct research, prepare reports, and perform other administrative tasks. By delegating these admin tasks to a virtual assistant, you can focus on your core business activities and goals.
Cost Savings
Hiring a virtual assistant agency can also help you save money. Unlike traditional employees, virtual assistants are not entitled to benefits such as health insurance, vacation time, sick leave, or retirement plans. Moreover, you only pay for the time that a virtual assistant works on your projects, so you don't have to worry about overhead costs such as rent, utilities, or equipment.  
Additionally, you can hire virtual assistant services from anywhere in the world, which means you can take advantage of lower costs in other countries.
Scalability
One of the most vital advantages of hiring a virtual assistant is scalability. As your business grows, you can easily adjust the number of virtual assistants you need to support your operations.  
For example, if you have a seasonal peak in demand, you can hire additional virtual assistants to handle the workload. Similarly, if you need to cut costs during a slow period, you can reduce the number of virtual assistants you employ.
Flexibility
Virtual assistants offer a lot of flexibility in terms of work hours and project types. Since they work remotely, they can often accommodate your schedule and work outside of traditional business hours. 
Moreover, virtual assistants from the best virtual assistant agencies come from diverse backgrounds and have different skill sets, which means you can find someone who is a good match for your specific needs.  
Whether you need help with data entry, social media marketing, graphic design, or customer service, there is a virtual assistant out there who can help.
Focus on Core Competencies 
Finally, hiring the best virtual assistant companies can help you focus on your core competencies. As a business owner or manager, your time and energy are better spent on activities that generate revenue and add value to your customers.  
By delegating your administrative tasks to a virtual assistant, you can concentrate on the areas where you excel and leave the rest to someone else.
How To Hire The Right E-commerce Agency?
 Hiring the right eCommerce virtual assistant agency is critical for the success of your eCommerce business. But with several options available in the market, you might find it overwhelming to choose the right one.  
Here are some practical steps you can consider to ensure you hire the right agency:
Define your needs

: Before you start looking for an eCommerce virtual assistant agency, it's important to define your needs. Make a list of the tasks you need help with and the skills required to complete those tasks.
Research agencies

: Look for agencies that specialize in eCommerce virtual assistant services. Check out their website, read reviews, and ask for references. This will help you determine which agencies have the expertise and experience you need.
Consider their pricing

: While cost should not be the only factor you consider when hiring an eCommerce virtual assistant agency, it's important to know how much you can expect to pay. Compare pricing among different virtual assistant services

to find one that fits within your budget.
Check their communication channels

: Effective communication is essential when working with a virtual assistant agency. Ensure the agency you choose has clear communication channels, such as email, chat, or video conferencing.
Look for experience and expertise

: Choose an agency with a proven track record of successful eCommerce projects in your industry. They should have experience with the platforms and tools you use, as well as the skills required to handle your specific tasks.
Consider their availability

: Make sure the agency you choose has availability that matches your needs. Whether you need a few hours a week or full-time support, make sure the agency can provide the level of service you require.
Assess their cultural fit

: The eCommerce virtual assistant agency you choose should share your values and culture. This will help ensure that they understand your business and can work effectively with your team.
Wrapping Up
Hiring an eCommerce virtual assistant can be a game-changer for your business. By outsourcing time-consuming tasks to a skilled virtual assistant, you can concentrate on growing your business and taking it to new heights. 
An eCommerce virtual assistant brings specialized expertise to the table, which can help optimize your eCommerce operations, improve customer service, and increase sales. 
With their scalability, flexibility, efficiency, and cost-effectiveness, eCommerce virtual assistants offer a range of benefits for eCommerce businesses of all sizes. By hiring the right eCommerce virtual assistant agency, you can ensure that your business is in good hands and that your eCommerce operations run smoothly.
So, if you're feeling overwhelmed with the never-ending tasks of running an eCommerce business, it's time to consider hiring an eCommerce virtual assistant. Take the leap and give yourself the gift of time to focus on growing your business with confidence.