Why Outsource Shopify Product Data Entry? The Ultimate Solution!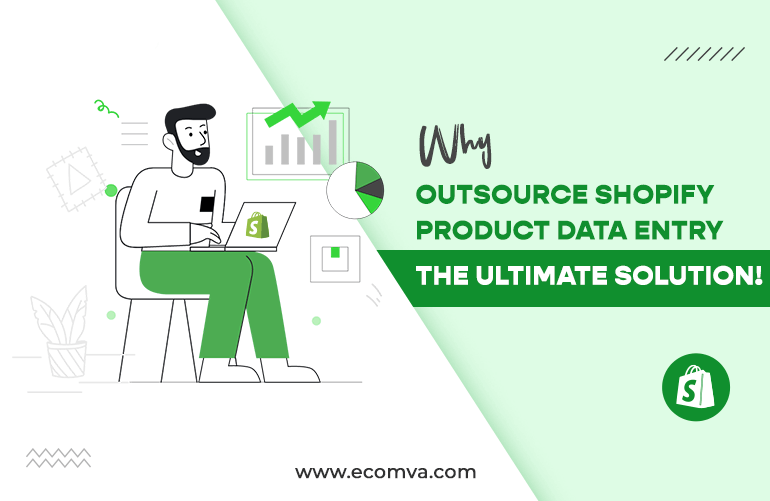 An online selling platform revolves around great features, functionalities, and responsibilities. With over 1.7 million businesses around the globe relying on Shopify, you should understand some insights to grow a business successfully. 
Like the time-consuming Shopify product data entry services are something that requires your attention. A smart business owner aims to focus on the vital elements of business growth and outsource time-consuming tasks to the experts.
What is data entry?
This broad term covers various sections of the business. These people, including electronic data, typists, processors, and transcribers, perform data entry. Some common tasks for this role are:
Product data entry 

Maintain sheets for accounting 

Survey data management 

Data input and conversions 

Document Management 

Invoice Management 

Forms processing 

Products Image Management 
The tasks can be completed from any location. The things that vary are the expertise, costs, and experience. Also, they must have the right listening and communication skills to ensure the credibility of the data. 
What is an outsourcing process?
The business practices where a third-party firm will handle specific job functions. Normally, businesses are looking to outsource secondary tasks like data entry, sales, logistics, and marketing. This saves their time and efforts to focus on high-priority missions for business growth. 
Why should you outsource Shopify product data entry services?
The platform provides a user-friendly eCommerce store with a great interface. It is a great challenge to handle an online store's tasks. Your brand needs the right equipment, skills, and money to run the business.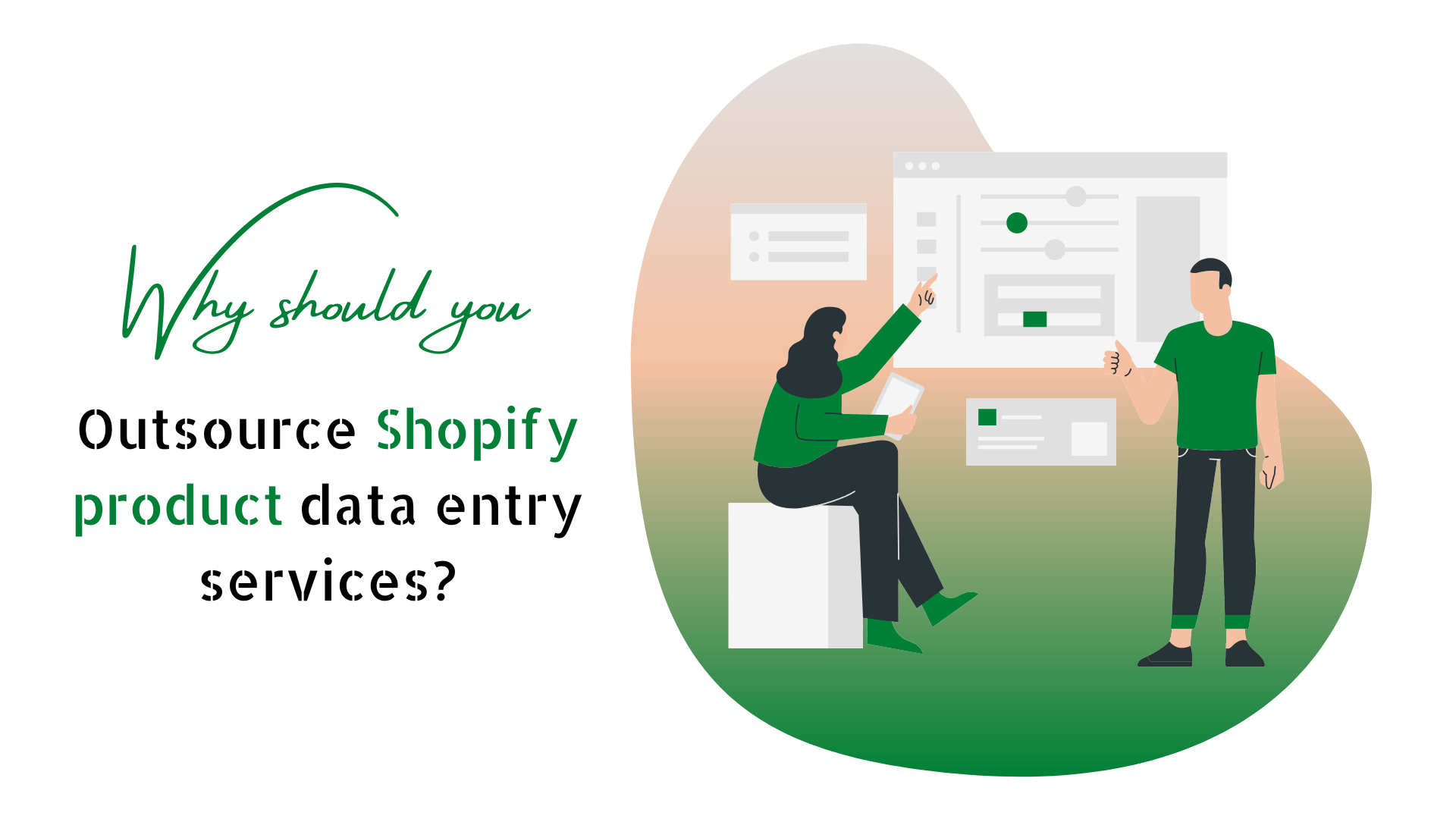 Outsourcing certain tasks help to save time and perform tasks quickly as professionals. Business owners struggle to organize a large volume of information within the time limit. It requires special skills to process the data efficiently. The two methods used are:
Onshore outsourcing:

This takes place in your own country. This provides ease of communication and collaboration with the company. 
Offshore Outsourcing:

They work outside your country and are considered an affordable choice. Various resources help for smooth communication and deliveries.

 
It is significant for the business to have organized and errorless data to accelerate growth. This will save time, which can be used to focus on the company's core activities. 
What are the necessary skills of a Shopify product entry service provider?
When you are looking for quality solutions, it is important to hire a reliable resource. This ensures that your tasks are managed perfectly without any complexities. Knowing their expertise and core skills is vital to understand their potential for the business.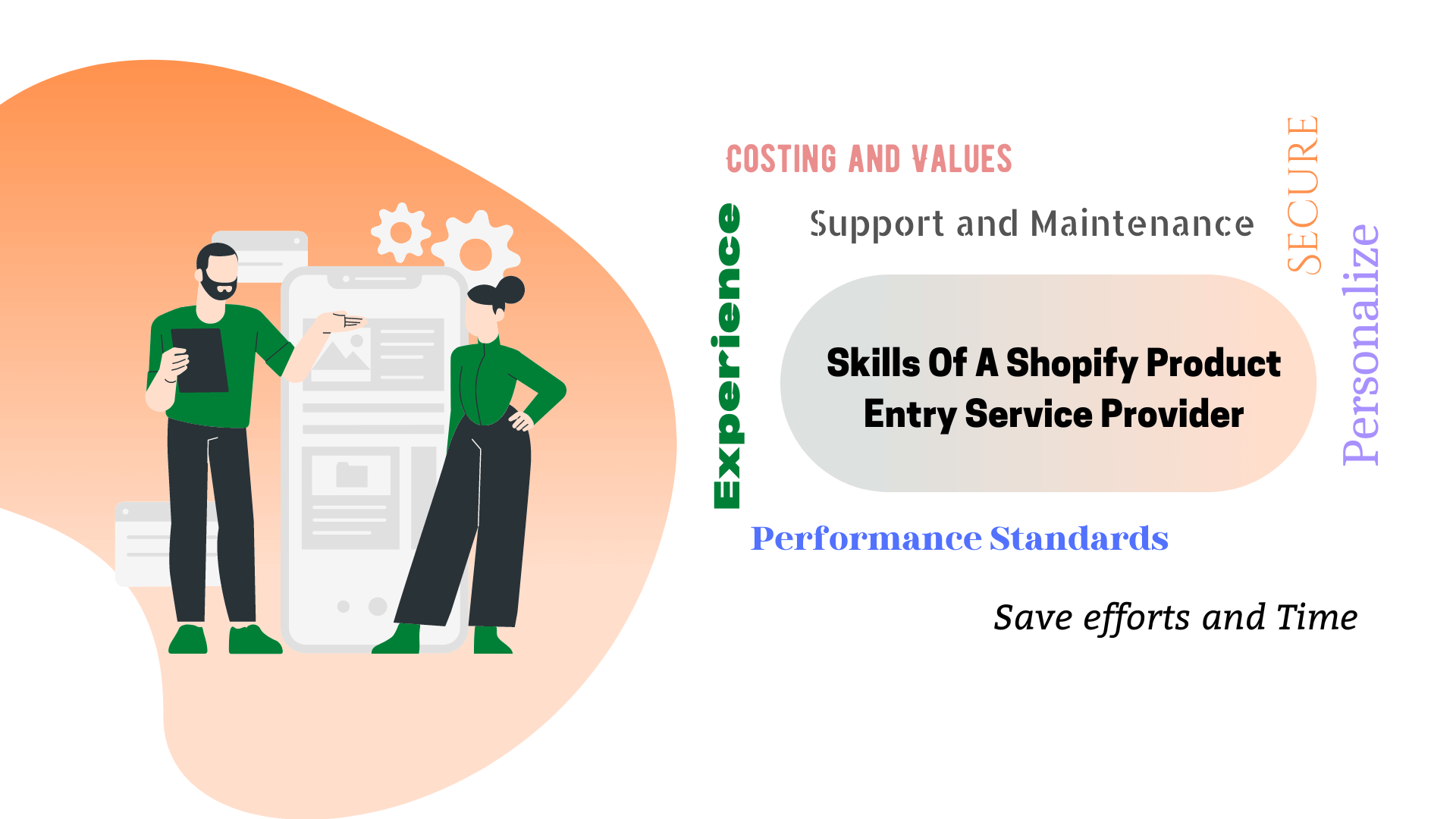 Let us give you a list of things that you must check before you hire virtual assistant USA to handle data entry services:
1). Performance Standards 
Many cheap or free services are available in the market, but they might fail to provide the quality services you are looking for. A skilled person will understand your requirements and develop strategies to achieve all the targets. 
A Shopify expert will analyse customer behaviour and perform the data entry efficiently to make everything organized. 
2). Save efforts and Time
Shopify already has too many features and functionalities to ease your work for providing a great user experience. The team you hire should have immense knowledge of the platform to meet all the targets efficiently. The faster solution will save time and place your business ahead of the competition. 
3). Personalize
Getting a customized solution to meet your expectations is always a requirement. The Shopify product data entry service provider should be versatile and experienced to provide effective results. Being in the industry for a long time gives an edge to understanding the demands and expectations of the customers from the store. 
4). Costing and Values 
Outsourcing Shopify product entry services aims to save you from stress. This only works when you have a cost-effective solution. There must be a perfect balance between the potential of the expert and the cost to ensure your investment is worth it. 
5). Secure 
Shopify store manages sensitive information of the business and customers, which means it must follow security measures to keep everything secure. Know their data security policies before you hand over all the information before get the right information. 
6). Experience 
 Know the qualification and technical knowledge of the service provider. Some people use special software to meet targets and provide efficient solutions. These tools help to make the data entry process faster and more effective. 
7). Support and Maintenance 
The service provider must use a mechanism to track and evaluate the services. It is better to choose the organization available to handle your queries every time. This increases flexibility and provides a great user experience with an instant solution.
What tasks can you assign to a Shopify product data entry expert?
Product Uploads:

Adding products to your store catalogue is challenging as every detail needs to be perfect. The experts must add descriptions, images, quantity, pricing, code, manufacturer details, and more.

Description:

It is crucial to add technical terms and product details with the right keywords. This helps to engage the customers and give them a clear idea about the product.

Inventory Management:

While running a business online, ensuring every product is in stock and there is no wastage of resources is important. An efficient service provider will maintain the right balance of products in the inventory.

Product Updates: After some time, the products should be formatted and updated as per the trends in the industry. This includes adding new products, enhancing images' quality, and providing a better user experience.

Edit Images:

Processing the product images with the right tools helps grab the visitors' attention. They should provide color combinations for the same product for the visitors. 
Category:

Understanding the attributes of products like color, quantity, size, availability, and other customizable properties is crucial. Your service provider will maintain proper category and sub-category tags for each product. 
Manage Bulk Products:

There are circumstances in which you need to upload bulk products with accurate results and data validation. So, ensure that the expert has all the right procedures to handle such tasks. 
Personalized Solutions:

Every business is unique and requires tailored solutions to match its reputation. It is important to handle every task by maintaining the same company persona. 
Did you know that Shopify has over 2.1 million active users daily? This means the competition is tough, and you need to be highly efficient in every action in the store. Getting a virtual assistant agency to handle Shopify product data entry will save your struggle and bring decent solutions for the business. 
What are the advantages of hiring Shopify product data entry services?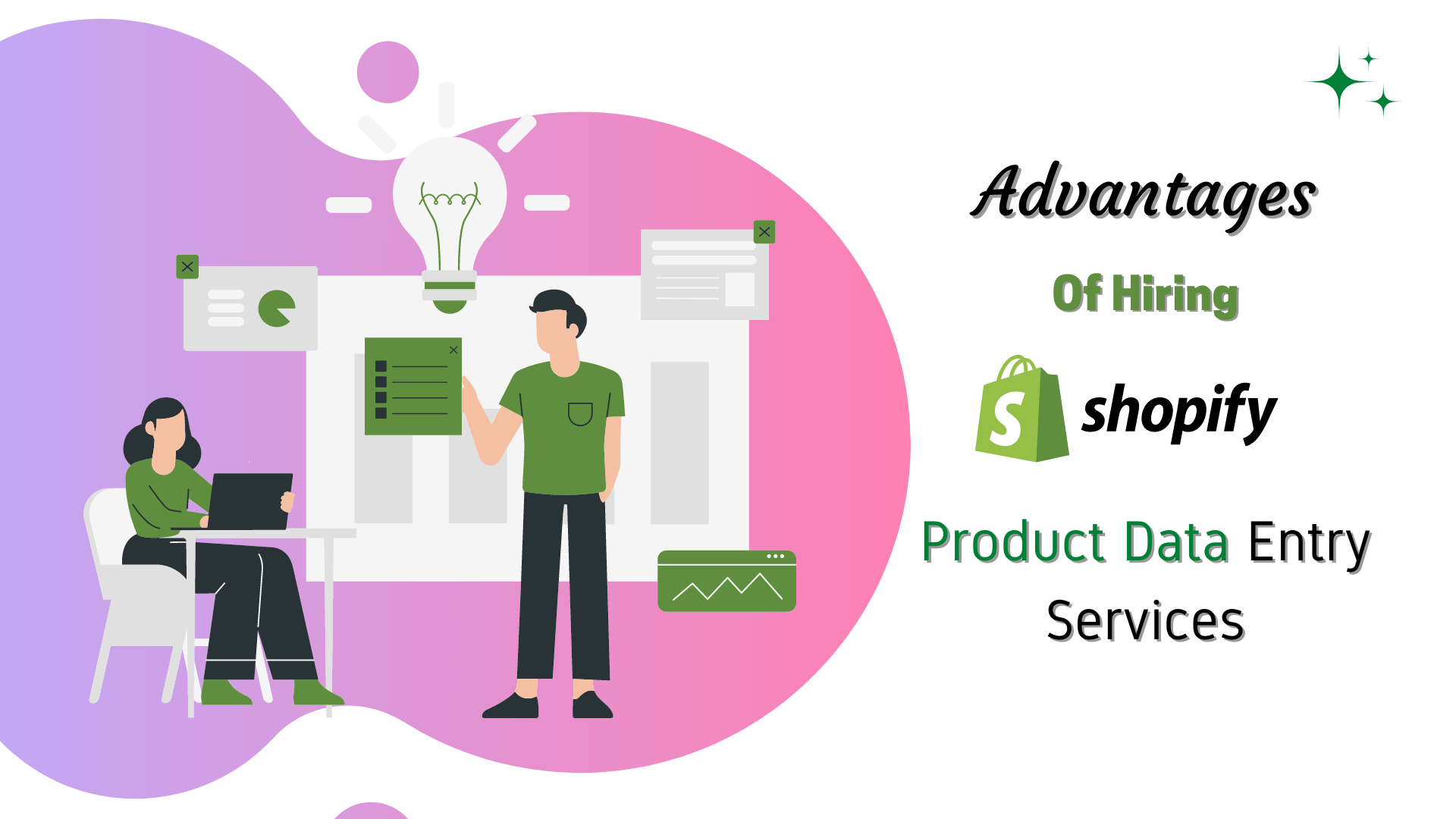 1). Highly Efficient Solution 
When a qualified person handles your data entry tasks, you can improve the core functions of the business. This removes the multitasking process, which means no chance of errors and missing an opportunity. It helps increase efficiency and ultimately boost the business's revenue. 
2). Great Scalability
The main aim of the business in outsourcing Shopify data entry is to maximize the output. To achieve this, you need some experts to handle the tasks. Invest in a service provider with great experience and perfect to meet all your expectations. 
3). Fast Responses 
There will be a turn-around in the business activities as there is higher productivity. A third-party organization has the right processes and techniques to handle the tasks faster and effortlessly. This will help you to manage a highly-active Shopify store perfectly. 
4). Data Security 
Every business owner worries about online vulnerabilities and data breaches that affect the business's reputation. Outsourcing a business to a reliable person will ensure they use the right standards to secure all the information. 
5). Enhance Accuracy 
To run an online business successfully, it is vital to have great accuracy in maintaining product data entry. Your service provider will handle every task precisely and effectively boost the business's performance. 
6). Affordable Solution 
When you hire Shopify data entry services, they need some investment, but on the other hand, they bring great revenue for the business. It is a great idea to complete tasks with minimal resources and generate large-scale sales. 
7). Tools and Technologies 
The ultimate goal of a Shopify store is to keep your product listing updated, organized, and correct. It is vital to make your products searchable on search engines which requires optimization. A qualified virtual assistant will use different tools and strategies to customize the products to meet search engine requirements and customer expectations. 
8). Seamless Processes 
An experienced data entry service provider will ensure that your products are listed under the right category with detailed information. They will focus on image resolutions, pricing, alternatives, shipping details, and more for a smooth customer journey. If needed, they can also handle reviews and ratings related to the products that play a huge role in customer decision-making. 
9). Achieve higher ROI
Optimizing the content is the best method to win a competition and maximize traffic. Professionals will help to implement the right strategies to make your store SEO-friendly. Outsourcing product data entry services will bring faster and better results for the business. 
10). Diversified Expertise 
The ecommerce business has a dynamic nature. It becomes important to have a well-versed quality to handle each task. They must be versatile to handle diverse industries like logistics, banking, legal, education, technology, finance, healthcare, and more. This will help to meet the expectations of an eCommerce business. 
11). Correct Categorization 
They will have complete control over existing and new product categories on the eCommerce store. It plays a huge role in managing customer experience by providing categories and sub-categories during their shopping journey. 
Summing it up!
We have given you enough information to help you take the right action for your business. Make sure it is a perfect blend of efficiency, cost-efficient, and faster data entry services. Also, they should follow the right security and confidentiality measures to provide the best. 
Shopify product data entry services will make sure to handle a variety of data and effectively process all the functions of an eCommerce store. Outsourcing tasks can bring quality and higher returns for the business.