12+ Tasks You Can Assign To Your Amazon FBA Virtual Assistant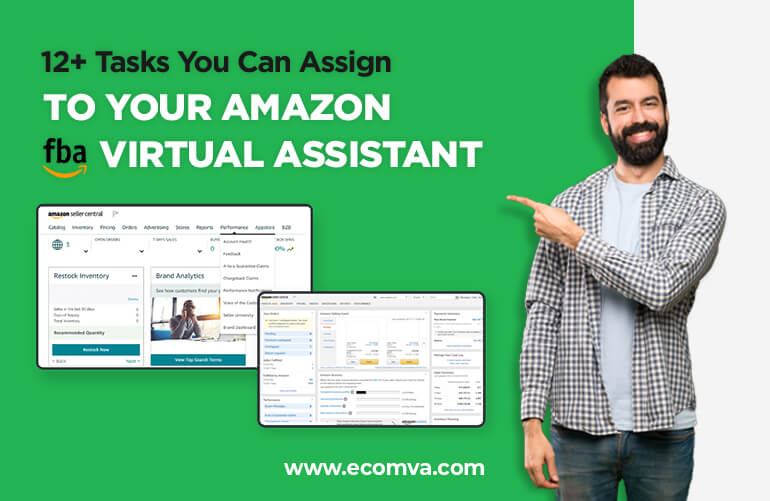 As an Amazon seller, you have to manage various responsibilities to ensure smooth delivery. Amazon FBA virtual assistant has been expertise in efficiently handling products, inventory, logistics, and many such menial tasks. As an e-commerce store manager, you need to provide the best services to ensure growth. There are various tasks you should be expert at, this might be easier with virtual assistant help.  
Let us first explore,
What exactly is an Amazon FBA?
The Fulfillment By Amazon program is a service offered by Amazon. It gives sellers assistance for shipping, packaging, and storage. This saves the efforts and reduces the complexity of the sellers with better flexibility. The program is dedicated to helping sellers ship their products through the Amazon fulfillment center without worrying about its delivery or storage.  
Some unique benefits of using Amazon FBA services are: 
Gain trust under Amazon's Name
Billions of people globally trust Amazon for buying and selling products.  This helps to ensure that you get quality services and customers can easily trust your services. Also, it ensures to provide excellent services and rapid delivery. 
Customer Service Management
Amazon provides around-the-clock customer services to handle queries, issues, returns, and refunds for the sellers. This saves them from the hassle and also helps in improving customer relationships. 
Multiple Channels for order fulfillment 
FBA sellers have the freedom to store their products at Amazon fulfillment centers. This ensures that your products are delivered faster and through multiple channels.

What is an Amazon FBA virtual assistant? 
It is someone who is an expert to helps sellers in managing their Amazon business. It is a time-consuming task to learn every element of the Amazon FBA. The delays in providing excellent services will lead to losing potential customers. This will be better with the help of VA for Amazon FBA that has the industry experience, and provide results as you expect.
How Amazon FBA VA makes a difference? 
They have a solution: Everything! 
They have answers: 24/7!
When you first step into Amazon FBA, you might feel lost and face issues providing smooth deliveries to the customers. An Amazon FBA VA will figure out the processes and handle them to provide excellent deliverables.
Few crucial tasks that you can trust an Amazon FBA Virtual Assistant
Fulfill Orders

This is the one responsibility that consumes a lot of time and also needs perfection. When you hire eCommerce Virtual Assistant, they will take care of all the orders, invoices, and shipping. They ensure you provide customer satisfaction with your products and services.

Adding new products


Every product's success rate depends on the time invested in presenting it to the users. It would be better to let Amazon FBA virtual assistant handle the responsibility of listing new products to help you increase productivity.

Update Inventory


If you want to gain potential customers who rely on your services, you need to update your inventory regularly. With some products in demand, you need to stay updated. Also, a virtual assistant is capable of changing product descriptions to make them precise for the customers.

Track Information


It is essential to track your necessary tasks to ensure a seamless process in the business. Your Amazon FBA virtual assistant will manage, send, and take follow-up from each customer. This helps them to know the strong and weak points of your business. This helps to get an opportunity to improve your services in the e-commerce industry.

Content Optimization


This will include headlines, CTAs, product descriptions, and other content about your products. Virtual Assistants have the knowledge to handle SEO and digital marketing efficiently for your products.

Answers to Customer queries


Amazon is a customer-centric platform. This means it focuses on providing the best user experience by giving hassle-free processes. This means it is vital to reply to customer queries instantly. An expert Amazon FBA virtual assistant will have enough knowledge to resolve customer doubts accurately and professionally.

Revert of Feedbacks


Reviews play a vital role in embracing your services on a digital platform. There might be positive or negative feedback, and you cannot ignore any of them. Virtual Assistant will take this responsibility to provide professional comments and resolve the issues of unsatisfied customers.

Handle Email Marketing


It would help if you were innovative and unique while creating compelling content for email marketing messages. Your subject lines much grab customer's attention and motivate them to click the message. So, a virtual experience assistant will help in writing compelling content which improves your Click-Through-Rate.

Manual Shipping


The Virtual Assistant can send out your products from the seller to the customers while Amazon tracks them. This will help to engage with the customers, and delivery might be faster in some scenarios.

Handle Past Orders Data


While running e-commerce, it is significant to have a data record of your orders. This ensures that when a customer has any query, you have precise data about their orders. Virtual Assistant maintains proper records and reports of the orders. Having a smooth process ensures that your Amazon FBA business will scale up.

Handle Returns and Refunds


There are chances that your customers might not be satisfied with the products and ask for a return, exchange, or refund. Virtual Assistant knows how to handle such customers and provide them the best solution possible, which is beneficial for them and the business.

Set up campaigns


The process of running a campaign needs resources, tools, and knowledge to succeed in the market. An experienced Amazon FBA virtual assistant has access to the best tools which help them to target potential customers through their campaigns.

Amazon Store SEO


This is vital to increase your brand awareness in the digital world. Virtual Assistants will perform deep keyword research and optimize the content to make it SEO-friendly.

Product Sourcing


The Amazon FBA Virtual assistant will find the products to buy from wholesale at a lower price and sell on Amazon. This helps to secure the best deals, which ensures you gain profits.

Negotiation


The cost of products while getting from the suppliers always has a scope of negotiation. It is crucial to pay attention to the details and act smart during the final price. As experienced Amazon FBA Virtual Assistant, they are good at communicating and handle product negotiations efficiently.

Secure Samples


A product source provider always has some sample products, which helps to determine the quality. A Virtual Assistant will help secure them and wait for your approval to sell them through Amazon FBA.

Track Shipments


You must always know the whole process of shipments to ensure it reaches the customers within the delivery time. An experienced VA will track delivery routes constantly.

Design Logo


You need professionals who have experience in the market to design a logo for your brand. An Amazon FBA virtual assistant has the proper knowledge to build a unique logo and matches your brand status.

Infographics


This is great to target the audience and convey your message more efficiently. A virtual assistant will play the role of graphic designer perfectly as it has the skills and knowledge to make your content appealing to the reader.
Why go for an affordable Amazon FBA virtual assistant?
They have all the talent, skills, and knowledge required to run an Amazon business successfully. Some vital elements are:

They offer services as a personal assistant to technical services like website promotions, development, digital marketing, and many more. They provide you virtual support services to manage your selling process hassle-free. 

Not only that, but they have the best talent as they are highly skilled, know the latest tools and technologies, and are well-trained to handle all the responsibilities of the Amazon FBA business.
Amazon online assistants ensure that you have stocks in your inventory to ensure smooth delivery of products. This ensures customer satisfaction and gains potential leads.
They will improve your customer support services. Amazon FBA virtual assistant will ensure to send instant replies to the customers.
Get VA's to grow!
When you step into the Amazon FBA business, you target achieving better orders and maintaining customer relationships. Well, an efficient Amazon FBA virtual Assistant has all the knowledge and tools to manage your tasks. We have listed just a few reasons above. There are many more to go! Reach us! To understand how a virtual assistant makes your life easier.