15 Tasks A Shopify Virtual Assistant Can Do For Your Business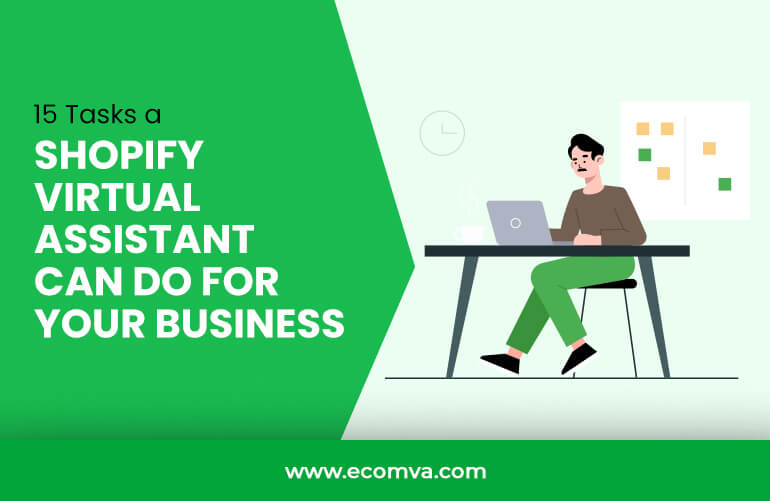 Shopify is a popular eCommerce platform that helps businesses set up an online store. Millions of companies worldwide use the Shopify platform for their business. Starting an online business may be an easy task, but managing the business is not easy. However, a Shopify virtual assistant can help you in managing the business. 
A virtual assistant is a person that can help you manage your business activities virtually. He is an experienced professional and knows how to manage an eCommerce business. 
You may notice that most of the time goes into routine business activities. These types of activities are not important, but one cannot also avoid them. Here, a VA Shopify can be helpful, as they can handle all such tasks of your business. 
The virtual assistants hold good expertise and experience in doing the tasks of an eCommerce business, and thus they can perform functions by ensuring the best quality. It will ultimately improve the efficiency of the company. 
By hiring a Shopify assistant, you can focus on the other important business activities where your presence and attention are more important. 
In this content, we will discuss 15 tasks that a Shopify assistant can do for you. 
Major tasks to assign to a Shopify Virtual Assistant 
If you want to start your online business, the first step is to set up your Shopify account. So, if you do not have an account, you can assign this task to a Shopify VA. Generally, the set-up process includes setting up the login details and completing the Contact Us and About sections. 
One needs to add products, upload photos, fill the descriptions, and list everything in the appropriate sections. The assistants can handle these tasks effectively. 
It is important to procure the right products from the right seller and at the right price. Shopify VA's have experience doing these tasks and thus can effectively perform this task for your business. He can purchase the products in bulk too at an attractive deal. 
Product listing is an important task, and a Virtual Assistant (VA) can do this task for you. Customers surf the products on the online store while performing another task. Thus, their attention can be less so if you need to showcase your products and services strategically so that the products catch the people's attention.  
Order process and management
One of the major reasons people prefer shopping online is because they find it easy, and thus you need to ensure that the orders are processed quickly, and the right products are sent to the customers. You can hire a virtual assistant for Shopify to do this task of your business.  
Inventory management is an important task for all businesses, especially online businesses because there is a continuous inflow and outflow of products. Businesses need to pay proper attention to the inventory to avoid situations like – out-of-stock. 
The VA can use the best inventory management tools to manage inventory in the best way possible. 
Search Engine Optimization (SEO) helps improve the visibility and traffic of your online store. In this world of digitalization, people search for everything on Google, and SEO can help you get the top place in Google. SEO requires specialized expertise, and thus you need a professional for this task.
To attract people to buy your products, you need to use attractive product pictures which can attract them to purchase the product. One needs high-quality photos, and only a trained person can do this task, and here the virtual assistant role comes in. They can capture a perfect product photo that can help you boost your sales.  
Today, almost everyone uses social media, and they are actively present on social media platforms, and thus, these channels can be a good way to attract people to buy your products. A Shopify assistant can optimize your social media account to reach the relevant audience. 
Content is king today. Proper use of content can provide you with success in your business. You can use content in 2 major ways – First, you can use content to educate your customers about your business's latest happenings and offerings. The VAs can also use keywords in the content to attract your target audience to your business.  
Email marketing is a traditional yet effective marketing method to attract customers. Also, the Shopify VA Cost stands affordable for email marketing. Thus, assigning the email marketing task to the virtual assistants seems to be a smart decision. They can do this task effectively for your business.
Handling returns & refunds
In an eCommerce business, you may get a lot of return and refund requests from customers. It is important to solve all these requests on time, and for this, you can hire Shopify virtual assistant. They can solve requests quickly, and that too successfully will help in customer satisfaction and increase the customer retention rate. 
A logo can give a unique identity to your business. It can make your company distinct from others. Basically, it enhances your branding efforts, and thus, it plays an important role in your business. An assistant can make a unique logo for your business that can suit your brand. 
Nowadays, many eCommerce companies are using product videos to sell their products. Videos can give more details to the customers compared to product pictures. Customers can see the product moving in a video and watch it from all directions. Thus, the confidence of people in the product increases, which may result in an increase in your sales.             
Administrative tasks take a lot of time, these tasks are not of much importance, but you cannot avoid them. The best thing you can do is to hire a Virtual assistant. The Shopify virtual assistant pricing is also affordable, so you do not have to worry about the cost of hiring.  
Customer service is important for all businesses; thus, the utmost focus needs to be given to customer service. Good customer service means an increase in customer satisfaction and improvement in the customer retention rate. The assistants can do this work for you. 
Conclusion
In conclusion, we would say that virtual assistants are trained and experienced individuals. These assistants can do a lot of tasks for your business that too with the best quality. It will also improve your business efficiency. Thus, hiring them can be one of the best decisions for your business.