Benefits and Cost of Hiring Shopify Virtual Assistant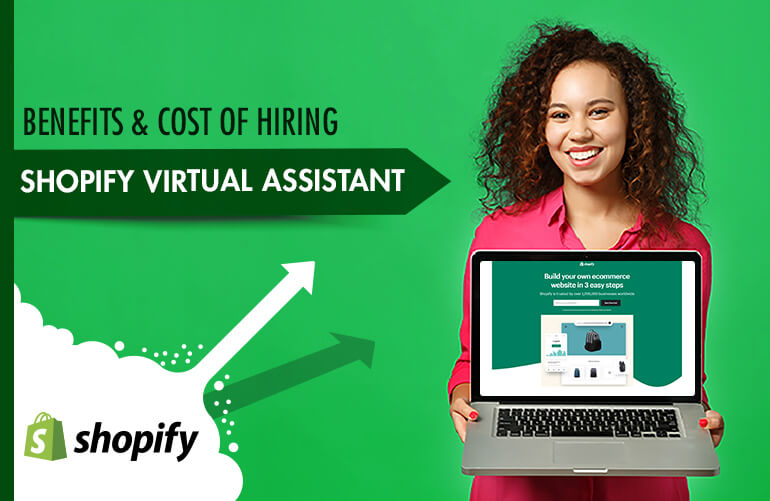 Once you step into the e-commerce industry, you just see the steps towards success. As you have invested your time, efforts, and resources to build your e-commerce platform, it is genuine to expect great results. Here you might have seen Shopify Virtual Assistant in action to help in e-commerce growth.
What are the tasks you can outsource to Shopify VA?
Virtual Assistant for Shopify is capable of handling administrative tasks and other e-commerce things efficiently. The only thing is to provide them with clear instructions and guidelines. There might be a list of tasks for which you want to hire Shopify Virtual Assistant:    
Customer Support:

They are capable of answering the phone, emails, and texts. 

Social Media Platforms: Shopify VA

will help create content, send replies, and handle their queries. 

Store Management:

This handles order fulfillment, manage sales, inventory management, and more tasks to ensure you provide smooth services. 

Deep Research:

They have the right tools to help you find the best industry insights and target more audiences. 

Cold Calling:

They have a planned script and responses to the common questions of the users. They are capable of handling cold calls to schedule meetings and events. 

Data-Entry:

This is the most time-consuming and tiresome job that business owners want to avoid. Bookkeeping is managed efficiently by the

Shopify Virtual Assistant. 
Some unique advantages of hiring Shopify Virtual Assistant:
Get 24*7 Access

Running an e-commerce business means staying available for the customers around the clock. This is the best part to hire Virtual Assistant for Shopify who will be available all the time for your customers. Virtual Assistants will work from their homes and handle customer queries.

Drive Business Growth

Once the business starts growing, the number of tasks you need to manage will increase. Shopify VA will provide an extra hand for your projects. They have access to powerful tools to manage your business tasks efficiently. You can assign various tasks to a virtual assistant for Shopify.

Keep the stocks updated

Managing the stocks is evitable to provide customer satisfaction. Virtual Assistants will update your website based on the items in stock. It will save your time, which can be invested in handling essential matters of the business.

Engage with customers

The main reason people exit from online platforms is a poor experience on the website. This leads to a hike in bounce rates and affects rankings on the search engines. E-commerce businesses are already struggling to build trust and loyalty from potential customers. A Shopify Virtual Assistant will express everything and provide replies instantly to your customers. You get a team of professionals to provide customer supports and build a strong relationship with them.

Manage your social media platforms

Social media is grabbing more attention in the digital world. People are highly active on multiple platforms, which gives you a chance to showcase your services to them. The Shopify Virtual Assistant will constantly post about your business promotions, deals, and important announcements on your social media platforms.

Handle mundane tasks

For a successful business, you need to handle high-level tasks to focus on the growth of your business. You can assign day-to-day tasks like data entry and email management tasks to the Shopify virtual assistant. They are well-versed with every task related to your e-commerce business.

Less Operational Costs

Shopify store management is a complicated process that needs proper attention and skills. Running an e-commerce business needs investments in devices, the workplace, and other instruments to keep it running. A Virtual Assistant for Shopify will work at their place, which means you just have to tell them your requirements and no extra costs to run the business.

Cost-Effective Method

The Virtual Assistant charge is based on your work and the time invested in your requirements. This is perfect as you need to pay only for the services you need to assign to the Shopify Virtual Assistant. While in case you hire full-time employees, they need resources to work, and they have their decided salary for the tasks.

Highly Flexible

This is the best part of hiring a Virtual Assistant. They are always available at your service. All you need is to share your requirements and expectations in detail. Virtual Assistants will save your time, money, and efforts to bring better results to your e-commerce business.
What is the best time to hire virtual assistant for your Shopify store?
There are many things you need to know about virtual assistants before you hire them for your Shopify store management. Below are the conditions where you might need to consider getting a virtual assistant are:
It is vital to be familiar with the process of your business and explain them to others effortlessly. 

When you are planning to grow and aim to achieve targets for your business 

You have the revenue and investments that could help in e-commerce growth 

Some tasks consume time and complicated

Sometimes you need people to handle minimal tasks which need just a few hours of attention 

Shopify store needs customer support all the time and ensures their satisfaction
How much does a Shopify VA Cost? 
There are different sectors involved when it comes to deciding the cost of a virtual assistant. Some crucial factors that affect the cost are:
Type of assignment 

Experience of virtual assistant
Their background in the industry
The duration and size of the project
Let us have a look at some introductory Shopify virtual assistant pricing for various tasks:
Administrative Services

A Shopify Virtual Assistant might deal with admin tasks like maintaining a contact list, handle calls, revert to messages, and more. They cost around $10 to $20 per hour.

Executive Services

They are capable of handling high-level admin tasks like project management, plan company events, or prepare business proposals. The average cost of this service is between $30 and $40.

Accounting and Bookkeeping Services

Many Shopify store owners get virtual assistants to maintain balance sheets, invoices, tax reports and manage bills for the customers. Their cost would be $12 to $25.

Miscellaneous Tasks

Business owners feel to get extra hands and manage these everyday tasks that run in the loop. Some can be product data entry, social media management, research, SEO, or marketing. You need to invest approximately $10 to $20 per hour for these tasks.
How should you make payments to a Shopify virtual assistant? 
Before you decide on the payment methods, ensure to know the background and experience of the virtual assistant. Some standard structures to decide the pricing are:
In this case, you need to pay the virtual assistants for every billable hour. Such as you need to pay your virtual assistant $6 for every hour they spend on your project. 
The rate of the virtual assistant service depends on the tasks they perform. Like you can pay 5 cents for every word to a content writer.
You decide on a fixed salary based on hours, weeks, or months invested in your project. For example, you can decide $100 for working 8 hours a week or month. 
Wrapping it up!
You now have all the information to help you hire Shopify virtual assistant for your store. To make it easy for you, the common method to get a Shopify VA are:
Create a document for your requirements 

Select the platform that has a collection of professional virtual assistant 

Build the job description for your VA 

Look for qualified candidates 

Perform interviews of the eligible VA's

Shortlist the best ones for your tasks 
This can be a challenging experience for you, and the process should help you grow in the e-commerce world. There is always an option to reach us! We have brilliant ideas to manage your Shopify store seamlessly.