5 Product Strategy Considerations to Master E-commerce Success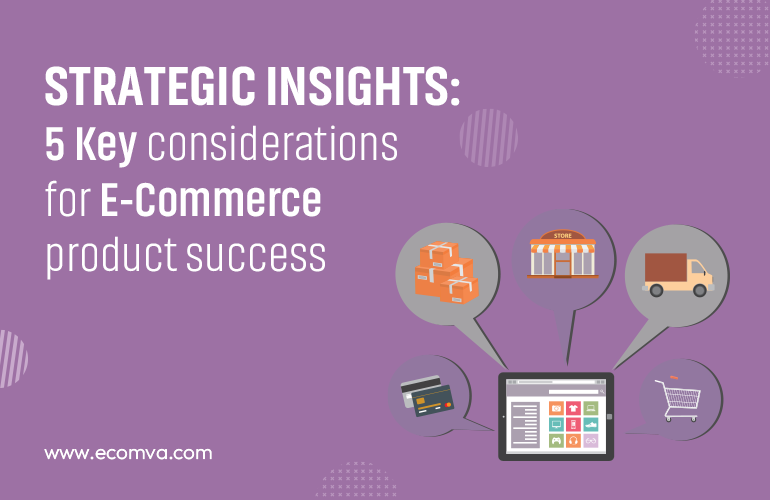 As per Statista, the worldwide ecommerce penetration rate is predicted to hit 25 percent by 2027, marking a rise from 19 percent in 2022. It suggests that there is continuously increasing competition in this industry.
If you are an ecommerce business owner who wants to thrive in this fiercely competitive landscape, all that you need is to focus on a well-crafted product strategy. It can serve as the roadmap that helps businesses navigate the intricate landscape of online retail. 
So, whether you are launching a new venture or seeking to revamp your existing ecommerce store, having a rock-solid product strategy is of utmost importance. In this guide, we will inform you about a few critical product strategy considerations that will help ensure the overall success of your business. Make sure to read these before opting for ecommerce product store management services. 
Why Should You Craft a Solid Product Strategy?
Before diving into the details of creating a robust ecommerce product strategy, you should know why it is so important. A well-defined strategy is known for offering a large number of benefits. Some of these are as follows:
Resource Optimisation:

You would be able to thoughtfully allocate resources with a clear roadmap. It also ensures that budget, time and manpower are used efficiently, maximising your ROI.

Competitive Edge:

A meticulously crafted strategy is known for offering you a competitive advantage in a crowded marketplace. It allows you to differentiate your offerings and brand, which helps your business to stand out.

Direction and Focus:

You can set your priorities and clear objectives with a proper product strategy. It aids in aligning your efforts towards accomplishing specific goals. In turn, it prevents scattered and aimless attempts.

Adaptability and Resilience:

A solid strategy is adaptable as it equips you with everything that helps you respond to market shifts and evolving customer preferences. With resilience and agility, you can also deal with unforeseen challenges.
What are all Things You Need to Consider for a Robust Ecommerce Product Strategy?
There are many essential elements that necessitate your attention while formulating a winning ecommerce product strategy. Each of these considerations significantly transforms how you approach product selection, customer engagement, marketing, etc. Let's find out more details about these:
1. In-depth Market Research
Conducting thorough market research is one of the most integral steps to developing a thriving product strategy. It typically incorporates having a good know-how about your target group or audience. Also, you need to gain insights into the broader market landscape.
Understanding Your Target Audience
Whenever you know about your target audience, you can ensure the growth and success of your business. As a part of it, you should know who they are, what problems they are looking forward to solving, what they value, etc. Based on these, you can customise your marketing efforts and product offerings.
It is crucial to consider the following to have a clear understanding of your audience:
Demographics:

Gender, age, occupation, location, etc.

Paid Points and Requirements:

What specific challenges are they facing? What solutions are they looking for?

Psychographics:

Buying behaviour, values, lifestyle, interests, etc.

Buying Journey:

How do they find out, access, and make buying decisions?
With all this information, you can craft products and marketing messages that effectively resonate with your target demographic. If you need any related assistance, choosing ecommerce product store management services is a good idea. 
Analysing Market Trends and Competitor Landscape
You should be well-informed about the latest market trends and closely monitor your competitors to stay ahead of the curve. It involves:
Competitor Analysis:

Who are your major competitors? What key strategies are they involved in adopting? What are their weaknesses and strengths?

Discovering Latest Trends:

Which are the specific categories or products gaining traction in the present times? What shifts in customer behaviour are taking place?
So, you would be able to identify opportunities for innovation and differentiation by knowing all these details.
2. Product Selection and Curation
Once you have a comprehensive knowledge of the market and your target audience, the subsequent step involves choosing and curating the ideal products for your online store. It generally involves a strategic blend of discovering high-demand products and ensuring an appealing and diverse product range.  
Identifying High-demand Products
As a part of it, you should find products that effectively match your target audience's desires and unique requirements. In this regard, you should know about what is currently in demand. Below are the key factors to consider:
Keyword Research:

What are the most frequently searched keywords associated with your industry or niche?

Market Trends:

What specific products are trending in the present times? What are customers actively searching for?

Seasonal Considerations:

Are there any products that experience spikes in demand during certain seasons or holidays?
So, by carrying out meticulous research, you can settle on products that have the potential to drive a considerable amount of sales and interest.
Ensuring a Diverse and Appealing Product Range
Although it is vital to cater to demand, you should also have diversity in your product range. It helps add both depth and appeal to your ecommerce store. With a diverse range, you could capture a broader audience and effectively match the preferences of different individuals.
In this regard, you should consider the following points:
Aesthetic Appeal:

Is there a balance of products with varied styles, colours and aesthetics?

Variety in Features and Benefits:

Do your products offer a range of benefits or match different requirements?

Product Categories:

Can complementary categories be incorporated to improve the shopping experience?
So, with a curated selection, you can meet the needs of diverse customer segments, which helps transform the overall shopping journey. Along with these considerations, you should make sure to use specialised solutions like Adobe Commerce store management services to refine your product offerings. 
3. Supply Chain and Inventory Management
The success of ecommerce businesses hugely relies on efficient inventory management and a streamlined supply chain. It ensures you can constantly cater to customer demands while maintaining healthy profit margins.
Establishing Reliable Sourcing Channels
One of the best ways to ensure product quality and availability is to maintain reliability in sourcing. You should make sure to access potential suppliers based on specific factors, which include the following:
Consistency and Reliability:

Can they consistently deliver products on time and meet quality parameters?

Scalability:

Can they accommodate your business requirements with its growth?

Cost-effectiveness:

Are your products of good quality while also having competitive pricing?
Building robust relationships with trusted suppliers is a great way to ensure a steady flow of products to your inventory.
Implementing Efficient Inventory Control Measures
It is possible to prevent instances of stockouts or overstocking by adequately managing the inventory. Efficient inventory management also helps in ensuring customer satisfaction and optimising operational costs. Below are certain things that you should take into consideration in this aspect:
Demand Forecasting:

You should leverage data for anticipating product demand, particularly during peak seasons or promotions.

Safety Stock:

It is essential to maintain a buffer of inventory, which will help in accounting for unforeseen surges in demand or delays in restocking.

ABC Analysis:

Make sure to categorise products based on their sales velocity and importance. It helps in the efficient allocation of resources.
Thus, by implementing best practices in inventory management, you would be able to sustain a good balance between cost control and product availability. You can choose the best Shopify product store management services if you have a Shopify store. It will help in further improving your inventory management and supply chain procedures. 
4. User-Centric Website Design
Your website acts as the storefront of your ecommerce business. So, it is crucial to focus on a user-centric design. Along with being visually striking, this design is also functional, which in turn helps offer an enjoyable and smooth shopping experience.
Creating an Intuitive and Navigable Online Store
Navigating your website should always be intuitive as it lets visitors quickly discover what they are searching for. Make sure to consider the following factors in this aspect:
Search Functionality:

Implementing a robust search feature with filters assists users in quickly discovering certain items.

Clear Categories and Subcategories:

Another essential thing is ensuring that the organisation of products is done logically with menus that are easy to navigate.

User-friendly Interface:

You should make sure to keep the design uncluttered, clean and visually appealing.
In this regard, it is imperative for you to keep in mind that a streamlined browsing experience persuades visitors to explore further and ultimately make purchases.
Optimising for Mobile Responsiveness and Accessibility
A mobile-friendly website has become more than a necessity with the continuously rising number of mobile shoppers. Along with that, it is also crucial to incorporate accessibility features as it helps in promoting inclusivity. It incorporates:
Accessibility Standards:

Ensure you strictly abide by the web accessibility guidelines for accommodating users with disabilities.

Responsive Design:

With a responsive design, you can ensure that your website adapts well to different devices and screen sizes.
This way, you could reach out to more people and improve their overall experience by prioritising accessibility and responsiveness. To further enhance your website's functionality and design, you can leverage BigCommerce product store management services. 
5. Conversion-Optimised Product Pages
Although attracting visitors to your website is vital, converting them into paying customers could be challenging. If you want to achieve this goal successfully, well-crafted product pages can significantly help you.
Crafting Compelling Product Descriptions
Creating unique product descriptions goes beyond listing features. It conveys a story. Make sure to consider the below-mentioned factors:
Benefits Over Feature:

It is crucial to highlight how the product is solving a specific problem or fulfilling the customer's unique requirements.

Engaging Copywriting:

You should use persuasive language to resonate well with your targeted audience.

Concise and Clear Language:

You should essentially refrain from using any jargon. Instead, you should simply present information.
It is worth remembering that a well-written product description can encourage visitors to make a purchase.
Final Thoughts
Thus, by incorporating all of these considerations into your ecommerce product strategy, you can improve the shopping experience successfully. Not only that, but these also help in positioning yourself for sustained growth and profitability. If you need any sort of assistance in implementing any of the above-discussed strategies, then it would be best to opt for ecommerce product store management services. These solutions aim to streamline your operations and make your ecommerce journey easier. So, what are you waiting for?