A Detailed Guide BigCommerce Store Management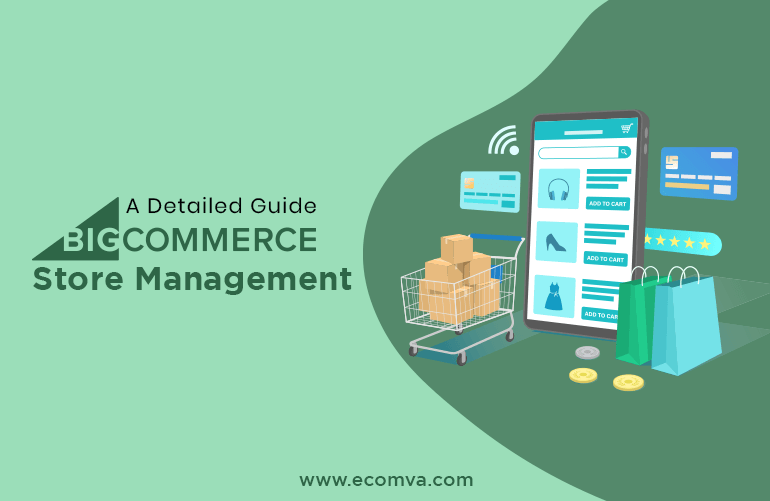 BigCommerce is an eCommerce software platform for manufacturers, retailers, and merchants searching for an online store builder site.
BigCommerce is hugely popular for supporting small to mid-size businesses. With the BigCommerce platform, you can manage products, process orders, track logistics, create discounts, and much more.
The e-commerce platform is integrated with powerful features to help enhance profits and safeguard your business through fraud monitoring, product rating displays, abandoned cart saver, etc. With professional Bigcommerce product store management services, you can easily take advantage of these remarkable features.
Additionally, in the BigCommerce development platform, you can leverage the simple yet incredibly creative drag and drop panels to help you easily design and develop your store. Since its launch in 2009, nearly 100,000 ecommerce stores and businesses have earned over $8B through the platform.
What Is Inventory Management? 
Whether you are venturing into a small-scale startup or have an established corporation, you'll always need to have the correct Bigcommerce product store management strategy and processes in place.
Inventory is a prominent financial asset for any business. In reality, mismanaged inventory can lead to a significant increase in operating costs and financial losses.
Did you know in 2017, a survey by National Retail Federation revealed that, on average, retailers (including eCommerce businesses) suffered a loss of 1.33% of sales due to inventory shrink? 1.33% might seem like a small percentage, but the loss was valued at a whopping $46.8 billion.
Fortunately, the platform is integrated with essential tools required for Bigcommerce Store Management from tracking inventory to managing reorders and exchanges. However, the platform has one drawback, the store management features are only available for monitoring and tracking finished goods inventory.
On the other hand, manufacturers require a robust application for tracking raw material and work-in-progress inventories.
BigCommerce, suggests and supports third-party apps for optimizing your manufacturing inventory control. With professional Bigcommerce Store Management services, integrate third-party applications for managing your eCommerce store.
Why is BigCommerce Inventory Management Important?
Despite the rise in the volume of inventory, almost 50% of small businesses haven't deployed any inventory management system. BigCommerce encompasses native functionality that assists in making inventory management an integral part of regular business operations.
Additionally, several third-party warehouse management applications can integrate with the BigCommerce platform for seamless store management.
These are the most vital reasons why inventory management is essential:
‍Enhance Inventory Information Accuracy
With almost more than 45% of online consumers shopping across multiple channels, it can become incredibly challenging to track their purchase behavior. Consequently, multichannel inventory management also becomes increasingly complicated.
Nearly 15% of multichannel inventory discrepancies in E-Commerce are mostly because of inefficient systems with malfunctioning communication. With the correct software and  BigCommerce store Management Services, you can craft a robust management strategy.
Leverage Data For Improving Business Outcomes
Overstocking and understocking are the two major complications plaguing the E-Commerce industry. The likelihood of these complications generally increases during promotional marketing campaigns, new product launches, seasonal discounts, and holidays when the purchases are skyrocketing.
Efficient Bigcommerce Store Management provides you with actionable data that you can use for strategizing your business plans.
Inventory and sales statistics offer insight into the product's lifecycle- how it's moving, how frequently, and how quickly. You can get knowledge on consumer buying patterns that help make data-driven business decisions.
Inventory Management data: 
Sheds light on how specific SKUs are selling
Tracks your best and worst-selling products
‍Give insights on individual product statistics.
‍While the fundamental aim of inventory management is having an accurate log of products, it is also useful for getting useful insights that can be leveraged for fulfilling your business goals.
Enhances Overall Productivity Of Your Resources
Manual product tracking and Bigcommerce product Store Management can be both mundane and time-consuming. Your employee uses significant time for tracking lost inventory and handling customer concerns arising from inventory complications.
By introducing BigCommerce inventory management automation, your employees can unlock enhanced productivity. The automation can be further streamlined with third-party integrations and incredibly minimizes the risk of human error.
Common Obstacles with BigCommerce Store Management
The most common obstacles of BigCommerce store management include the following. 
Overstocking 
Overstocking costs your business money. You'll end up pouring excessive money into procuring resources and storage fees and also run a greater risk of your products being damaged or stolen.
Overstocking also comes with the risk of becoming obsolete and perishable products getting spoiled.
Therefore it is crucial to get an accurate forecast about the precise quantity of stock you will require. An experienced BigCommerce store management services agency can help you select and integrate the correct software for extracting advanced analytics and identifying the correct amount of stocks.
Understocking
Many businesses reduce the order size and maintain a minimal stock count to avoid the risks associated with overstocking. This is known as understocking. Understocking comes with its own set of challenges, including chances of running out of stock, loss of sale, and consequently adverse impact on brand reputation due to dissatisfied customers.
Incorrect Stock Level Counting
Many elements can contribute to Inaccurate stock labeling, such as human errors during cycle counts, manual store management (inventory and order), incorrect restocking of canceled, returned or exchanged orders, etc.
Professional BigCommerce Bigcommerce Store Management services help avoid situations where your website displays a mismatched number of available units. Integrating automation also prevents out-of-stock error listing despite having stock.
Non-Centralized Inventory Management System
Without a centralized store management system, you are unable to have a clear idea of:
The accurate detailing of present stocks.
Correct quantity to be ordered for restocking
How your inventory requires upgradation based on sales
Forecasting for upcoming promotional campaigns and seasons
Current overhead expenses.
Non-centralized systems might work for small startups, but they're definitely not scalable.
Types of Inventory Management Costs
BigCommerce Store Management encompasses several costs, including:
Ordering costs: Cost associated with purchase requisitions, stock procurement, invoicing, generating purchase orders, tracking purchase orders, resources spent on vendor communication, etc.
Holding expenses: Costs associated with warehouse space rental rent, electricity expenses, temperature and atmosphere optimization, and stock depreciation.
Handling expenses: Handling costs encompass stock pick-up charges, packaging, shipping label creations, logistics expenses, labor, and equipment.
Signs That You Need Professional Inventory Management
Following are the signs that you require professional store management virtual assistance for the BigCommerce store:
Late shipments increase with the addition of new sales channels.
Slower time to market and higher order returns.
More understocking circumstances or capital blocked in overstock.
Slower customer service leads to fewer delighted customers
Inability to present the true essence of omnichannel experiences
How to Configure BigCommerce Store Management
Establish Inventory Tracking In Bigcommerce
BigCommerce platforms enable users to track and update product stocks with real-time purchases automatically. Turn off the product tracking; the product is always considered in-stock even when stock runs out.
Plan In Advance For Out-Of-Stock Events
When you are venturing into a product-based business, you'll inevitably run out of stock. Part of BigCommerce product Store Management encompasses being prepared for unavailability scenarios and controlling your customer sees. 
BigCommerce out-of-stock settings direct what a customer views and what actions are taken when stock for a product reaches zero. The out-of-stock settings allow you to:
Hide the product completely
Hide product, but leave product page accessible
Redirect to the category page
Establish Order Adjustment Behaviors In The Bigcommerce Platform 
The next step for store management involves automating what happens when orders are placed in your system. This will enable automatic inventory adjustment once each product is sold.
Allowing Stock-Level Displays To Customers
BigCommerce store management allows you to determine whether or not your customers know how much product is remaining in the inventory. You can leverage this option for urgency marketing.
Statistics published by GrowCode reveal that creating a sense of urgency in the eCommerce shopping universe affects purchasing psychology and raises conversions by almost 9%.
Trigger Alarms For Low Stocks
Your store manager needs to stay updated on product levels to ensure your store never runs out of stock. BigCommerce store management services allow notification configurations. You'll receive a notification through an automated email when any product inventory reaches a preset minimum limit. Thus, you'll always know when it's time to restock.
What App Features Should You Look For BigCommerce Store Management?
While integrating an app within your BigCommerce Store, ensure to check the following features:
Flexibility in order routing and fulfillment module
Allows inventory control in multiple locations
Multichannel inventory management
Automate operational responsibilities
Allows enterprise visibility from every angle (orders, inventory, products, promotions, customers, etc. )
Automated reordering
The Best Apps for BigCommerce Inventory Management
The best applications and software trusted by eminent companies and professional agencies include:
Brightpearl
Skubana
Pulse Commerce
SKULabs
Sparkshipping
Logiwa
NumberCruncher
Fishbowl
Linnworks
Ecomdash
Sparkshipping
Order Desk
Streamlined BigCommerce Store Management Supports Continuous Growth
The fundamental objective goal of every eCommerce store or business is to improve sales. Therefore to improve your sales, you need to ensure inventory and overall store is managed appropriately and correctly.
For retailers who wish to optimize their BigCommerce store, leveraging the appropriate automation apps and a centralized system ensures precise counts, minimized overhead, improved team productivity, and seamless, streamlined operations.
Collaborate with professional BigCommerce store management Services to improve your store operations and enjoy greater sales.