How to Choose the Right Ecommerce Product Upload Service Provider?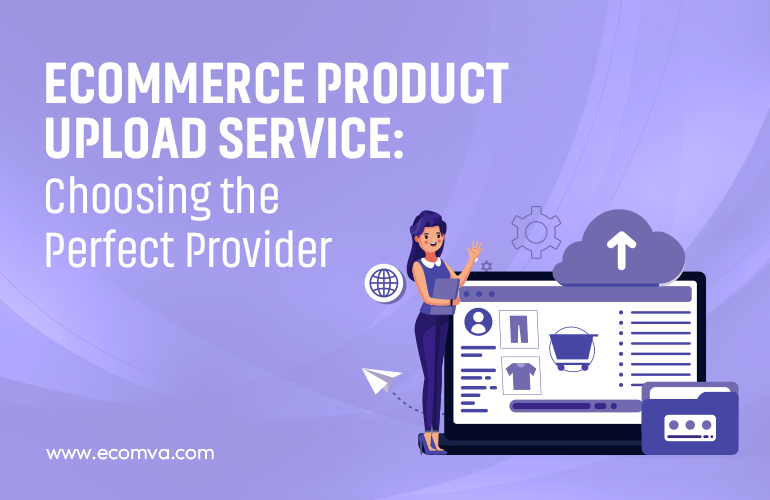 With the availability of more than 26.5 million e-commerce websites in the present times, as an e-commerce store owner, you should adopt strategies to make your business stand out. 
One of the integral aspects of running a successful online business is the efficient and precise uploading of product information. However, this process can be time-consuming and requires attention to detail. This is where the role of ecommerce product upload service providers comes into play!
If you plan to hire related services to handle this work, you have made a great decision. But, to get the most out of these, you should always look for professional and expert ecommerce product upload services. You would be able to do so by considering certain factors. 
We have dedicated this blog post to talk about these factors in detail. So, let's move forward in our discussion: 
What is the Importance of E-commerce Product Upload?
Before selecting the right service provider, it's time first to understand why product upload is an essential aspect of ecommerce.
Your products act as your storefront in this digital marketplace. As customers cannot examine or touch items physically, you need to ensure that the product listings on your e-commerce website are precise, informative and compelling.
Product upload usually encompasses creating and updating these listings, including product specifications, prices, images and descriptions.
Below are the key reasons why you need to opt for Magento product store management services: 
Credibility and Trust:

Ensuring that your product listings are of high quality can build your customers' trust as they already know what to expect.

Customer Experience:

Precise and detailed product listings effectively improve the user experience. Thus, it becomes easier for customers to discover and buy the desired items.

Inventory Management:

Accurate product uploads help you track your inventory in real-time. As a result, it effectively lowers the risk of overselling.

Search Engine Optimisation or SEO:

Effectively optimised product listings play a crucial role in boosting the visibility of your site in search engine result pages, which, in turn, helps drive organic traffic.

Competitive Edge:

These days, it is vital to have better product listings to provide you with a competitive edge.
What are the Critical Factors to Consider When Choosing a Product Upload Service Provider?
Now, let's have a quick look at the significant factors that you should take into consideration while selecting an ecommerce product upload service provider for your distinct business requirements:
1. Expertise in Your E-commerce Platform
E-commerce platforms like BigCommerce, Magento, WooCommerce, Shopify, etc., tend to have unique requirements, integrations and formats. So, you must ensure that the ecommerce product upload services you choose are well-versed with the specific platform you are utilising. 
They should have a good understanding of the nuances of the platform. This consideration will help in ensuring optimal performance and seamless integration. 
Whenever you choose a professional with expertise in your selected platform, it ensures they can effectively navigate its features. Not only that, but they are competent to adapt to any changes or updates and troubleshoot problems effortlessly. 
2. Range of Services Offered
One of the exciting things to note in this aspect is that the ecommerce product upload is not only restricted to simple data entry. It incorporates a diverse range of tasks such as inventory management, pricing updates, categorisation, image editing, product descriptions, etc.
So, you need to ensure that the service provider you choose should offer you a range of solutions that can effectively cater to your specific needs. 
A service provider providing a vast array of services can effortlessly handle different aspects of product management, which, in turn, helps in saving both your effort and time. This comprehensive approach ensures that your product listings are accurate, complete and perfectly optimised for sales.
3. Data Accuracy and Quality Control
If you have added inaccurate product information in your e-commerce store, it could ultimately lead to lost sales and cause customer dissatisfaction. Due to this reason, it is always important to assign this responsibility to a trusted service provider or an expert Amazon virtual assistant.
They tend to possess robust quality control processes that work effectively to maintain data accuracy and eliminate errors. It may involve data verification, proofreading and meticulous checks for consistency.
Ensuring quality control and data accuracy is extremely important as it is crucial in maintaining customer trust and your brand's reputation. Also, ensuring that your product listings are free from errors helps improve the shopping experience. Not only that, but it also lowers the risk of disputes or returns.
4. Turnaround Time
The overall e-commerce industry functions in a fast-paced environment. Due to this reason, it is always important to update your product listings promptly. Doing so instantly reflects any changes you may have made in your pricing, inventory or promotions. 
To ensure this, you should look for a professional service provider with a quick turnaround time. One of the best things you can do is inquire about the time they generally take to carry out different tasks. It will help you to come across one who can effectively meet your business's demands.
Timely updates help in keeping your e-commerce store competitive and current. Also, it helps prevent delays in product uploads which could eventually lead to frustrated customers and missed sales opportunities.
5. Pricing Structure
Transparent pricing is crucial for cost control and budgeting. So, your main goal should be to search for a service provider with a clear pricing structure. Also, you should ensure their price aligns well with your budget. You should be wary of unclear pricing models or hidden fees to prevent future problems.
You can manage your budget effectively whenever you have a clear idea about the service cost upfront. Not only that, but it also helps in preventing any unexpected expenses. A transparent pricing structure facilitates trust-building between you and the service provider you are focusing on choosing.
6. Scalability and Flexibility
With the growth of your ecommerce business, there is a rising need to update your product catalogue to adapt to this change perfectly. 
So, ensure you hire a service provider capable of scaling its services to accommodate your evolving business requirements. At the same time, flexibility plays an integral role as well. They should always be willing to adapt to any changes.
By ensuring that the product upload service you choose is flexible and scalable, you can promote your business's overall growth. In such a case, you would not outgrow your provider; as a result, they can adjust to any shifts in your strategies or product offerings.
7. Client References and Reviews
If you want to get an idea about the track record and customer satisfaction levels of the service provider you are considering to choose, it is always recommended to request references. You can even consider reading reviews that they have received from their past clients. It can offer you insights into their experiences.
Both the client references, and reviews can indicate the professionalism, reliability and quality of the services offered by the service provider. 
Make sure you choose a service provider who has received positive feedback from other businesses. So, it means that checking positive reviews will help you to make a confident decision.
8. Security and Data Privacy
As an e-commerce business owner, you must focus on protecting sensitive data, which includes customer details and product information. So, ensure that the service provider you choose has solid security measures. It will help safeguard your data against unauthorised access or breaches.
There are many serious consequences of security breaches. It includes potential legal ramifications and damage to the reputation of your brand. Selecting a service provider who strictly follows solid data security practices ensures that your customers and business are well protected.
It would help to consider this factor while choosing Shopify store management services. 
Questions to Ask Potential Service Providers
Here are some of the critical questions that you should essentially ask while accessing prospective service providers:
What are the key strategies you adopt to handle scalability as a business grows?

What is your pricing structure?

Do you charge any additional fees?

What is your typical turnaround time for product updates and uploads?

What are the steps you follow to ensure quality control and data accuracy?

Can you provide client references or examples of your work?

What are the security measures you have in place to protect sensitive data?

What sets you apart from competitors?
Concluding Thoughts
Overall, selecting the right ecommerce product upload services is an excellent decision as it can considerably impact the success of your online business. 
Thus, when you consider all the above-discussed factors for selecting a product upload service provider, you can make an informed decision that aligns well with your business goals. Following all these methods and steps will help in ensuring a successful partnership.