A Perfect Guide for E-commerce Email Marketing: Everything you need to know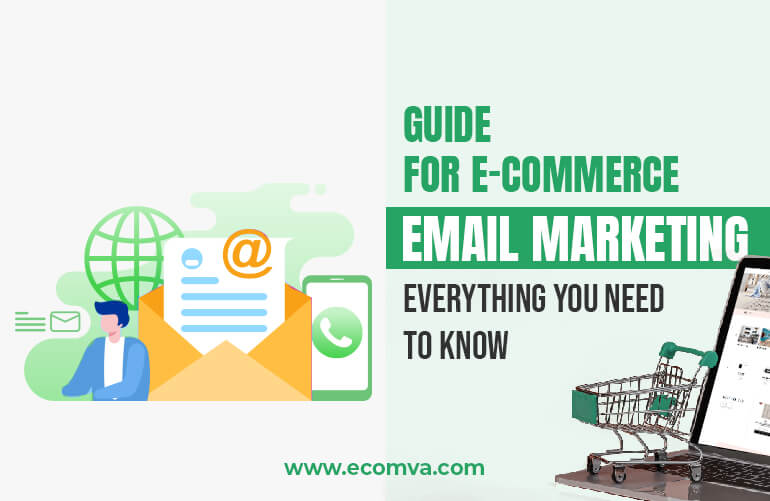 Many e-commerce businesses have been focusing on building strategies to generate more revenue. E-commerce email marketing is a popular marketing strategy that helps to promote your products to existing and potential customers.
Email marketing for e-commerce is a popular means to communicate in the digital world. They are helping to blow up user engagement, share useful information, build customer loyalty, boost sales, and announce important events. 
Do you know "What is Email Marketing for E-commerce"? 
You are growing your email lists and sending more email campaigns to engage visitors on your platform. But this is not enough when it comes to email marketing automation!
Why? Because ecommerce email marketing is not only about the right strategy, it is about the right sequence. 
You might be mailing the right emails but at the wrong time, which leads people to opt-out from your services and choose your competitors. 
Mailing the right emails at the right time will give your potential customers and build brand value. 
So, ecommerce email marketing is a channel that allows you to notify the subscribers about all the updates, deals, and promotions of your services. Sometimes you can also use emails to educate people and keep them engaged with your platform.
What are the different types of the Ecommerce marketing email you can send? 
Few methods that will keep your new and old subscribers engaged:
Welcome Email

You get a single chance to make a strong first impression. If your introduction is not memorable to new visitors, your follow-up campaign won't be interesting either. This mail is used to thank the subscribers for joining the list and setting a base for what is about to come in the future. If this ecommerce email marketing is done right, it will simplify your sales process. Aim for SIMPLICITY and ORIGINALITY. When you want to make a difference, stay original and do something that your subscribers expect. 

Give a bonus or discount. 

Communicate in their language. 

Ask them to reply. 

Comfort them that they are at the right place.

Remove barriers during their purchase journey 

This will make it easier for them and beneficial for you.


Curation Email

People LOVE curated content. It actually does not matter what type of product or services you are providing, and if you have a curated email marketing strategy, the ball is in your court. If you have not decided on your goal, then use the curation Email marketing strategy for ecommerce to share your best assets. That might be popular content, promoting popular products, or introducing new discounts. 

A curation email will give your audience the freedom to choose what they want to explore on your platform. This is the reason people have a homepage or landing page and product pages filtered by bestselling.

Engagement Ecommerce Email 

Back in the golden age, business owners spent a fortune on mailing as they wanted attention from the subscribers. On average, people receive over 100 emails each day, and it is important to stand out from the crowd and connect with your potential customers. You can choose various methods like:

Provide free shipping 

Freebies to subscribers 

Invitation for a free trial 

This helps to show that you value your customers. 

Referral Email 

This is not a secret anymore! If customers love your services, they will refer them to their family and friends. This is one of the best E-commerce email marketing strategies as over 74% of the customers identify word-of-mouth important in their purchasing journey. And a number like that, it is difficult to avoid a good referral campaign for your business. 

There are chances that you are already asking for referrals on your website but are you doing email campaigns for the same? Make sure to give clear instructions and offer an incentive for a successful referral. This will certainly fit in your budget and bring valuable customers to your platform.

Discount Email 

It is an effective ecommerce email marketing strategy. If done right, it will increase your conversion rates. More than 72% of millennial shoppers are always open to retargeting through discounts. Moreover, half of the population are likely to make a purchase of the abandoned products at a discounted price. 

While your discounting must be effective, you need to strike a balance. 

Too much will often affect your profits, and too little will drive your customers towards your competitors. The silver lining is giving discounts to people who engage with your campaign and taking Call-To-Actions on your emails.

Confirmation Email 

It is another method to boost your sales and set customer expectations. Some brands use explainer videos after order confirmation to explain the delivery process. Know that this email is more than a digital receipt. This helps to remind the shoppers that making a successful purchase was the right decision.

Survey Email

If you do not ask your customers what they are looking for, then you might not meet their expectations. Sending surveys to the customers helps to get valuable insights about your customers. Many brands follow this, and they have succeeded by providing the exact solution for their store.
How to segment your customer base for Ecommerce email marketing? 
High AOV customers 
These are the customers that have a higher Average Order Value on your store. Use promotional, monthly subscriptions, and product recommendations that align with their buying cycle. This will help to give them what they are looking for in your store effortlessly. 
Discount Customers
Discount customers are the ones that typically rely on your brands for items that are on sale. Send them regular updates during the sale and give ways to save money during their purchases. 
Face Value Customers 
Discounts do not drive them. Instead, they like the newness or exclusivity of the products. You can send them the first-access promotions to any new products or coming soon.
Strategies for Ecommerce Email Marketing to get impressive results:
Personalized Emails:

Sometimes, customers add their names wrong and receive automated emails with incorrect names. This is the reason people think businesses do not care about their customer base.

Treat emails like a relationship.

Spend some time sending a personalized email that has relevant content.  

Right Time:

Email marketing includes a lot of data. You should know the best time to approach your audience. Time management is essential to generate results and meet your goals. The idea is to take action and trigger emails into the target customers' inboxes. 

Mobile-Friendly:

About 77% of emails are accessed through mobile devices. You can miss a huge opportunity if your email is not optimized for mobile devices. Note the difference between desktop and mobile. Integrate CTAs in the right space for mobile users for better conversions. 

Giveaways:

With the stuff, you give away might help you make more money. If the customers are aware that they will get certain gifts, there is a chance that they will be more interested in making a purchase. 

Testing Results:

Some businesses have failed to meet the expected results even after applying various strategies. So, it is better to spend wisely and on strategies that are bringing results. Always send a testing email before it reaches your customer to know every element of your email is exactly as expected. Be it CTA, subject line, design, or some other content in the email. 

Increasing Email List:

It is super essential to get new subscribers. This can be achieved by putting your email in various places like sidebars, footers, headers, and more. Ensure it captures visitors attention, and they can enter the list hassle-free.
10 Email Marketing Tasks to Outsource To Your Virtual Assistant
Some Takeaways!
People are going to virtual assistants as Ecommerce email marketing has an enormous potential that they do not want to miss out. Online businesses want to perform the best practices and make this process easier for the customers.