How Can Partnering with a Virtual Assistant Company Benefit Your Business?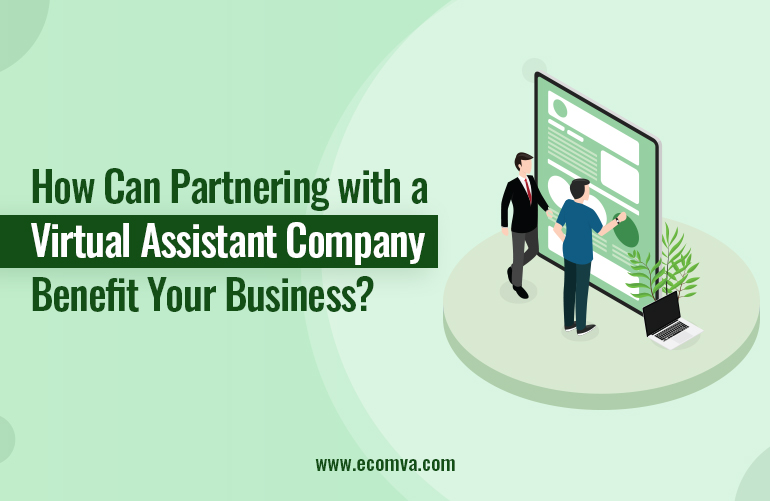 Did you know you can save around 78% of the operating costs if you invest in virtual assistant services?
In this fast-paced business world, it is time to bring your business to the forefront and beat the competition. Where can a virtual assistant make things simpler? Should you get a virtual assistant for your requirement? When you hire Amazon virtual assistant, will it meet your expectations?
Let us explore together in this content piece
What are the qualities of the best virtual assistant company?
You must explore certain things before hiring a dedicated virtual assistant. Some of them are:
Experience: Ideally, virtual assistants must have experience working with clients in your industry or with similar business needs. This ensures that they will bring better results for your requirements.
Communication skills: It is important that your VAs can communicate clearly and regularly to ensure that you are updated about the progress.
Professionalism: This quality ensures that your virtual assistants are punctual, meet deadlines, and bring the right solutions to meet the targets.
Technical knowledge: Depending on your business needs, you might need an expert proficient in certain software programs, coding languages, or social media platforms.
Flexibility: It is essential to have a flexible and adaptable virtual assistant as business needs change according to the audience's demands.
Security: They must have clear policies and procedures to protect your data and keep it confidential where required.
These things ensure you have the right support for your business.
What is the right procedure for partnering with a virtual assistant company?
Let us look at the process to shortlist the best virtual assistant company that meets your requirements and goals. Some of them are:
1. Understand your business needs and targets
Determining your business requirements is the first step in partnering with a dedicated virtual assistant company. What tasks do you need help with? Do you need a virtual assistant for administrative tasks, customer service, marketing, or repetitive and time-consuming tasks? Defining your needs will help you choose experts specializing in the areas where you need the most help.
2. Explore Virtual Assistant Companies
After you have made the list of your targets, it's time to shortlist the best virtual assistant companies. Finding a reputable and reliable company that offers a great solution is essential. Choosing a company with a proven track record of success, positive reviews from past clients, and a strong portfolio of experience is important.
3. Evaluate the top VA companies
If you have researched virtual assistant companies, you must evaluate each one. You can check factors like experience, expertise, communication skills, and professionalism. The company must have experience working with clients in your industry or with similar business needs, communicate effectively and regularly, and be professional in their approach.
4. Share your expectations
Narrow down your list and discuss your business requirements and expectations with them. Discussing your needs and seeing if the company is a good fit for your business is significant. This is also an opportunity to ask questions and clarify any concerns.
5. Take a demo
After you evaluate all the circumstances, you must take a demo to know if they will meet the deadlines and deliver the right solutions. This will help you understand their working process and know if they can meet your expectations.
6. Start Working Together
Once you have experienced their services, it's time to hire virtual assistant USA. Just ensure that you communicate regularly and provide clear instructions and feedback. This will help you ensure the virtual assistant company will provide the best possible service and meet your business targets seamlessly.
What are the benefits of partnering with a Virtual Assistant Company?
Increased Efficiency: One of the most significant benefits of partnering with a virtual assistant is increased efficiency. They are highly skilled professionals who can help businesses streamline their operations and reduce their workload.
Cost Savings: Virtual assistants are typically more affordable than hiring full-time employees and do not require the same benefits, such as health insurance and paid time off. Businesses can avoid the costs of recruiting, hiring, and training new employees.
Scalability: They will offer businesses the flexibility to scale their operations up or down quickly, depending on their needs. This is particularly beneficial for businesses with fluctuating workloads or seasonal demands. You can adjust their staffing levels without hiring or laying off employees.
Expertise: They are a diverse team of professionals with specialized expertise in various areas, such as marketing, social media, customer service, and administrative support. Businesses can access this expertise by partnering with the right company without hiring additional employees or investing in training.
Core Business Activities: By outsourcing non-core business activities to a virtual assistant company, businesses can focus on their core business activities, such as product development, sales, and customer service. This can help businesses stay competitive in their industry and improve their overall
Reduced Risk: When you work with a virtual assistant company, you can rest assured that your administrative tasks are handled by experienced professionals dedicated to helping you achieve your goals. This can help reduce the risk of errors, mistakes, and other problems that can arise when you try to handle everything in-house.
Which tasks can you assign to virtual assistant companies?
There is a wide range of tasks that you can assign to a virtual assistant to save your time and focus on business growth. Some of the best ones are:
Administrative Support
They have expertise in various administrative tasks, including email management, scheduling, data entry, document preparation, and more. This can free up time for business owners and employees to focus on the core tasks of the business.
Customer Service
Whether answering customer inquiries, processing orders, or providing technical support, they have the right skill to be available around the clock. This can help improve the customer experience and ensure customers are satisfied with the business's services or products.
Marketing and Sales
If you have someone with marketing and sales expertise who can help businesses develop and implement marketing strategies, manage social media accounts, create and distribute content, and perform market research. This can help businesses increase brand awareness, generate leads, and drive sales.
Product listing and optimization
Virtual assistants will help ecommerce product upload services on your websites or online marketplaces such as Amazon or eBay. They can also optimize product listings by writing compelling product descriptions, creating high-quality product images, and using keywords that help improve product visibility and sales.
Order processing and fulfilment
E-commerce virtual assistants can help you manage orders, process payments, and fulfil orders on your behalf. They can handle tasks such as printing shipping labels, updating order status, and managing returns and refunds.
Inventory management
If you have skilled support, they can help you keep track of your inventory levels, create reports, and manage restocking activities. This can help ensure you have the right inventory to meet customer demand and avoid stock-outs.
Finance and Accounting
With finance and accounting, expertise can help businesses manage their financial tasks, such as invoicing, bookkeeping, tax preparation, and payroll. This can ensure businesses comply with financial regulations and keep their finances organized.
Research
It can also support research, such as conducting internet research, gathering data, and compiling reports. This will help the business make informed decisions to grow and engage with potential users.
Personal tasks
They can handle personal tasks, such as booking travel arrangements, managing personal finances, and scheduling appointments. Users can hire virtual assistants to handle tasks to save time and effort, which can be invested in essential tasks.
Human Resources
Professional virtual assistants can also support human resources, such as managing job postings, screening resumes, scheduling interviews, and onboarding new employees. This can help businesses streamline their hiring process and hire the right candidates for the job.
Research and Analysis
The research and analysis expertise can help businesses gather data, conduct market research, and analyze trends. This can help businesses make informed decisions and stay ahead of their competition.
Social media management
They can be social media experts who can help manage your social media accounts, including creating and curating content, responding to comments and messages, and analyzing social media metrics.
Content creation
Virtual assistants can help you create content for your website or blog, such as writing blog posts, creating graphics, and editing videos. They can help you produce high-quality content that engages your audience and drives traffic to your website.
Book keeping
Virtual assistants can help you manage your finances by tracking expenses, creating invoices, and managing accounts payable and receivable. They can help you maintain accurate financial records and stay on top of your finances.
Email marketing
Ecommerce virtual assistants can help businesses create and send email campaigns to promote products, offer discounts, and build customer loyalty. They can also segment email lists and track open rates, click-through rates, and other metrics to optimize campaigns.
Data analysis
Ecommerce virtual assistants can analyze sales data, traffic patterns, and customer behaviour to identify trends, opportunities, and areas for improvement. They can provide insights to help businesses make informed decisions and optimize their ecommerce operations.
The End Note!
We have shared some detailed insights to help you partner with skilled virtual assistant services. As a business owner it becomes your responsibility to choose the best ones to scale with the right strategies and resources.