Top 7 Must-Have Tools for Amazon FBA Sellers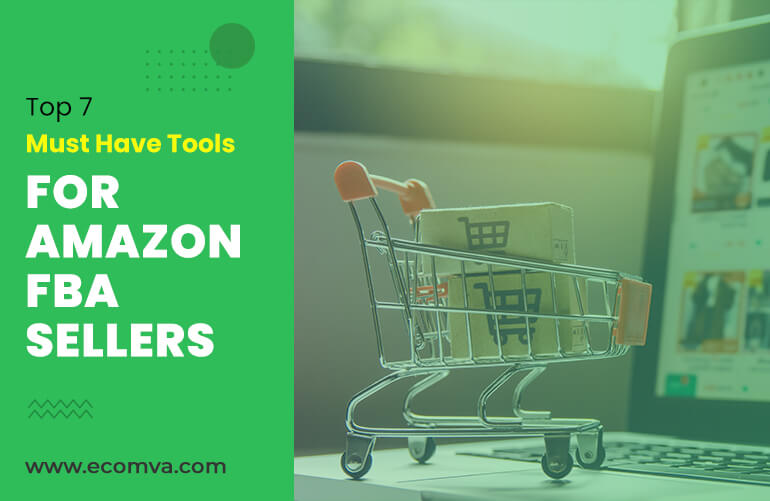 Finding profitable items that you can sell on Amazon requires certain processes and methods. There are Amazon seller tools that will help you manage the storage, shipping, and packaging.
Being a seller is not an easier task as you need to handle various processes to generate better revenue. These amazing tools take the burden off and give you great flexibility to sell products on Amazon.
What is Amazon FBA?
Fulfilment by Amazon is a solution that allows an online seller to use its warehouse store and ship the products. The Amazon FBA is a simple yet powerful process to grow your business without investing thousands in storage facilities and staff.
Things an Amazon seller needs to do are:
Select Products: Amazon deals with the back end, but you need to research and source.
Update Inventory: The platform lets you know when your stocks are low so that you can replenish them when required.
Create Product Listings: Amazon is huge, but it expects great product listings and titles to market your products.
What are the top tools for Amazon FBA sellers?
Eva

It is an all-inclusive solution that helps you beat your competition in the industry. You might want to deal with a VA for Amazon FBA that understands the importance of such tools. Some unique features of this tool are:

Private Label Pricing: Selling your personal label products must be on trends, and for that, you need to keep your eyes on effective substitutes. You can be a solid brand value by using AI-Powered solutions to increase revenue.
Repricer for Sellers: The pricing management helps sell your products on Amazon. The repricer tool works around the clock to escalate your business's profits. It gives you real-time graphs, updates prices, detects competitors, and uses a price scheduler.
Reimbursements: The reimbursement AI audits deal with returns, accounting, shipping, warehouse, and inventory with the help of experts. With the help of the Amazon FBA virtual assistant, you get an opportunity to identify the potential reimbursements with high accuracy.
Replenishment: Being a seller means you need to know the exact time and products to replenish. The tool ensures to share the information with the suppliers to ensure safe deliveries.

JungleScout

This tool helps when you plan to start selling on Amazon, grow your business, or explore better solutions. It will analyse the consumers' shopping behaviour and plan your marketing procedures accordingly. Things that this tool can handle are:

Product Research
Launching products
Find higher selling products
Reliable suppliers
Optimize product listing

Zonguru

You get powerful data insights and automation to grow successfully on Amazon. Get an Amazon seller virtual assistant to help you find the best products, insert the right keywords, and add images to drive better sales. Tasks you can handle using the Zonguru tool are:

Scale your Amazon FBA
Improve sales
Connect with the customers
Generate product ideas
Craft product listings

Google Trends


You know that keywords have historical patterns and trends that you need to know. With the help of this tool, you get to know what happens. It gives you the data about different keywords at a specific time of the year. An Amazon FBA VA has the right knowledge and helps you to integrate the right keywords and at the right place to make your selling more effective to the customers.


Seller App


This is an all-in-one tool to research your products. They have different types of membership that depend on your requirements. The basic features of this tool are:

Product research and trends
Keyword tracking and research
Index checker
PPC analyser
Listing SEO

AMZ tracker

It is primarily a keyword research tool, but there is a lot more when it comes to researching the products. The marketers can use it for different approaches like:

Perform research on primary keywords to understand which product is in demand
Cross-reference products by knowing the conversion data that helps to understand the selling problems
Finding long-tail keywords research, competitor analysis, negative reviews, and more

Unicorn Smasher

This is a perfect fit for the sellers looking for a free product research tool. An FBA virtual assistant might be an ideal fit for this. The biggest feature is its simple interface and provides your targeted metrics. It can be integrated easily with other tools to make it more effective and provide a smooth product research experience.
What are the benefits of Amazon FBA?
Selling products on Amazon ensures quality that most customers appreciate. Stepping in the market already builds trust and expects excellent customer service.
Amazon gives you a great customer service management to handle returns, refunds, and inquiries based on FBA sellers.
Amazon has a relationship with the shipping companies and sellers save their money by paying less for shipping.
FBA sellers can store their inventory at Amazon centres. It handles the inventory through multiple channels not limited to Amazon Marketplace.
FBA orders are processed in the same methods Amazon handles its merchandise. This means when someone buys an item, Amazon picks items from the inventory, packs it, and ships it to the buyer.
This enables the Amazon seller to reach new and existing customers that need fast deliveries and filter them as per their user profiles.


The Final Key!

We have disclosed the must-have amazon seller tools to make your journey more profitable. They ensure that you have the upper hand in the industry and can leverage more customers with interesting features and functionalities.