9 Benefits of Choosing an Amazon Virtual Assistant this Holiday Season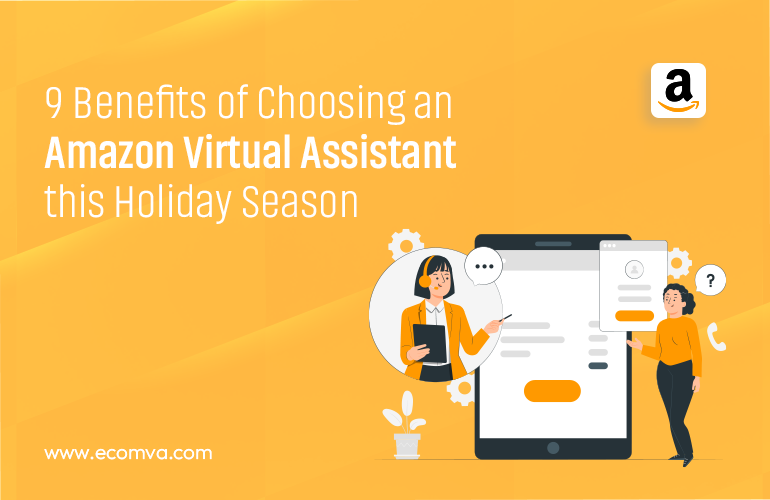 Are you an e-commerce business owner planning to supercharge your operations and boost your profitability this holiday season? You might be aware that the holiday rush is both a challenge and a blessing. With the fierce competition and the rise in demand on platforms such as Amazon, it is high time to consider a game-changing strategy. If you have an Amazon store, the best thing you can do to ensure your success is hiring Amazon Virtual Assistants. 
Unsure whether choosing these professionals for managing your ecommerce business on Amazon is worth it? If yes, all you need is to read this blog post. Here, we will closely examine the key advantages of hiring a virtual assistant for Amazon seller. Let's delve in: 
Who are Amazon Virtual Assistants?
Amazon Virtual Assistants refer to professionals or service providers who are dedicated to offering remote technical, administrative or creative support to businesses or individuals selling products on Amazon. They are adept at effectively managing different aspects of running an Amazon business. It includes specific tasks such as customer service, order processing, inventory management, etc.
The Role of Virtual Assistants
Virtual Assistants, or VAs, are known to play pivotal roles in supporting entrepreneurs, individuals and businesses in different technical, administrative and creative tasks. Their role has evolved considerably in this digital age with the rise of remote work. 
Below, we have enlisted some of the critical responsibilities and functions of Virtual Assistants that one should essentially be well aware of:
  1. Administrative Support
Managing calendars, emails and appointments.

Maintaining and organising digital files and documents.

Handling messages, voicemails and phone calls.
  2. Data Entry and Management
Filling and organising data in databases, spreadsheets and other software.

Data mining along with extraction.
  3. Communication and Correspondence
Coordinating with team members, partners and clients.

Drafting and editing letters, emails and other forms of communication.
  4. Customer Service
Answering customer inquiries, feedback and comments.

Addressing customer complaints or concerns.
  5. Research and Market Analysis
Carrying out detailed market research, industry studies and competitor analysis.

Amassing reports and summaries that are based on research findings.
What are the Key Advantages of Partnering with Amazon Virtual Assistants during the Holidays?
Now that you have a clear understanding of the role of a virtual assistant for Amazon sellers, it is time to learn about the benefits you would reap by hiring these professionals. So, let's find out: 
  1. Optimising Operations
During the holiday rush, ensuring efficient and smooth operations is highly important. You can effectively optimise your business operations by hiring a virtual assistant for Amazon sellers. These experts are skilled in performing a wide diversity of tasks. It includes order processing, inventory management and logistics coordination. They can assist in maintaining adequate stock levels. As a result, it ensures that you are well-prepared for the increased demand during the holiday season. These professionals are also dedicated to offering the best-in-class ecommerce product upload service. 
So, by relying on them, you can lower the risk of fulfilment delays or stockouts. This way, it helps meet your customers' expectations and uphold your reputation, which are integral factors to consider during the busy holiday months. 
  2. Delivering Stellar Customer Service
If you want to achieve success in the holiday season, it is vital for you to offer exceptional customer service. It will help in differentiating your business from others. To ensure this, all that you need is to hire a professional virtual assistant for Amazon sellers. They can effectively handle customer inquiries, resolve concerns and ultimately facilitate a smooth shopping experience. Also, they are always dedicated to swiftly responding to customer queries. 
As a result, it helps address any concerns related to returns, shipping and product information hassle-free. Thus, by offering outstanding customer service, you could build trust and loyalty among your customers. It eventually leads to positive reviews and repeat business.
  3. Listing Optimisation and Management
As an e-commerce business owner, it is crucial for you to optimise your product listings. By focusing on this aspect, you could stand out among countless Amazon listings. With an effective Amazon listing, you can achieve success on the platform. To ensure this, all that you need is to hire an expert Amazon Virtual Assistant. They possess the skills to perfectly optimise your product listings. It includes conducting comprehensive keyword research, writing compelling product descriptions and incorporating high-quality images. 
They also focus on monitoring listings for any necessary adjustments or updates. These strategies help ensure your listings get better visibility in Amazon's search results. Thus, by adopting this strategic approach, you could considerably boost the performance of your products during the holidays. Ultimately, it helps in driving higher conversion rates.
  4. Strategic Advertising and Promotion
Amazon is known for offering different advertising and promotional tools like Lightning Deals, Amazon Deals and Sponsored Products. You will find Amazon advertising a robust tool during the peak shopping seasons. If you want to leverage this tool to the fullest, it is suggested to hire an Amazon virtual assistant for Amazon sellers. These professionals possess expertise in Amazon marketing and assist in creating and managing ad campaigns. 
It helps you target the right audience and optimise your ad spend. They can again do a proper evaluation of data for refining your advertising strategy and ensure that your products come across the right audience group during the holiday season. So, it boosts the visibility of your products, thereby boosting revenue and sales.
  5. Market Analysis and Strategy
One of the best ways to stay competitive on Amazon involves conducting a thorough market analysis, which helps you understand market trends and competition. It will ensure your success in the holiday season. Amazon Virtual Assistants are focused on amassing data on market trends, analysing competitors and discovering growth opportunities. 
All of this information is valuable for making informed decisions about pricing, product selection and marketing tactics. Thus, you can make data-driven decisions by staying informed on what is happening in your industry. As a result, it helps you to adapt your strategy effectively to meet the demands of the holiday market. Ultimately, it offers you a competitive edge.
  6. Expanding Reach with Social Media
Leveraging different social media platforms offers you the best opportunities to establish engagement with prospective customers. Not only that, these help you in building brand awareness. It's typically because holiday shoppers are most likely to engage with brands on social media platforms. Amazon Virtual Assistants are qualified and skilled, so they can assist you in effectively managing social media accounts. 
They also help craft and schedule posts, respond to comments, and run targeted advertising campaigns. This way, you can build a robust social media presence, which will help you connect with your audience, reveal holiday promotions, and more. As a result, it boosts the brand's visibility, attracts a broader audience and ultimately drives traffic to Amazon listings.
  7. Proactive Customer Engagement
Another great way to kickstart your sales volume during the holidays involves reaching out to customers and establishing engagement with them. It is possible by providing them with personalised offers and recommendations. You could get assistance in this aspect by hiring a virtual assistant for Amazon sellers. 
They can help you to come up with email marketing campaigns, newsletters and tailored suggestions based on customer behaviour and preferences. They are also dedicated to offering best-in-class product store management services. This level of personalised attention can ultimately foster a robust connection between the customer and the brand. It could lead to positive reviews and repeat purchases.
  8. Time and Resource Management
The holiday season can be overwhelming with the increased demands on your resources and time. If you want to effectively manage your resources and time in the holiday months, it is suggested to opt for the assistance of Amazon Virtual Assistants. They are focused on handling your routine and time-consuming tasks in the best possible manner. 
It lets you concentrate on higher-level strategic initiatives like marketing, product development, and business expansion. As you assign tasks like order processing, customer support and data entry to a virtual assistant, you can efficiently allocate your resources, ensuring a streamlined operation. If you have an Adobe Commerce store, you can hire virtual assistants who are involved in offering Adobe Commerce store management solutions. 
  9. Monitoring and Adaptation
The holiday season is considered to be dynamic with the continuous evolution of market trends and the shifting of customer preferences. Due to this reason, it becomes essential to do a constant monitoring of your performance. Amazon Virtual Assistants excel at monitoring KPIs or Key Performance Indicators; based on that, they adapt their marketing strategies. They also offer real-time data analysis and insights. 
So, these professionals can help you to stay responsive and agile by refining your ad campaigns, adjusting inventory levels or responding to shifting market conditions. It ensures the optimisation of your performance all through the holiday period.
Final Verdict
So, it is evident from this detailed guide that partnering with a virtual assistant for Amazon sellers during the holidays provides a diverse range of benefits. It can again considerably improve your e-commerce business. From offering outstanding customer service to optimising your business operations, these professionals can assist you in successfully navigating the challenges and opportunities of the holiday season. 
By leveraging their expertise in specific areas such as market analysis, advertising and listing optimisation, you can maximise the chances of your success during the busiest shopping season of the year.