How to Make Magento 2 SEO-friendly? Tips, Strategies, and Optimization!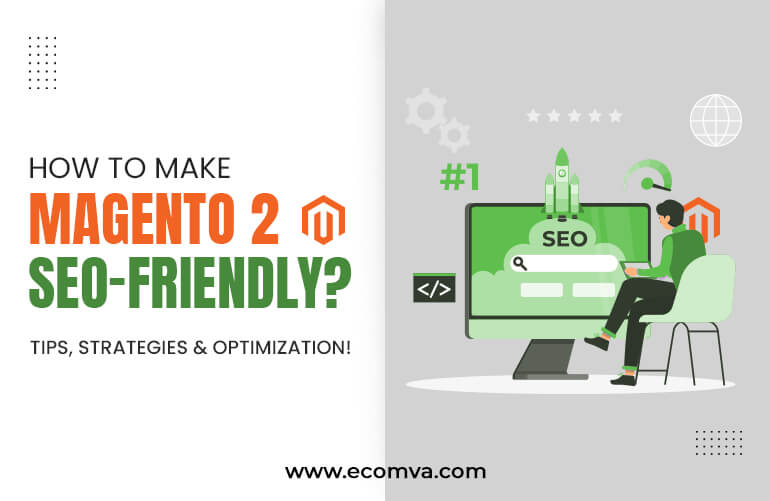 Magento is becoming a leading e-commerce platform globally. After building an online store, people are now focusing on Magento SEO to increase their online presence. You might not exist for your audience if you do not achieve top ranks on the search engines. 
Generally, people have less idea about the brands. They just look for the products and trust the online platforms for the best stores. But, how will you get there?
Have you decided the path to reach the top position on SERPs?
Did you analyze your competitors?
What are your Magento 2 SEO strategies?
How do you optimize your Magento SEO?
Keep Reading, and we ensure you get your answers and some great strategies for Magento SEO optimization!
What is Magento?
It is an Adobe product, which is powerful e-commerce software with more than a million users. It is different from the CMS (Content Management System) by being an open-source platform and continuously growing business. Being a highly versatile platform helps extend the content, functionality, look, and features of your online store. 
Things that help to gain better ranks for your Magento store:
The main aim is to enable search engines to find your content easily and make sense to them. The main pillars of SEO are:
Technology

: Each website must have a strong technical foundation that helps search engines find and understand your content quickly. 

Relevance

: You need to have a particular industry that you must target. Then the content is built around the trending search queries relevant to your target audience. 

Authority:

The links on the website will determine trustworthiness and authority.
How to handle Magento 2 SEO? Let us discuss some tips that might come in handy:
Work on your website elements
Before you start changing the content, improving website speed, and optimizing product categories, analyze your current website. Review the basic areas such as:
Domain: This helps search engines to crawl and index the website. It must be the important section of the Magento SEO checklist which also applies to the HTTPS or HTTP version of the website.
Structured Data: Another reason you must assess your website is the usage of structured data. This might be social media links, product listings, or reviews. If you have everything organized, it helps search engines with better information.
Sitemap: To maximize the technical section of the Magento SEO service, you need to add an XML sitemap. Search engine crawlers will use the sitemap for reference to explore the website to find the web pages.
Duplicate Content: When it is about dealing with Magento SEO, the most common issue is duplicate content. Handle it by enabling the link Meta tag and modifying the URL parameters.
Title Tags: This is a part of Magento SEO best practices, so review the title tags of every page. It must be unique, concise, and attractive to the visitors.
Page Speed: The slow page is one of the fastest methods to lose potential customers. Use online tools to get insights into the website speed and work on improving it. The ideal page loading speed is less than three seconds.

URL structure

As per Magneto, your website URL structure must be:

Product Pages: website.com/category-sub-category/product-name/
Category Name: website.com/category/
Sub-Category Page: website.com/category/sub-category/

The URLs must have keywords relevant to your business. Make it easier to remember for the visitors.

Improve Product Pages

These are the pages that will convince the visitors to engage with your products and services. So follow the basic steps to optimize your Magento SEO for product pages:

Invest in your time in deciding the perfect product name. It must fit in your product categories, and customers should be able to get the relevance instantly. You might want to perform deep research in the market to entice the best product name.
Focus on the short and full product descriptions. The content must be informative, unique, and relevant. Add all the necessary details as it will help the visitors to visualize your products better.
Add keywords in the title tags and Meta descriptions. Ensure to make them engaging for the users, which will compel them towards CTAs and gain better conversions.
It is vital to add images and other media of your products. They must highlight the product usage, size, and features.
Include reviews and ratings for the products. This signals the quality of your products and services.
Depending on your target platforms, you can encourage users to share your products with their contacts. Incorporating social media buttons makes this process effortless for them.

Optimize the Product Categories

With your keyword research, website improvements, and competitor analysis, you need to revise through the product categories. With a detailed Magento SEO guide, it might be easier for you to enhance your online presence.

Some sectors you require to optimize in the product pages are:

Name: Create a product name that is concise and descriptive. Add various categories of products to make it easier for the customers.
Description: Make it helpful for the visitors. Make sure you target the right audience and engage them with your products. Avoid keyword stuffing.
Title Tag: Make it less than 60 characters or less. The main catch is, to begin with, a primary keyword. This is one of the best Magento SEO best practices that help you reach more audiences.

Image Optimization

Having so many Magento SEO tips, you cannot miss this one. The truth is many merchants just upload images without giving them a second thought. This will harm your user experience and direct you to lower conversion rates.

Image Size and Format: This will affect your page loading speed as images and media consume a lot of bandwidth. Use editor tools to resize the images.
ALT Tags and Names: Search engines are smart enough to know what images contain. When your customers browse, and images are not displayed, this might increase bounce rates. Add effective alt attributes and texts. Insert name, which is descriptive and findable by the potential customers.

Crawl and Index

This is the issue of Magento SEO services which fail to decide the perfect navigation on the website. Many search engines fail to crawl through the content if your Magento store does not have the proper structure.

Some steps you might take are:

Find the indexed and low-quality pages on the website. Improve them first.
Review the website log files which are getting crawled by the search engines.
Block the crawl on any low-value parameters
Allow pages that have higher search potential to get indexed

Start a Blog Section

Apart from the on-page Magento SEO services, you can leverage content marketing for better ranks. This will help to boost traffic and visibility on the SERPs (Search Engine Result Pages).

Some benefits you get are:

It allows adding target keywords that might not be added to the product pages
A blog might help to drive additional exposure for the Magento 2 platform
It helps to create multiple URLs and pages to target various keywords
Provide answers and solutions to the customer before purchasing your store
These were the few tips that you must use in your Magento store. Still, need some more? Give a read to the Ecommerce SEO guide which will help you to gain more traffic and engage potential customers in your store.
How will you boost the visibility of your Magento 2 Store?
When you deal with an online business, it is vital to have the most updated software version. The reason is, it will have improved and fixed the issues that occurred in the previous version. It is recommended to have the latest version of Magento 2. 
Page loading speed is a very influencing factor that will directly affect your Magento SEO. Many search engines have started to penalize slow-loading websites. If your page loads are less than three seconds, it will be easier for search engine crawlers to reward you. Various tools will help in analyzing and improving the loading speed. 
SEO-Friendly URL structure
This is the location of your products and services. It is extremely helpful for search engines if you have it systematically. So, have an accurate structure that is easier to crawl and understand by the visitors. Keep them short, SEO-friendly, and clean.
Bottom Line!
We have shared with you the best methods to boost rankings with the help of Magento SEO. Hoping these methods will increase the visibility of search engines. Use various tools available in the market to meet the latest trends and demands.