Ecommerce SEO: A Complete Guide for Ecommerce Store to Drive Organic Traffic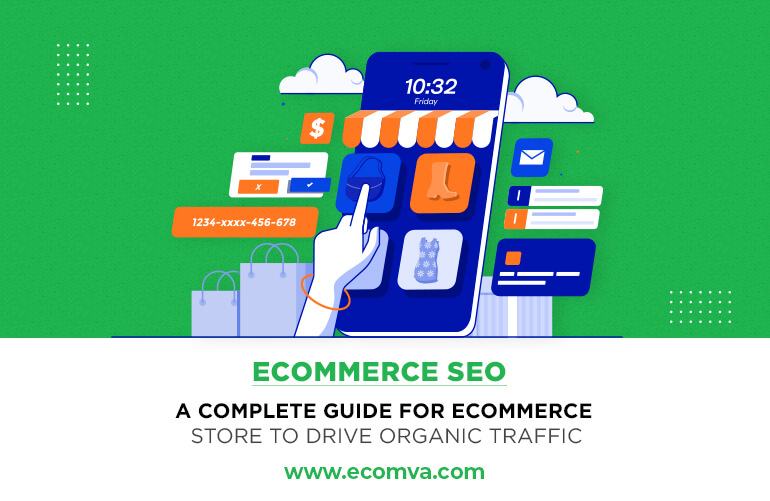 We will be sharing the best techniques to handle Ecommerce SEO which will boost your performance in the digital world. About 60% of the people will start their shopping journey through the online market. This has made it inevitable to avoid working on Ecommerce SEO as it will be enhancing your presence.  
What is an Ecommerce SEO strategy?
Search Engine Optimization is the process of improving the website to gain online visibility on the result pages. For an e-commerce business, it is vital to get engaged with the products and services through a digital medium. 
The four main segments where Ecommerce virtual assistants might help you excel are:
On-Page SEO


This is the process of optimizing the website's web pages to get better rankings on the search engines. This will include the keywords which will understand the search intent of the users. Some sections where this is used are:

Page URL
Image Alt-text
Title Tag
Content
Meta titles and Meta descriptions

Off-Page SEO


This focuses on what happens outside the website, which affects the rankings on search engines. This includes:

Link Building 

Social Media Marketing 

Guest Blogging

Influencer Marketing 

And many such marketing strategies which e-commerce businesses to reach more audiences and generate leads.

Technical SEO


This is the backend of the website, which helps the crawlers to go through your website effortlessly. It deals with:

Building a sitemap 

Mobile responsive platform 

Higher page loading speed 

Removing duplicate content 

Structuring the data on the website 

Handle technical issues

Working with the web analytics tools 

Local SEO


This global pandemic has made managing local SEO a vital sector for online business. It helps to establish authority and be a leading business by generating more organic traffic. Some tactics that can be managed when you know how to hire virtual assistant services are:

Having a Google My Business account 

Add business name, contact number, address, and more required information 

Create relevant content for the local audience for your platforms 
What are the best strategies that will help you improve your Ecommerce SEO?
People are using a virtual assistant for ecommerce SEO services as they are affordable and have the right experience to work on your requirements. Be it Magento SEO, Shopify SEO, Bigcommerce SEO, and Opencart SEO, and everyone is working on it to increase their conversion rate and earn profits. 
Let us look at some effective techniques for Ecommerce SEO:
Adding the perfect keywords

Keywords still play a crucial role for search engines. You must add your primary keywords in the headline, Meta description, image alt-text, sub-headlines, and product descriptions. Monitor the keyword search volume, search intent, and Cost-Per-Click to know the actual competition in the industry.



The search volume will tell if people are interested in the particular keywords. A high search volume will indicate better reach. 

The CPC will help you focus on keywords that will bring potential customers to your platform. 

The user intent helps you know what keywords people will be using to look for your products and services. 

 

Website Architecture

Some businesses have the right tools and information, still, fail to put that in action correctly. The Ecommerce structure deals with the setup of navigation, product pages, and category pages. The main aim is to provide the most relevant and best content to the users with minimal clicks. The things that ensure your website has a great structure:



Keep it scalable and simple 

Your web pages should be accessible within three clicks from another page 

Work on keyword research to provide highly relevant content 


You can get help from the Screaming Frog SEO Spider, an advanced SEO site audit tool. It is used to crawl both small, medium, and large websites. Performing a manual check of every page would be highly stressful and time-consuming. This tool will help to identify page issues effortlessly quickly.

Ensure Web Pages are indexed

If you do not index your pages, they will not be displayed on the search engine pages. You can use various online tools to know which pages are not indexed. Google Search Console will be helpful here, and it is free of cost. Some businesses also use this trick to remove pages that they do not want on the search engines.

Homepage SEO

This is where you need to pay attention. Here AnswerThePublic tool will come in handy. It will collect the autocomplete data from search engines and then build valuable phrases and questions for the specific keyword. It is the best one to gain consumer insights for your products and services. Some sectors that you might want to optimize are:

The Homepage title tag is an essential element of

Ecommerce SEO.

This must include your business name with the main keywords that you will be targeting. 

The Meta description is limited to 160 characters, defining what the consumers will be getting after they click on your web page. This must be engaging enough to encourage visitors to redirect towards your website. 

The homepage content must tell about your business which must be clear and informative. Avoid complex navigation or adding too much information, which will confuse the visitors. 

If you do not want a cost-effective method to handle this, you can always know how much a virtual assistant costs?

Optimize Product Pages

The principal place where you get conversion rates and earn potential customers. To enhance your Ecommerce SEO, you need to add relevant and informative content on the product pages. Some specific sections that you might want to focus on are:

The product name is significant to convince users. This is used in the title and URL of the product pages. 

Images must stand out in the market. Assign a proper file name and make them attractive to convince users to buy your products. 

Add multimedia to the website to make it engaging for the visitors. 

You can always use tools like MOZ. This tool that helps e-commerce business to manage SEO campaigns effortlessly. It also helps to understand better and know your audience. You get insights into the methods customers are using to reach your platform.

Make a budget

If you step into the e-commerce market, it is vital to have a pre-planned budget for your tasks. This will help to know if your investments are bringing desired results or not. The main focus of handling Ecommerce SEO is to generate leads that need you to invest in the right platform.

Update your content

When you add content to the website, it should be changed according to the recent trends in the market. In the digital world, the demands change continuously, which is vital to move with it. This helps in reaching better ranks and provides informative data to the readers.

Optimize the Titles, URLs, and Descriptions

When you are working on-page SEO, it might be better to start with these sections. They might not affect the rankings, but they will help grab users' attention and generate conversions. Some tips to improve these are:

Add your target keywords at the title's starting to ensure it does not get truncated due to less space. 

Keep your URL simple and understandable for the visitors 

In the Meta descriptions, add keywords once and keep them compelling to ensure you convince the readers. 

External and Internal Links

Internal links will help to redirect users from one web page to another. This helps to engage users for a longer interval. At the same time, the external links to the website will help you know your platform's relevance and authority. If you have sources of high page authority, it can be a great advantage.

Some guidelines to optimize your linking process are:

When it comes to external links, keep them 3 to 5 for a single topic

While for the internal links, add 3 to 5  redirections into different web pages

Perform Competition Research

You should know what they are doing to make a difference in the market. Know their best-performing pages and figure out methods to overcome them. These will help you know your challenges and gain an audience by beating your competitors. Grab insights about their business and their strategies for better understandings.

EndNote
If you are targeting to get hundreds or thousands of visitors each month, it is high time to make the right move in the Ecommerce SEO sector. A simple SEO campaign with the right strategy and content can boost your sales quickly. 
We have unlocked some of the best segments with the above guide. 
But, you know what ecommerce SEO has no limitations. There are chances that some tricks will work while some might bring losses. It depends on knowing the market, target audience, trends, demands, and interests, which helps bring the best face in the digital world. 
We might be a great support here. Our Virtual Assistants have everything available at your fingertips. They have the right knowledge, access to tools, resources, and experience to provide the best solution for your business. Reach us now!