Everything You Need to Know About Walmart Done for You Store Services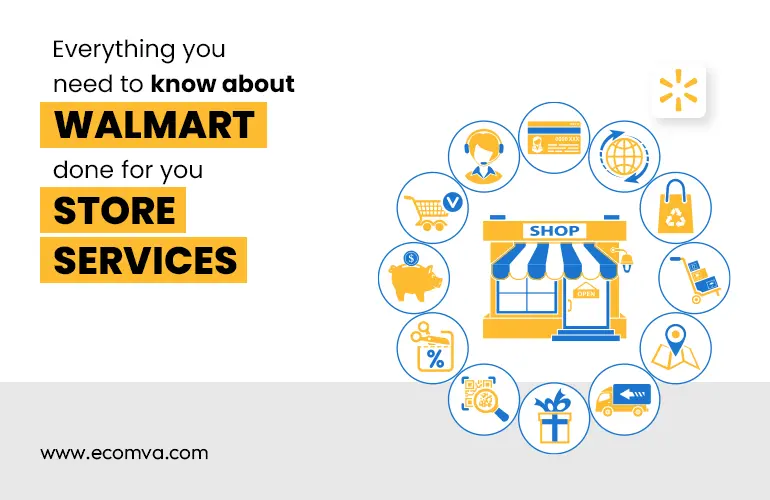 Are you planning to choose Walmart automation service? If yes, then you should first understand what exactly does it refer to and what these services entail. While talking about this, one of the most common terms you are most likely to come across is Walmart Done for You Store services. Here, we will focus on discussing this in detail to help you understand better. So, let's get started: 
What is Referred to As "Walmart Done for You" Services?
Walmart's "Done for You" is known to be an e-commerce automation service that has gained much recognition in the last few years. As a part, sellers are involved in contracting "agencies" that facilitate setting up the store and carrying out day-to-day operations. 
Walmart's 'Done for You' store is a fully managed business wherein sellers play the role of silent investors. In this case, an expert e-commerce management team will list you on Walmart. 
They will focus on branding your store, configuring automation and workflows, optimising the business for growth, etc., that helps in keeping your Walmart store generating sales. The automation providers generate money through a percentage of your sales. In return, you, as a seller, will enjoy passive income, typically through Walmart Marketplace. 
Why Walmart is a Great Choice for Your E-commerce Business?
There are several reasons why Walmart marketplace can be an outstanding option for your e-commerce business. Let's find those out:
  1. Brand Recognition
Walmart is a renowned global brand. So, associating your online business with Walmart is always a good idea. It can offer instant credibility and increase the trust of customers. Ultimately, it can result in higher conversion rates. 
  2. Large Customer Base
The customer base of Walmart is massive. It includes both offline and online customers. Millions of people are involved in visiting their websites and stores. 
  3. Logistics and Fulfillment
Walmart has a solid logistics and fulfilment network, which includes many distribution centres and warehouses. Whenever you partner with Walmart, you can reap advantage from their infrastructure, allowing you to efficiently store and ship your products. It ensures on-time deliveries. 
  4. Competitive Fees
Walmart is known for offering competitive fees for sellers on its marketplace. So, it is considered an excellent option for all those business owners seeking to maximise their profit margins. As the fee is lower in this case, you can competitively price your products and still make a good profit. 
  5. Marketplace Platform
Similar to platforms such as Amazon, Walmart is involved in operating a 3rd party marketplace. By joining this platform called the Walmart Marketplace, you get the chance to list your products alongside Walmart's offerings. As a result, it helps you to gain exposure to their large customer base. It could ultimately lead to an increase in the visibility and sales of your e-commerce business. 
  6. Promotion and Marketing
Walmart always focuses on attracting more and more customers to its stores and website. It is a big reason they invest a lot of money in promotions and marketing. So, by partnering with the Walmart Marketplace, your products could be benefitted from the overall marketing efforts that Walmart undertakes. It boosts your business's visibility and increases your chances of making more sales. 
  7. Omnichannel Opportunities
The e-commerce business of Walmart is integrated with its physical stores. It lets customers place online orders and pick up their purchases in-store, i.e., click-and-collect. This particular omnichannel approach can prove to be valuable for your business. It's because it offers extra convenience to the customers. Also, it can help in driving foot traffic to Walmart stores.
  8. Customer Support and Trust
Walmart is known for offering exceptional service and reliable customer support. So, you can gain the trust of your customers by aligning with Walmart. Also, you can depend on their support infrastructure to effectively handle any issues and customer inquiries. 
Although Walmart offers several advantages, you need to consider your target audience, specific business requirements and competition in your industry before making any final decision. Another important thing is to compare Walmart with the other available e-commerce platform to decide which best suits your unique business objectives. 
Why Do You Require Creating a Done for You Store in Walmart?
If you desire to sell your products on the Walmart online marketplace, you must meet specific requirements, including the following. Make sure to have these essentials before choosing Walmart automation service. 
  1. Business Eligibility
You need to ensure that your business is eligible to sell on the Walmart online marketplace. Your business will most likely have a valid EIN or business tax ID and a U.S. business address. If you are an individual seller, you are not allowed to sell on the Walmart Marketplace. 
  2. Walmart Seller Account
Make sure you have created a seller account on the Walmart Marketplace. To do this, you are required to provide detailed information about your business. It includes your tax identification number, contact details and legal business name. Along with that, you are also required to submit extra documentation that will help verify your business's legitimacy and identity. 
  3. Category and Product Approval
Another important thing is to review Walmart's category and product requirements closely. By doing so, you can ensure that your products align well with their guidelines. You may need additional approvals or documentation like brand authorisation for particular categories or brands. So, your main aim should be to ensure that your products meet Walmart's safety and quality standards. 
  4. Seller Performance Standards
It would help if you also focused on maintaining good seller performance on the Walmart Marketplace. It offers precise product information, prompt order fulfilment and outstanding customer service. Walmart is involved in doing effective monitoring of seller performance metrics like order cancellations, on-time shipping and customer feedback. 
However, it is worth noting that the specific requirements and processes may be subject to change. So, if you want to receive the most updated information, it is highly recommended to contact the official seller resources of Walmart or their support. 
What Particular Services are Typically Included in Walmart Done for You Program?
Walmart Seller Store Management Services are typically designed in such a manner that it helps sellers effectively manage their online stores on the Walmart Marketplace. These services aim to offer you a wide range of valuable features and support that aids in optimising the operations of your sellers. So, it helps in improving their overall selling experience. 
If you want to opt for virtual assistant services USA, you can contact a professional eCommerce assistant.
Some of the vital components of Walmart Seller Store Management Services incorporate the following:
  1. Market Research
You must conduct thorough market research to discover prospective suppliers who can fulfil your requirements. You can use industry-specific platforms, online directories, networking events and trade shows for this. These will help you collect information about suppliers in your target industry or niche. 
  2. Account Setup and Configuration
Another service included in the Walmart Done for You program is account setup and configuration. As a part of this service, you are expected to receive support in setting up your seller account. It includes configuring the shipping preferences, payment methods and account settings. This step helps ensure your account is customised to your business requirements and preferences. 
  3. Inventory Management
This service involves utilising tools and support for effective management of inventory levels, tracking stock availability and ensuring on-time replenishment. It will assist sellers in maintaining precise records of the inventory and thereby preventing stockouts or overselling. 
  4. Product Listing Optimisation
Whenever you opt for Walmart Done for You Store services, you are expected to receive assistance optimising product listings. It helps considerably improve the visibility of your store and overall sales. This service optimises images, descriptions, titles and other pertinent product information to attract customers. 
  5. Order Fulfillment and Shipping
Walmart Fulfillment Services or WFS is also included in Walmart Done for You Store services, typically part of virtual assistant services USA. It is designed in a manner that helps in the efficient handling of shipping and order fulfilment. These services usually include managing the order's processing, packaging and delivery to ensure reliable and prompt order fulfilment. 
  6. Competitor Analysis and Pricing Strategy
By choosing these services, you are assured of receiving guidance in developing competitive pricing strategies based on competitor insights and market analysis. As a seller, you will receive real-time recommendations for adjusting prices. It not only promotes maximisation of your profit margins but also helps you to stay competitive.
Final Thoughts
So, it is evident from this blog post that Walmart's "Done for You" Store Services provide an attractive solution for sellers looking forward to tapping into the immense potential of the Walmart Marketplace. These are known for offering a wide range of benefits that can considerably impact a seller's success.
If you want to reap the maximum advantages of these services, hire a virtual assistant USA dedicated to offering you related services is always recommended.