Everything You Should Know About Walmart Automation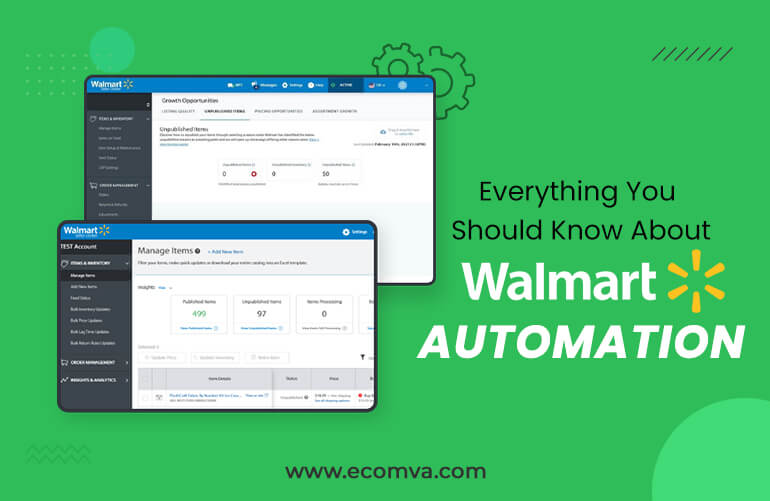 Every one of you may have heard about Walmart, right? But few of you may know about Walmart Automation. Walmart automation is where a businessman becomes the owner of a Walmart shop and hires a third-party firm to offer the staff to systemize, operate & expand the business. Through Walmart automation business, you can even generate high passive income.
Walmart automation gives the opportunity to earn a good amount of passive income, and thus it is getting very popular among entrepreneurs. It is a type of opportunity for business people to make extra bucks with fewer efforts.
If anyone wants to be part of Walmart, then you just have to build an eCommerce and start selling your products through dropshipping. You have the chance to grow and develop this business to produce significant long-term passive income. You can also hire Walmart marketplace management services to manage your Walmart store.
Many companies like Amazon, eBay, etc., also offer this type of facility, but experts believe Walmart is a much better platform for sellers compared to all others.
By following this blog, you will get a good idea about Walmart automation.
Benefits of Walmart automation
Earn passive income

If someone offers you an opportunity to earn money without putting much effort, time, or money, would you deny it? No, right? and when a big company like Walmart offers it, then hardly anyone will deny this opportunity. The name of that opportunity is Walmart Automation.

So, the major benefit of Walmart automation is that you can earn a good amount of passive income from this venture without any stress.

You can also hire a Walmart automation service to make your work effortless. By hiring these services, the professionals will manage crucial tasks like product listing, product description, increasing visibility, optimizing images, and many others.

Convenient for people


When you offer anything convenient to people, they are attracted to buy your offerings. So, this can help you to grow your business and sales quickly.

When you open a Walmart store, you agree to deliver products to both customers or Walmart stores, as per customers' choice. So, customers have an option to get deliver the order to their home, or they will collect it from the store.

Saves time


By automation, you can save a lot of your time. You don't have to sit for hours daily to do paperwork, inventory management, or customer support. The service provider will manage all these tasks. So, you can use this time for other activities of your wish. This is a crucial benefit of Walmart automation.

Get the benefit of the eCommerce boom


Today, everyone knows that the eCommerce industry is booming. People are now shifting from physical stores to online stores to purchase their required products and services.

By opening a Walmart store, you can take advantage of the eCommerce boom and also of the reputation of Walmart. Millions of people place orders on Walmart, so indirectly, you also benefit from this.
How can Walmart automation help you?
Set up your store


The beginning step to start the business is setting up the store. An optimized online store can increase the reach of your business. Walmart automation helps you to set your store on the Walmart platform. So, you don't need to invest your time in this process; it will be done by automation itself.

Order processing


Order processing is an important thing you do on an online store, but it may be a tedious task. So, it is better when it is automated; Walmart automation can do this task for you. It processes orders quickly makes use of advanced technology that can automatically process all the orders by removing errors and reducing cost.

Product analysis, research, and listing

Product research and listing are some of the most important tasks of the online store, and automation can handle all these crucial tasks for you. Walmart Automation will do research and identify goods that will generate the most sales and profit for you.

Inventory Management


Inventory management is an important task for all companies, but it becomes more important and tough at the same time for online companies. In an online business, there is continuous inflow and outflow of goods; thus, tracking and managing these goods becomes very important for operating the business smoothly.
When you choose to run Walmart business on automation, tracking inventory, deliveries, and sales become automated.

Store performance and audit management


Checking the performance of your store can help you to know whether you are on the right path or not. Walmart automation can conduct an overall audit of your store. Thus, you can see whether you are getting the desired results or not. If you are not happy with the output, you can change your strategy.

Tracking & Confirming Shipments


Not only will Walmart Automation handle consumer orders, but it will also assist in the confirmation of shipments and tracking. By automation, you can reduce the tracking and shipment costs.

Tax exemptions

Walmart automation can also help to deal with complex tasks such as taxation. It can reduce the tax that you may need to pay on your bills in various states or areas. Thus, it is also a type of reduction in costs, and therefore you can expect a rise in your profits.

Optimize feedbacks


Feedbacks are reviews are very important for an online business. Today, the majority of people look at reviews before buying products and services. So, the reviews must be managed and optimized properly. Walmart automation will respond to all the reviews and answer all the queries and questions of your customers.
What to look for in a Walmart automation company?
Professional team

When you are hiring an automation company, your business's success is largely dependent on that company. So, it is good to make sure that the company you are hiring has a team of professionals who have good expertise in their work.

Maintain a realistic timeline

Never put your faith in a business that promises you instant results since Walmart automation is an investment, not a transaction. If a company promises your quick results, then it is a red flag because there are high chances that the company is lying.

Select a company that gives you a realistic timeline and progressively assists you in your business for the long term. A company that can assist you for a long time can help you achieve sustainable success.

Check client testimonials


Before hiring an automation company, make sure to check their client testimonials. By reading the reviews of the clients, you can know the working style of the company, and also you can see whether they are professional or not.

You can check the reviews on the company's website, Google, and reviews websites like Clutch. Try to select a company with the maximum number of positive reviews. However, avoid choosing a company that has only positive reviews as these types of reviews can be manipulated.

Transparency


One of the most crucial points to notice about any automaton service provider is their dedication to openness about their charges and services. Also, many companies may give you unrealistic and false claims. So, you need to be aware of such types of companies.
Conclusion
In conclusion, we would say that Walmart Automation is getting popular quickly among entrepreneurs. It is an amazing way to earn passive income. You can hire third-party companies or services to manage various tasks of your Walmart store, and you can just enjoy the revenue from the store.