Grow Your FBA Business With An Amazon Virtual Assistant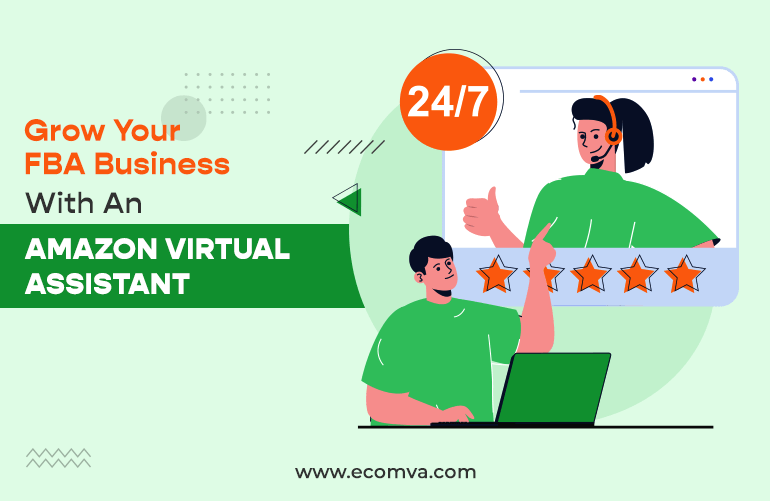 One of the most flourishing global internet marketplaces is Amazon. 
Entrepreneurs from all over the world use Amazon, and your business is no different. It is unquestionably a place where any online merchant would like to be. But, as more and more sellers recognize this, the competition is getting fiercer. 
Moreover, getting conversions now requires excellence in all areas. Consequently, it is challenging to run an Amazon business, especially if you do it alone.
However, Amazon FBA VA can solve your issue and thrive your business in this untamed competition.
What is an Amazon virtual assistant (VA)?
An Amazon VA is a remote working person who provides support for and handles your Amazon business. You can employ them part-time, full-time, or on a contract basis. They will:
Manage your Amazon store

Work remotely from anywhere around the world

Carry out various other tasks
You can hire an Amazon virtual assistant for several tasks depending on their knowledge and experience. For instance, product photo editing, business marketing, copywriting, or data entry. They can help you save time and remotely grow your Amazon FBA (fulfillment by Amazon) business. 
What are the benefits of Amazon virtual assistants?
An amazon seller knows well that time is wealth. However, if deadwood tasks like dealing with regular customer queries or product listing use up all your time, you are not fully capitalizing on your business.
Even if those humdrum business activities are necessary, you, being an owner, need not perform them alone. You have a bigger fish to fry.
You need to plan marketing strategies, scale your business, set vision and objectives, enhance customer loyalty, determine the target audience, manage capital, and much more. Hence, being an entrepreneur, your currency is time. 
Amazon FBA VA can handle all your mundane tasks and manage your store to lessen the burden on your shoulder.
VA for Amazon FBA can also work as an accountant. The major benefit they can serve as an accountant is that you need not pay allowances as they work remotely. On the contrary, if you hire an in-house accounts team, your expenses soar up. 
Their remote condition also facilitates the opportunity to hire VAs from around the world. As a consequence, you earn the benefit of countries whose economy is lower than yours. 
Save space and, ultimately, money
As we discussed earlier, they work remotely. Hence, you need not invest in offices, workspaces, equipment, and other employee benefits. You simply pay for the tasks they do. 
The additional benefit that a VA brings to a company is peace of mind. You can rest assured and let them do all the work, from product listing, and inventory management, to customer support. 
Boost conversion rates and earnings
Hiring a virtual assistant for Amazon FBA means more conversions and better income. They are experts in their field and can take your business to a whole new level with their dexterity and experience. 
What can a virtual assistant do to scale your Amazon store?
Before you embark on the journey of finding the right virtual assistant services for your Amazon business, assemble the tasks which you find monotonous and time-consuming.
You can also add significant tasks which require a specific skill set.
Below are a few of the common tasks that you can delegate to virtual assistants:
1). Offer customer services
Happy and satisfied customers are the crux and spark of any brand. Hence, one of the top priorities of any online business owner should be providing excellent and prompt customer service. 
However, offering spontaneous answers and solutions to customers calls for constant online presence and efforts. 
Virtual assistants for Amazon sellers can:
Create response templates
As Amazon provides 24 hours to respond to customer queries, a VA can draft a template response related to most of the clients' questions. 
Answer client queries at the right moment
When a visitor is at the edge of becoming a customer, s/he will want an answer on the button. So, a talented VA will learn about your product in no time and reply professionally. 
Customers not only leave positive but negative reviews as well. Plus, they also expect that the brand responds to them on time. A VA will match orders to reviews, trace the customer, and rectify the issue. 
Additionally, an experienced VA will formulate tactics to resolve negative feedback.
Take care of exchange/refund requests
A knowledgeable VA knows that customers ask for refunds or exchanges for varied reasons. S/he will manage them correctly and handle partial refunds wherever applicable.
2). Manage vendor relations and product sourcing
Often Amazon sellers augment their available products to enlarge their markets. Moreover, they can deliver magnificent results when they do research, testing, and preparation properly.
However, it is not true in all cases. But, when you hire an Amazon virtual assistant, s/he can carry out all those tasks effectively because of their expertise.
They can for example, 
I). Handle invoices and manufacturers
VAs will conduct thorough market research and collect samples to expand the product range. They will discuss terms and conditions with vendors, create invoices, and help to manufacture.
II). Maintain relations with suppliers
A VA will use a constructive approach to interact with suppliers instead of replying only during an issue. Hence, s/he will maintain a cordial partnership with them to enhance supply chain management. 
III). Storefront management
A successful Amazon storefront entails many things apart from inventory management. But you can take help from a VA for that.
A virtual assistant Amazon FBA

can set up alerts for goods having a low client satisfaction index. Plus, prepare for low stock chapters, and adjust strategies to improve user experience. 

 A VA can bring about new sales opportunities for the same products or categories.
3). Product listing optimization
Product listing optimization is a critical task. You must abide by Amazon's guidelines, as Amazon will restrict your products' visibility upon failure.
Product listing is also an effortful activity in addition to its criticality. However, a VA will help in the following ways:
Create product listing and write copies
An Amazon virtual assistant will add product details, product images, and titles in a correct manner. Plus, s/he will fabricate a unique, impactful, and concise copy for products. As an expert, s/he will also follow SEO tactics, enhancing the product copy.
Everything you present and the way in which you present on Amazon plays a crucial role in your business's success. So, a VA will optimize product title, description, and images to fulfill Amazon's guidelines. 
In addition, s/he will also use keywords in the copy to further help the audience to easily find your products.
Virtual assistants will test different versions of your product photographs, titles, and descriptions. Then, they will analyze what works and what does not, finally using the most converting elements. 
4). Conduct fulfillment tasks
Amazon's guidelines are essential to gain purchase credit, maintain FBA status, and deliver a positive buyer experience. So, hire a virtual assistant for Amazon to carry out the following fulfillment tasks:
Submit FBA inventory which requires considerable time. So, with a VA, you can focus on other important tasks.

Download Amazon barcodes and shipping labels for each product you send.

Track your cargo and learn when it will be delivered.
5). Business Promotion
Marketing is significant for any business, online or offline. Moreover, companies must not take for granted what the digital world offers– immense opportunities to reach different audiences in various ways. 
You can raise brand awareness, leads, and sales by promoting your business through Amazon advertising, Google ads, social media, and many other ways. However, managing all of those platforms can be near impossible. 
So, an experienced virtual assistant can:
Set up ad campaigns for Amazon ads, Google ads, Instagram, and Facebook. 
They will also track the performance of those ads and help your business get maximum ROI on ad spend by adjusting strategies. 
Build a tailored audience for Amazon advertisements.

Optimize ongoing campaigns to drive revenue and brand recognition. 
What should you consider before hiring an Amazon virtual assistant?
1). Set clear goals and expectations
Prior to hiring a virtual assistant for your Amazon business, you need to determine what you want to accomplish and which skills you will require to reach your goals. 
Your requirements can be anything or more than the following:
Customer communication

Data entry

Product Listing

Review management

Product research

Content creation

Inventory management

Image optimization

Competitor research
Creating a goal and skill set will help you find the right VA for your business. 
2). Determine and convey key performance indicators
Advanced KPI determination helps organizations in efficiency examination and resource monitoring. In addition, it also makes the process of working with an Amazon virtual assistant streamlined.
Your set of KIPs for FBA can be any or more than the following:
In stock rate (Number of days without any stockout)

Inventory performance index (overall view of turnover and inventory rate)

Excess or the average age of inventory

Basket analysis (average number of items bought, average selling price, average basket)

Reviews (number of reviews and average product rating)

Content quality score that directly affects your conversion rates

Sales revenue 

Return on ad spend

Click-through rate (number of times people click on your product listing)

Amazon seller fees (fees associated with FBA)
3). Create a detailed job requirement
Creating a detailed yet concise job post is necessary to attract the right applications. 
Tips for creating a job post:
Avoid following generic templates and create your unique post

Add the skills your require

Include a solo and direct point of contact

Explain your business briefly

Highlight your requirement for 'virtual assistant' to avoid applications from full-time job applicants

Maintain a single communication line
Final thoughts!
Not all heroes wear capes!
Amazon FBA VA can be a knight in shining armor. They can take care of your mundane business activities and technical tasks. They leave you stress-free to focus on other business tasks.
Hire a virtual assistant now because their expertise and experience can take your business to higher levels of success.