What are the Roles and Responsibilities of a Virtual Assistant?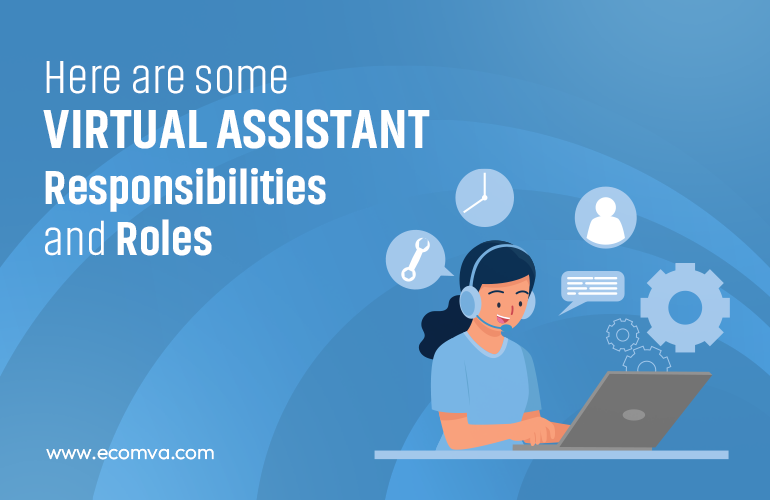 Do you know that hiring virtual assistants costs 78% less than on-site or full-time employees? So, suppose you are planning to hire a virtual assistant from virtual assistant companies in USA for your business. In that case, it is first essential to clearly understand their roles and responsibilities.
You will learn about it in detail in this definitive blog post. We will also let you know who virtual assistants are, their key benefits, and the factors to consider while hiring these professionals. So, let's delve in: 
Who is a Virtual Assistant?
A virtual assistant refers to a remote employee well-known for offering their clients many different types of services. It includes technical, creative, administrative or other specialised services. 
They provide these specific services either from a home office or from any location that is present outside the premises of their clients. These experts are dedicated to employing technology for communicating and collaborating with clients. Some of its examples are video conferencing, email, instant messaging and project management software.
Note: The role of a virtual assistant can vary based on the client's specific requirements. However, their primary responsibilities include assisting clients in managing their day-to-day tasks and freeing up their precious time so that they can focus on other significant activities. Some critical tasks they can perform include data entry, scheduling appointments, email management, etc.
What are the Key Benefits of Hiring a Virtual Assistant?
There are multiple benefits that entrepreneurs and business owners can reap by hiring a virtual assistant. They play a considerable role in helping your business to grow and thrive. Here are the key advantages that you should be well informed about before hiring one for your requirements:  
  1. Effective Time Management
One of the crucial benefits of hiring a virtual assistant is that they can assist you in effective time management. They are involved in taking on their clients' time-consuming tasks, which helps them manage their time more effectively. This way, they help free your time, and you can focus on your significant business activities, promoting your overall business growth.
  2. Broader Reach
Virtual assistants, or VAs, are known for operating from a remote location. So, it means that you can reach out to a global talent pool while hiring. Also, you can reap benefits from a broader range of expertise and skills.
  3. Boost in Organisational Productivity
These professionals play a pivotal role in enhancing the overall productivity of your organisation by increasing efficiency and streamlining your business operations.
  4. Cost-Efficiency
Another significant benefit of hiring a virtual assistant is that they can help in saving your money. In this case, you do not have to incur any costs on equipment, office space and benefits.
  5. Enhanced Work-Life Balance
Whenever you consider hiring a virtual assistant for Amazon FBA, you can attain a better work-life balance by assigning your essential business tasks to them. All of these tasks can interfere with your personal time. So, delegating those to an expert virtual assistant is always a good idea.
  6. Improved Emotional Well-being
You could boost your emotional and mental well-being by delegating your tasks to a professional virtual assistant, which is considered the best part. It's because they can help effectively reduce your workload, thereby saving your efforts and time.
  7. Increased Scale of Operations
If you are looking forward to expanding your operations, choosing a virtual assistant is always a good idea. They are inclined towards taking up your tasks that may necessitate hiring extra staff.
  8. Better Customer Service
Virtual assistants are professionals dedicated to offering exceptional customer service by quickly resolving issues and responding to inquiries.
  9. More Focus on Your Major Business Services
You could concentrate on your core business services by delegating all your non-core tasks to a virtual assistant. It is a great way to improve your overall effectiveness. This particular approach lets you gain a clearer understanding of the roles and responsibilities of a virtual assistant.
Now, after learning about the benefits, it is time to look at the tasks a virtual assistant typically handles. Let's find those out in the forthcoming section:
What Does a Virtual Assistant Do?
The tasks of an eBay dropshipping virtual assistant can vary based on the client's specific requirements. Some of the common responsibilities are as follows:
  1. Bookkeeping
You can assign your basic bookkeeping tasks to a virtual assistant as they are experts in managing these works. It generally includes expense tracking, invoicing, reconciling bank statements, etc.
  2. Inbox Management
Virtual assistants are competent in managing your inbox by sorting and prioritising emails. These professionals are also involved in promptly responding to messages. 
  3. Email Marketing
Virtual assistants are also dedicated to assisting you in crafting and executing email marketing campaigns as per your unique requirements, i.e., they offer best-in-class email automation service. They will also manage mailing lists and adequately evaluate the email performance to improve future campaigns effectively.
  4. Social Media Management
If you are struggling to manage your business's social media accounts, one of the best things you can do is hire an expert virtual assistant. These professionals can assist you in creating content, interacting with your followers and evaluating engagement metrics.
  5. Data Entry
A virtual assistant has the skills to manage your data entry tasks. They can enter and organise data into databases, spreadsheets and other systems.
  6. Project Management
You can even assign your project management responsibilities to a virtual assistant, as they have the right expertise in performing these tasks. They can help in meeting deadlines, delegating tasks and creating timelines.
  7. Lead Generation
You can contact a virtual assistant if you need help in your lead generation efforts. These experts are involved in researching potential leads and prospects. Not only that, but they can assist you in creating targeted outreach campaigns and effectively manage the sales pipeline.
  8. Calendar Management
Virtual assistants are also known for providing calendar management services. These services typically include managing your calendar by scheduling appointments, sending reminders and coordinating meetings. For instance, they can set up a calendar system like Google Calendar and share it with you. As a result, it ensures that you get access to it.
  9. Customer Service
A virtual assistant is always dedicated to resolving your unique concerns whenever you encounter any issues. The best part is that you do not have to wait long to get a response whenever you make an inquiry. Thus, you are assured of getting best-in-class customer service whenever you hire these professionals.
  10. Content Creation
Virtual assistants are versatile enough to assist you with your content creation tasks. They can help create amazing visual content for your blog, website or social media channels. It can even include articles, blog posts, videos and graphics.
So, the above-mentioned ones are some of the many responsibilities an expert virtual assistant handles. In this regard, you need to note that a virtual assistant's services can vary extensively based on the specific requirements of individual clients or businesses. Thus, they can be a valued resource for business owners focusing on streamlining their operations.
What are the Important Points to Consider while Hiring a Virtual Assistant?
At the time of hiring a virtual assistant, it is important to consider many factors that will ensure you find the perfect fit for your business requirements. Below are the significant points to remember in this regard:
  1. Have a Close Look at Their Achievements and Accomplishments
It will also help you get an idea about the candidate's work ethic and their capabilities. Besides, you should never overlook the importance of checking their specific experiences or skills pertinent to your requirements. 
  2. Ask Important Interview Questions
When conducting the interview process while hiring a virtual assistant for Amazon FBA, you should consider asking questions beyond the candidate's basic qualifications. Make sure to ask questions that will help you evaluate their communication, problem-solving and other skills. Also, never miss asking about their experience with specific software or tools you use and the approaches they adopt to deal with tight deadlines. 
Concluding Lines
So, it is evident from this blog post that a virtual assistant plays a vital role in offering many different services to clients. They can undoubtedly be a valuable resource for modern businesses, providing the expertise and flexibility required to succeed in this rapidly changing digital landscape. These professionals help drive your business growth by allowing you to focus on your major services. 
You should approach reliable virtual assistant companies in USA to hire the best virtual assistant for your business requirements.