Here are some ways virtual assistants can increase your sales in ecommerce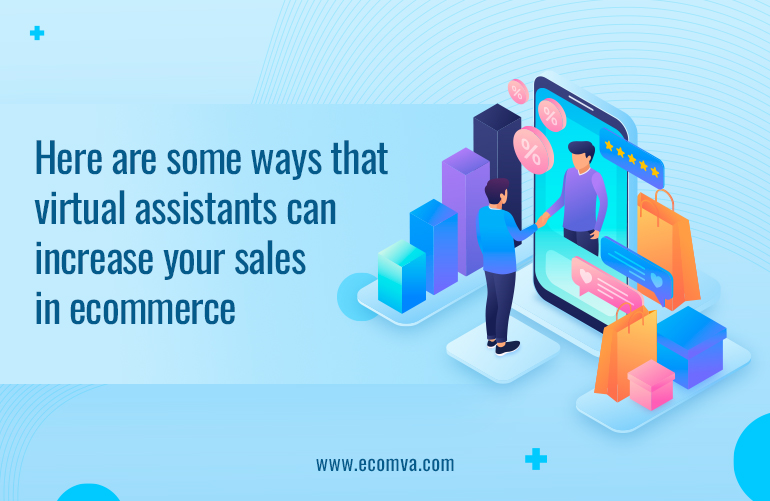 Have you dealt with an eCommerce virtual assistant to handle tasks? If yes, you might have a great experience making managing an eCommerce store seamless. 
If not, we will disclose some insights to help you make the right choice for your business. We understand that people get cautious when trusting someone virtually available to manage tasks. 
Who is an eCommerce virtual assistant?
This is like a remote employee that works virtually on the assigned tasks. Earlier, businesses used to rely on VA to handle time-consuming tasks but not essential for the business. But as time passed, they became capable of running a business successfully. 
The best part is that they serve customers around the clock and globe to provide a smooth experience. 
What are the must-have skills in eCommerce virtual assistants?
It is important to check if the hired virtual assistant has specific skills to meet your expectations and deliver quality services. Let us look at some of them:
1. Communication Skills 
The ability to connect with customers cannot be ignored. Your virtual assistant should have the quality to interact politely and make it easier to understand. As a business user, you can check this by giving them a difficult situation and following their actions to handle it. 
This is essential to keep the clients updated about the progress and provide suggestions at an early stage to avoid chaos later. 
2. Be Informative 
Many mistakes are found after they had a huge impact on the business. Especially when you deal with accounting or customer information, it is important to be specific and highly accurate to avoid complications in the store. 
An experienced eCommerce store management VA will increase accuracy in the store and provide optimal solutions for every query. 
3. Time Management 
A virtual assistant should have great organizational skills to ensure the timely delivery of tasks. Most VAs will share the deadline for delivering the requirements per their skills, resources, and experience. This will help you to draft the business journey and meet the goals efficiently. 
4. Customer Support
One of the most crucial aspects of an eCommerce store is to provide smooth customer service. Virtual assistants are specialists who handle multiple tasks like emails, text, social media, and more to ensure timely customer responses. 
5. Management 
An eCommerce business is a combination of huge responsibilities and challenges that professionals should manage to ensure a customer-friendly experience. There may be chances where your eCommerce virtual assistant has to deal with multiple tasks, and it is important to ensure they are performed as per the priority and deliver the outcomes. 
How can virtual assistants help to sell more in eCommerce stores?
There are multiple sections where you can take the expertise of Virtual Assistant to sell more on your eCommerce store, but we will tell you the most effective ones here:
1. Research the Market
When you launch an eCommerce store, it is important to have a target audience with higher chances of generating revenue. You will have all the information about the product and services, but your eCommerce VA will let you know the target demographic to optimize the brand. 
An eCommerce can remove the barriers by conducting in-depth market research. They will focus on the customers' purchase behaviors and perform future analyses to ensure quality services to the customers. 
2. Order Processing
The biggest hurdle in eCommerce business is convincing customers to make a successful purchase. Most online stores have limited resources, so they can rely on professional eCommerce assistants to ensure seamless order processing and monitor customer journeys. 
Amazon FBA virtual assistants help you save time and effort to run a business without stressing about inventory management or other tasks. 
3. Sales Administration 
VA is best known for handling repetitive, time-consuming, but essential business tasks. Some of the common functions you can assign them are:
Send the response to customers 

Product descriptions

Research 

Log data 

Collect reviews

Generate reports and analytics
These will save you time and effort but also provide a detailed report about business performance and the scope of improvements. 
4. Marketing
When running an online store, it is important to grab your audience's attention through unique marketing strategies. Virtual assistants can assist with creating and implementing marketing campaigns, such as email marketing, social media marketing, and content marketing, which can help increase brand awareness and drive more traffic to the eCommerce site.
Some tasks where they will be helpful are:
Track and maintain social media accounts

Create and schedule content for marketing

Optimize PPC ads for business

Take follow-ups on cart abandonment and customer queries 

Make website SEO-friendly 

Collaborate with other companies to boost traffic and revenue
5. Navigation 
In the eCommerce platform, it is crucial to understand the customer journey to provide faster solutions to their search queries. A virtual assistant will help design the site architecture that will minimize the complexities, save customers time, save money, and grow the business hassle-free. 
6. Social Media Management
Most of the traffic today is investing their time on multiple social media channels, giving you a window to drive them towards your business. Customers now expect continuous engagement and acknowledgment of their actions and need everything faster. 
Here a virtual assistant can help to:
Manage social media calendar

Showcase the target audience

Curate accurate and effective designs for different social media channels 

Use tools to monitor, schedule, and track the audience 
7. Payments
With a wide range of online payment gateways, choosing the best for your online store is challenging. Skilled VA will shortlist the best one based on your target audience, location, requirements, and other important business factors. This simplifies integrating the ideal payment gateway and provides seamless customer transaction support. 
8. Demand Analysis 
There will always be certain products and services that grab more attention in your store. An ecommerce virtual assistant will analyze the performance of each product and showcase the current trends and demands. They follow a systematic process to understand the public interests and expectations to handle the store efficiently.   
9. Customer Support
Dealing with the customers requires full-time assistance, as a single delay can lead to losing a potential customer. So, an experienced virtual assistant is capable of multiple tasks:
Reverting to customer issues 

Delivering quality information 

Manage exchange and refunds 

Collect reviews and feedback

Respond to messages, comments, or reviews 

Keep content updated on the store
10. Content Management 
This might be dealing with the content of emails, websites, social media, advertisements, or other resources. An eCommerce virtual assistant will ensure that your platform has quality content with higher chances of gaining top ranks on SERPs (Search Engine Result Pages).
It is smart to rely on VA for content, as it plays a crucial role in customer engagement and boosting sales. So, with their expertise, the process becomes seamless and offers you quality solutions.  
What are the benefits of hiring an eCommerce virtual assistant?
Once you have decided to invest in VA, it is important to know the benefits:
Highly Efficient

: A virtual assistant can handle a wide range of tasks, such as customer service, inventory management, and order processing, freeing up time for business owners to focus on other aspects of their eCommerce business.

Cost-Effective

: Hiring a virtual assistant is often less expensive than hiring a full-time employee and eliminates the need for additional office space or equipment.

Enhance Customer service

: Virtual assistants can handle customer inquiries and complaints, help with returns and exchanges, and assist with order tracking, all of which can help improve the overall customer experience.

Better scalability

: As an eCommerce business grows, it can be difficult to manage increased demand. A virtual assistant can help manage this growth by handling various tasks, allowing the company to scale up without adding additional staff.

Great Availability

: With a virtual assistant, you can have someone available to handle customer service, order processing, and other tasks 24 hours a day, 7 days a week, which can be especially helpful for businesses that operate in multiple time zones or have customers in different parts of the world.

Gather insights

: Virtual assistants can analyze data and provide insights that can help businesses make more informed decisions and improve their overall performance.

Multitasking:

Virtual assistants can handle multiple tasks simultaneously, increasing productivity and reducing the need for additional staff.

Automating repetitive tasks

: Virtual assistants can handle routine tasks such as customer service inquiries, inventory management, and order fulfillment, freeing up time for business owners to focus on other important tasks.
Do you have an eCommerce virtual assistant?
We have shown you the impact of getting an eCommerce virtual assistant for your business. Whether you have a small-scale or large-scale business, it always needs a smart assistant with the right experience and knowledge of the market. 
You know that an eCommerce business has many time-consuming, complex, and repetitive tasks that make it challenging to run smoothly. Rely on them to make ideal strategies for admin tasks, public relations, marketing, or content optimization. 
They have become skilled in handling the whole flow of eCommerce stores from scratch. All you need is to know if you are dealing with the right one.