Ecommerce Assistants: How They Can Help You Sell More?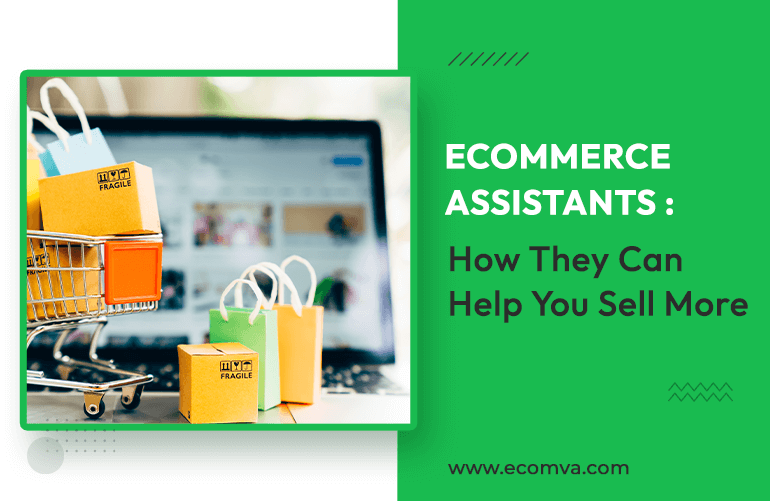 Are ecommerce stores profitable for business owners? This might be a complicated issue, but it is easier to get the solution when you have a professional ecommerce assistant with the right knowledge and resources. 
Did you know 43% of ecommerce traffic comes from organic Google searches? 
Back in the day, when it wasn't challenging to earn money with an ecommerce business, things were simple and expected minimal effort. But today, the competition has raised the bar, which means it takes a lot to stand out and build a strong brand reputation. 
Many people fail to understand ecommerce assistant meaning, which leads to losing potential support for the business. 
You will probably need organized data, monitor performance, track customer relationships, handle inventory, or other relevant tasks at some point in the business. Well, with that, you also think, will ecommerce continue to grow?
In the end, everything is about the sales generated through your business. Hold on. We have some secrets for making you grow and beat the challenges using effective strategies. 
What is an ecommerce assistant?
After the pandemic, people rely more on online stores to fulfil their requirements. So, virtual ecommerce assistants will become the backbone of the business and help manage all the tasks from scratch. 
They are skilled in handling logistics, orders, inventories, and much more efficiently. This gives the owners freedom to invest their valuable time in the core business activities. Deal with an ideal ecommerce assistant with the right experience and tools to meet your expectations. 
The best part is that they work remotely and still provide similar or better productivity than full-time employees. It is easier to delegate multiple tasks to ecommerce assistants as they are highly skilled in managing ecommerce business operations seamlessly. 
How to boost sales with ecommerce assistants?
There are different methods to increase sales in the ecommerce store, which change according to the industry. Let us share some useful insights that bring success to the store:
1. Sell on Amazon
The virtual assistant Amazon FBA (Fulfilment By Amazon) will help the retailers deal will all the tasks to enable selling through Amazon effortlessly. Some functions that you can assign them are:
Product Research:

They will conduct deep research to get the right products on board and generate better revenue. It is easier to get wholesale pricing and negotiate with the suppliers to bring the best deal for your business.

Competitor Analysis:

Understanding your competitor's approach is important to get your target audience's expectations. Your virtual assistant will put effort into making strong marketing strategies and gaining attention in the market. 
Inventory Management:

When you run an online business, it is important to monitor the inventory to run it successfully. They will ensure that all your processes are in sync and runs smoothly to provide a great customer experience. 
2. Investing in the right section 
Do you know why ecommerce is the future? When you focus on building a revenue stream, it is important to avoid mundane tasks. Here, a skilled virtual assistant will ensure that all the information in the store is updated and monitored in the right format. Some time-consuming tasks are:
Data Entry:

Most business owners fail to maintain a balance when adding products, removing items, uploading images, migrating, or handling stock levels. They are the right choice when you need to sort bulk data and minimize the chances of errors. 
Product Descriptions:

This resource will convince users to make a successful purchase. Be it product titles or descriptions. Both should be perfect and follow SEO practices to target higher rankings. 
Administrative Tasks:

These are the important everyday tasks that will ensure the business processes run perfectly. This can be managing your schedules, files, presentations, reports, travel, or customer support. 
3. Handle SEO and SEM 
Even after making your ecommerce platform SEO-friendly, it is important to invest in SEM (Search Engine Marketing) to increase brand awareness. Most of the websites are highly Search Engine Optimized, but the process to reach higher rankings is slow and leads to a loss in the longer term. Some benefits of outsourcing to an ecommerce virtual assistant are:
Affordable:

Since you have to invest in the tasks, not the resources, it is highly cost-effective to drive traffic toward your ecommerce store. With a specialist, you can bring valuable returns that will boost sales. 
Strategies:

They will invest in the right techniques as they understand the market demands, trends, and potential audience. It means you have a better chance to scale the business with some tried-and-tested strategies. 
Continuous Support:

There are many updates in the search engine trends which must be followed to gain better ranks on SERPs (Search Engine Result Pages). Ecommerce assistants

will always be available to update and follow online trends regularly.
4. Manage the stocks 
It is normal for an ecommerce business to run out of products or stock some extra, which leads waste of money and losing potential customers. Many business owners choose to deal with Amazon, Flipkart, or eBay dropshipping virtual assistants to avoid any complications in handling the stocks. They will take the responsibility to:
Ensure that the correct products are delivered to the customers within the allotted time. 

They will monitor the stock levels and share updates with the owner in case of any issues in stock management. 

The ecommerce assistant will compile the orders, set up shipments, and share customer invoices. 
5. Design and Development 
The look and feel of the ecommerce store create the first impression on the visitor and decides if they will engage for a longer interval. The trend is that businesses get virtual assistants to build an effective online stores and generate higher retention. Some reasons to get an ecommerce assistant for design and development are:
Responsive Design:

The clear indicator to know the platform's performance is the customer experience. It is important to have a mobile responsive design that is easier to engage and retain users. 
Consistency:

It is important to track the website to understand if there is a scope for improving the online presence. Your ecommerce assistant will handle site analytics, clean up errors, test functionalities, and optimize backend processes. 
Strategic Approach:

When setting up the website, it is important to follow the right strategies that are demanded in the market. Also, they will match the customer expectations by optimizing the business tasks. 
6. Support and Maintenance 
Many ecommerce stores face issues that lead to losing potential customers due to poor experience in the store. It is important to stay available for visitors in the digital world and ensure that every feature works perfectly. 
Ecommerce assistants are available around the clock to ensure your business runs smoothly and customers have a pleasant experience. They will continuously monitor the website to ensure it works smoothly and handle customer issues instantly.  
What are the crucial skills of an ecommerce assistant?
Even while working in diverse industries, it is important to get the right skills:
Organization Skills:

This is required to ensure they know the things that should be prioritized and manage them in a timely manner. Your assistants make it effortless to achieve all the tasks efficiently. 
Highly Flexible:

With the ever-changing industry, this is a crucial skill to match the demands and meet customer expectations. While working continuously, they will ensure everything is in sync and generate better revenue. 
Technical Skills:

A proficient assistant will have the knowledge to handle all the technical aspects of the ecommerce store. This ensures that you have instant solutions to any website performance issue. 
Marketing Knowledge:

Even after developing the website, it is important to reach the target audience through the right marketing and advertising strategies. They will focus on the competition and keywords and gather data to maximize the returns. 
Communication:

When working virtually, it is important to have quality communication skills to share information accurately. This also ensures you have positive feedback from the assistant to optimize the store per your requirements. 
Detail-Oriented:

Significantly, your virtual assistants must be highly detail-oriented to ensure no compromises with the brand value. By having all the information secured, it becomes easier to monitor the growth. 
Time Management:

Ecommerce assistants will allocate time to their tasks per priority and deadline. This helps online stores deliver things on time and maintain their brand value. 
These are the common must-have skills in a virtual assistant to ensure your work will be handled efficiently. Before making the final commitment, you can aslo take a trial or look at their previous experience to ensure they fit perfectly into your requirements. 
Get your ecommerce assistant now!
We have shared all the insights to ensure you are stress-free when dealing with the online store. It is crucial to get an ecommerce assistant skilled to ensure that they meet the expectations and bring quality sales in return. 
After all, strategizing business growth requires deep research, knowledge, resources, and continuous support, which can be accessed through professional ecommerce assistants.