How Much Does It Cost to Hire an E-commerce Virtual Assistant in 2023?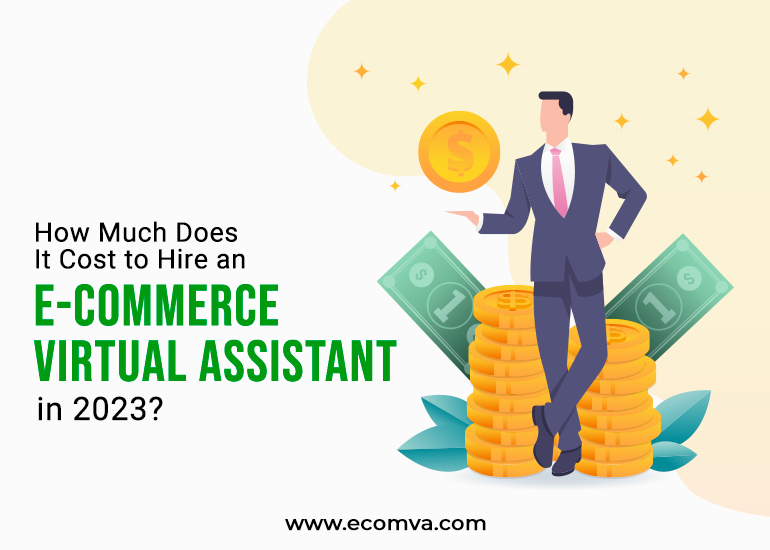 With the new innovations and opportunities brought into the market, it is challenging for the ecommerce business to cope with the demands. There is a myriad of benefits to hire ecommerce virtual assistant. You can completely automate your business activities with a team of skilled e-commerce virtual assistants.
Also, e-commerce entrepreneurs can ensure that a lot of time is being saved on administrative work by including virtual assistants in their teams. A virtual e-commerce assistant can let your business run without any hassle, even if you are on holiday with your family.
However, people often have a perplexing thought in their minds that how much does an e-commerce virtual assistant cost? What is the hourly rate of an e-commerce virtual assistant? and so on. In this blog, we will discuss such crucial aspects of hiring an e-commerce virtual assistant.
If you are one among such e-commerce owners who have these questions in your mind, read on. You will be able to find the exactly right answers. 
Let's dive in….  
E-commerce Virtual Assistants Have Varied Costs 
Have you typed "E-commerce virtual assistant cost or virtual assistant services in a search engine? If yes, you might have already noticed that the average cost is not a definite one. Here lies a simple truth, and that is nothing but the fact that the costs of e-commerce virtual assistants vary a lot depending upon different factors. 
For example, if you plan to hire a virtual e-commerce assistant from any country with a low labor cost, you will see that the rates are way too low than the minimum wage in the USA. However, if you think at a higher level, you will see that e-commerce virtual assistants with great knowledge, extensive experience, and perfect skills can charge up to thousands for just an hour.
Moreover, some statistics have revealed that it might cost up to $5,600 of monthly salary for hiring an e-commerce virtual assistant. But, as we discussed above, if you act mindfully and outsource your e-commerce virtual assistants in low labor-cost countries, it can bring down this cost to just a few hundred for a month. So, the range is insanely wide! What seems to be important here is to identify the right place in this spectrum for yourself. All you need to do is find the right e-commerce virtual assistant according to your expectations and that's it. 
What are the Ideal Pricing Options for E-commerce Virtual Assistants?
There are mainly two types of virtual assistants; those who do the job just as a side gig and those who work full-time and have an extremely proficient level of skills and knowledge. When it comes to the former type, their price range varies from $50- $500 per hour; although mostly they work for less than $100. So, you can understand that you can hire them for quite a cheaper rate but you can't expect a very high level of efficiency in their work. Well, exceptions are always there! 
But, when it's about the latter, the professional full-time e-commerce virtual assistants, the scenario is quite a different one. What do their pricing calculations look like? 
There are three categories of pricing for full-time e-commerce virtual assistants. They are:
Hourly Cost
A full-time virtual assistant calculates a gross income they are expecting to earn so that they can still have the desired amount in their hands even after spending for expenses like taxes, insurance, and much more. 
They typically calculate an hourly rate after calculating how many hours they are planning to work. For example, a Shopify virtual assistant who aims to work for 20 hours a week and his/her expectation is to earn a gross salary of $ 2000 per month would divide the amount by 80 hours for four weeks and ask you for $ 25 for one week. Research has shown that more than 85% of e-commerce virtual assistants have hourly pricing. 
Retainer Cost
This style of pricing helps e-commerce virtual assistants and remote workers to create a continuous schedule for themselves. In this case, a client will sign a retainer agreement with the virtual assistant and commit that he will pay for say 40 hours every month and that will be prepaid. The e-commerce virtual assistant will calculate in the same way but it will be a flat fee for him/her. 
One-Time Project Cost 
When you deal with a single ecommerce operation, you need to pay a fixed amount to the virtual assistant. So, if you want help with one specific project in your e-commerce business, you can just go for a virtual assistant. No need to pay the ecommerce virtual assistant for the long term; just pay a one-time fee and get your work done.
In the case of retainer cost or one-time project cost, the rates of an e-commerce virtual assistant are a bit on the higher side when compared to the hourly rate; though the payment is done once. 
What Factors Decide the Cost of an E-commerce Virtual Assistant in 2023?
Whether an e-commerce virtual assistant is asking for just $ 5 for an hour or $ 100 per hour, it depends on certain crucial factors like his/her location, what kind of work you are expecting the virtual assistant to do, years of work experience the e-commerce virtual assistant has, the complexity of the work, billing frequency, and so on. 
Let's explore more on this
The Assistance Type 
In the e-commerce business, there are different types of work; simple and complex. While an e-commerce virtual assistant can charge $20 per hour for market research, one can charge up to $ 50 per hour for order and shipment processing. The difference in costing is because of the nature of the work. The price range can vary depending on the marketplace management strategy and time devoted to handling the risks. So, the more complex the work is, the more you have to pay for a virtual e-commerce assistant. 
Experience of the E-commerce Virtual Assistant
An experienced e-commerce virtual assistant will always charge more than an inexperienced one. So, which one should you go for? You might think that an inexperienced e-commerce virtual assistant will be better as you have to pay less to him/her. Well, most businesses think like this but it is a mistake! Why? Simple! The work that an experienced virtual assistant will take 1 hour to complete, an inexperienced e-commerce virtual assistant can take up to 3 hours to do that! So, finally, the hourly price you pay will be much more for an inexperienced virtual assistant. 
Frequency of Bill Payment
It is true that while hiring an e-commerce virtual assistant if you choose to go for a long-term, you will be charged less in comparison to any on-off project that you may be hiring for. So, the lesser the frequency of payment to an e-commerce virtual assistant, the higher is the cost. You might have to pay $ 20 per hour to a virtual assistant for daily social media promotion of your e-commerce business but if you want to schedule your social media posts just for a month, you may have to pay up to $ 30! 
Deadline of Your Project 
If deadlines are associated with your project then you have to pay more to the e-commerce virtual assistant that you are hiring. If you do extensive research, you will find that most of the e-commerce virtual assistants charge more if you ask him/her to deliver the work urgently. However, if your e-commerce project wants you to work for a long-term with the virtual assistant, he/she can be ready to work for you for less, even if you have any urgent requirements. Hiring e-commerce virtual assistants at a reasonable price is all about trust and reputation. 
Your Behavior 
Yes, how you behave as a client with an e-commerce virtual assistant is a very crucial factor to determine the amount that you need to pay him/her. Mostly, e-commerce virtual assistants charge more if you are someone who is not easy to work with. They might not reject your offer right away and rather ask for higher rates.
So how should you not become a difficult client? You need to take care of the fact that you are not too demanding and you don't micromanage your e-commerce virtual assistant. 
Now that you have an idea about how much you should pay to hire e-commerce virtual assistant, read more to know how to pay them. 
What is the Ideal Mode of Payment to E-commerce Virtual Assistants? 
You can pay to virtual assistants by one of the below modes of payment: 
 

The in-built payment processors of the marketplaces that you are hiring virtual assistants from. 

 

If you want to make international payments while working with an e-commerce virtual assistant without using a marketplace then PayPal and Payoneer are your options. 

 

Transfer the fees directly to the bank account of your e-commerce virtual assistant. 
Summing Up 
In the current market trends, hiring virtual assistants is highly beneficial for the business to run the tasks smoothly and provide seamless customer service. They consume just the information from your end and deliver quality results cost-effectively. Be mindful while adding efficient virtual assistants to your team and ensure you are not breaking your bank to bear their cost.