Kickstart your Dream with BigCommerce's Online Store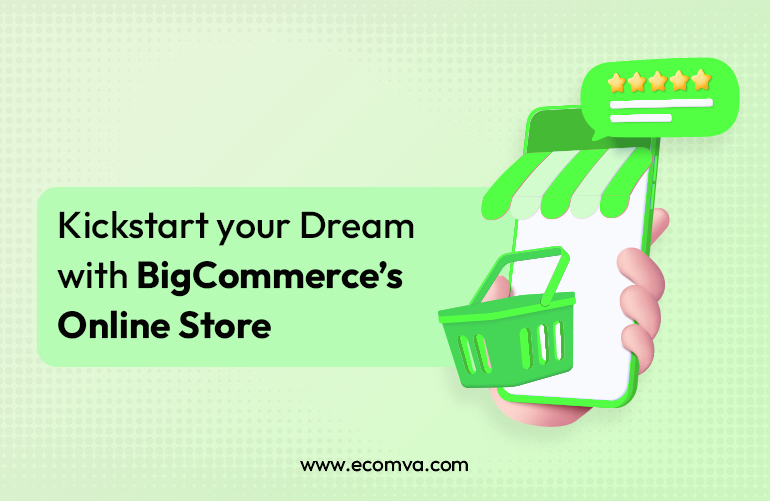 The market opportunity for BigCommerce is enormous, given that there are more than 4 billion internet users and that more firms are stepping up their online operations due to the epidemic. BigCommerce had 10,000 stores initially, and by 2022 the number went up by 60,000. Over the past few years, BigCommerce has experienced consistent but linear quarter-over-quarter growth. The growth of BigCommerce continues to grow even in 2023.
BigCommerce, an open SaaS platform, is driving a new era in eCommerce. You can get countless opportunities to advance, innovate, and expand with BigCommerce.
With the help of BigCommerce's attractive design tools, you can create innovative and appealing online store experiences while managing operational complexity on this safe and user-friendly eCommerce platform. BigCommerce helps businesses outperform the competition by providing quick commerce experiences to encourage repeat client visits.
At eComVA, we know how challenging it is to run an online store. Our virtual assistant services provide you with modern BigCommerce Store Management Services and Finest Quality, Best-In-Class Solutions. 
What is BigCommerce? Why should one prefer using it?
BigCommerce is a leading cloud e-commerce platform best suited for well-established and fast-scaling businesses. BigCommerce allows businesses to increase their sales online by 80% with the help of merging enterprise functionality, Leading market performance, their open architecture, and an app ecosystem.
BigCommerce empowers business models like B2c and B2B, mid-market businesses, and industry-leading brands. BigCommerce aims to help online business owners increase revenue and build a scalable e-commerce platform.
What are some of the advantages of using BigCommerce?
Digital commerce has established itself as the new norm, and the number of eCommerce businesses is skyrocketing. How do you make sure your eCommerce store stands out from the competition and provides what clients want when so many businesses are switching to online sales?
Selecting the ideal eCommerce platform is the first step in the lengthy process of creating a prosperous online store. The BigCommerce platform, which includes several performance-improving functions and modules, is one of many eCommerce platforms available.
Easy to begin with and to use
BigCommerce's quick and simple set-up and onboarding processes are among its greatest benefits. Whether you are a new user or an expert in the e-commerce operation and technical industries, this platform is a good alternative. It's simple to build a stunning, contemporary online store.
BigCommerce is a straightforward all-in-one e-commerce platform. Even better, you can communicate with customers via more channels. The platform provides you with all the resources and tools required to run a successful business.
Cost Effective
It can be difficult for new business owners to spend too much capital developing their websites. BigCommerce's Cost-Effective solution applies to all business sizes, and It provides a feature-rich experience at an affordable price. 
Since it offers an all-inclusive solution, you presumably also take note of the service's affordable pricing when considering its monthly subscription charge. We can discuss the platform's two primary options at the start of 2021: the BigCommerce Essentials and the BigCommerce Enterprise-level solution. Enterprise-level solutions are tailored to your company's demands and support your success with a wide range of integrated tools; your specific requirements determine their cost.
Live Customer Support
The team provides outstanding technical support to clients around the clock. The support staff at BigCommerce comprises professionals who can provide you with a thorough insight into your business and who have your back in every situation. Any future issues that may arise do not have to be handled alone. The support staff will walk you through every step so you may benefit from all of BigCommerce's advantages. You can always get virtual assistant services to take care of the live chat support while you can take care of your core business.
They excel at offering live chat assistance, as well as support via email, dashboard tutorials, a comprehensive Help Center, helpful videos, and phone support. Available additional services are:
Services in account management

Technical account management

Project management for implementation

Solution architecture and catalog transfer
Dashboard Management
BigCommerce offers the most logical dashboard for managing products, orders, and returns in addition to an easy-to-use UI. It provides comprehensive filtering options for your customers based on brands, categories, reviews, pricing, etc. Quick Search Bar features, for example, make it simple to access and manage your products on the fly.
The BigCommerce platform makes it very simple to manage large numbers of clients, product catalogs, and marketplace management. The customer-centric platform enables you to curate store content specific to the customer groups and segment your customers into several customer groups based on pricing, promotions, and product access.
SEO Ready
It takes a lot of work to run your eCommerce business successfully in this increasingly cutthroat market. To support your eCommerce growth, optimizing your store for the search engines' constantly evolving algorithms becomes a vital step.
The BigCommerce platform's biggest feature is that it adheres to the most recent SEO standards. The platform offers many SEO-friendly features like automatically optimized titles and URLs and allows you to enter keyword-rich content in the SEO field manually.
Mobile Responsive Design
You have access to a huge selection of themes and templates, both free and paid. Additionally, BigCommerce guarantees that these themes' upgrades will always be free. These themes are all 100 percent responsive and span more than ten categories.
Over 71% of shopping cart abandonment, according to research, occurs on mobile pages that aren't optimized. With these mobile-friendly themes and templates, you can optimize your shopping carts and raise conversion rates.
Where and how do we get started with BigCommerce?
BigCommerce is a well-known e-commerce platform worldwide. Because of the platform's ease of use, excellent customer service, attractive customization options, and affordable prices, merchants opt to host their online store.
BigCommerce is a safe platform that makes it simple to create and manage an online store by streamlining each step in the process. Many of the most popular companies in the world, including Old Spice, Skullcandy, Jeep People, Bliss, Clarks, Tyler's, and Di Bruno Bros., are powered by the platform. 
One of BigCommerce's biggest benefits is that it gives e-merchants access to one of the market's most flexible solutions. Let's see what it takes to get started on BigCommerce. To get started with your Dream Project on BigCommerce, follow the following steps:
Sign up for a BigCommerce account:

Go to the BigCommerce website and create an account by providing your email address, password, and store name.

Choose a theme:

BigCommerce offers a variety of themes for you to choose from. You can select a theme that suits your brand and the type of products you plan to sell.

Customize your store:

Customize your store by adding your logo, colors, and other design elements to match your brand. You can add products, categories, and other essential information to your store.

Set up payment and shipping options:

BigCommerce integrates with various payment gateways, such as PayPal, Stripe, and Square. Please choose a payment gateway and set it up in your BigCommerce account. You can also set up shipping options, such as flat rate, weight-based, and free shipping.

Add products:

Add your products to your store, including product descriptions, images, and pricing information. You can also organize your products into categories for easy navigation.

Launch your store:

Once you've finished setting up your store, it's time to launch it. You can go live with your store by clicking the "Launch Store" button in your BigCommerce account.

Promote your store:

Share it on social media, run ads, and reach out to your network. You can also optimize your store for search engines to attract organic traffic.
You can start selling online on BigCommerce in hours with these easy onboarding steps. In specific, big commerce's online store can be beneficial shortly, and if you manage a brand that provides a vast range of products, you benefit. BigCommerce Store Management features are sharp and provide scalable benefits for your e-commerce store.
Our team of expert virtual assistants working at eComVA has been assisting hundreds of eCommerce businesses to grow and earn handsomely from the core functional area for years at their online stores. With the help of our proficient team of eCommerce virtual assistants, we believe that your eCommerce store can achieve new heights of success. Our ultimate objective is to ensure that you focus on the core business area and leave all the Hassle to us. We will take care of all of your day-to-day activities, without you having to worry about the scalability of your online store.
From Medium-sized to large enterprises, most businesses are shifting to BigCommerce for their Online Stores. While big commerce's easy onboarding process makes it easier to start your online store, the backend admin and management activities like Bigcommerce, Catalog Management, BigCommerce Store Management, And Back-Office Routine Activities can prove to be exhausting. At eComVA, we take care of these administrative activities so that you can focus on the core of your business. Do you want to get started? Hire a Virtual Assistant today!