Steps to Successfully Hire a Virtual Assistant for Your Business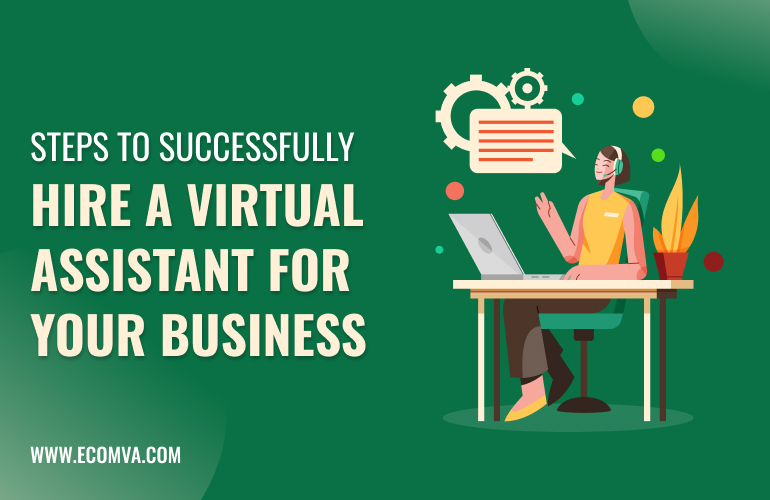 Did you know over 80% of the business want to have a flexible workforce in the future? Have you considered virtual assistant companies in USA, to handle your requirements?
How will they make your journey smooth? We understand that while investing, you need to be cautious and know the outcomes to ensure they will bring effective returns for your business.
We will discuss the whole process in detail and provide your reasons for dealing with a skilled VA.
What is the actual definition of a virtual assistant?
They are remote employees capable of handling all your tasks effortlessly and efficiently. Virtual assistants are real people who work from their own location and do not need any equipment from your end. They have specialisation in multiple segments, which makes them capable of handling multiple tasks of your business without any requirement of resources from your end.
Relying on an ecommerce assistant saves time and effort while delivering ideal solutions for the business. Virtual assistants are becoming a vital part of industries as they can handle multiple tasks and deliver results within the expected duration.
What are the signs that you need a VA for your business?
It is high time to see if you are having any such issues in your current scenario:
Are you working long hours every day?
This is a great sign that you may need a VA, as they can handle time-consuming and repetitive tasks. This will save you time focusing on other important aspects of your business. This will help you work more efficiently and reduce your time on routine tasks.
Struggling with administrative tasks?
It may be the right time to get extra support if you find it challenging to keep up with emails and other administrative tasks. A virtual assistant can handle these tasks for you and keep them organized to ensure a smooth business workflow. This will also help you to stay organized and ensure that nothing falls through the cracks.
Did you miss deadlines?
An experienced and skilled VA can help you manage your time more effectively, ensuring you deliver everything within the deadlines. This will help you to stay on track and avoid the stress of falling behind. Running an online store, it becomes crucial to update everything instantly and provide an ideal customer journey.
Did you focus on the big picture?
At some point, you must focus on the bigger picture to ensure you are moving in the right direction. When you hire a virtual assistant, they can take care of the day-to-day tasks, allowing you to focus on the strategic direction of your business. This will help you to grow your business and achieve your goals by taking informed decisions.
You do not have expertise in some segments
Many areas of your business need experienced and skilled resources. They can provide expertise in areas you may lack, such as marketing, social media management, bookkeeping, or customer service. This ensures that your visitors are getting instant solutions and increases customer retention.
How to hire a Virtual assistant for your business?
Above mentioned pointers are all signs that it may be time to hire an ecommerce virtual assistant for your business.
But how do you find the right VA for your business, and what must you consider when hiring one? Let's explore the process of hiring, including where to look for them, what to look for in a VA, and how to onboard and manage them effectively:
1. Determine what tasks you need help with.
It is important to determine what tasks you need help with. Make a detailed list of all the tasks that take up your time and that you could delegate to a VA. This might include administrative tasks such as email management, scheduling meetings or events, data entry, and more specialized tasks such as social media management, graphic design, or bookkeeping.
Be sure to prioritize the most important tasks to your business and would have the most impact if completed efficiently and effectively.
2. Type of virtual assistant you need.
Once you have a list of tasks you need help with, you'll need to decide on the type of virtual assistant you need. There are two main types of virtual assistants:
Generalists are typically able to handle a wide range of administrative tasks
Specialists have specific skills and expertise in a particular area, such as graphic design or social media management.
Depending on your needs, you may want to hire a generalist VA to handle various tasks or a specialist VA to take care of specific tasks.
3. Determine your budget.
The cost of getting a virtual assistant can vary depending on their experience and expertise and the tasks you need them to perform. Before you start looking for a VA, it's important to determine your budget and how much you can afford to pay for their services.
Remember that while hiring a VA can be an investment in your business, it's important to ensure that the cost is sustainable and that you're getting a return on your investment.
4. Research virtual assistant services.
Once you have a clear picture of the tasks you need help with, the type of VA you need, and your budget, it's time to start researching virtual assistant services. Many online platforms connect business owners with VAs.
You can also find VAs through referrals from other business owners, social media groups, or professional organizations. Take the time to research different services and platforms, read reviews, and compare prices to find the one that's ideal for your needs and budget.
5. Screen potential candidates.
Once you've found a few potential ecommerce virtual assistants, you must screen them to ensure they have the skills and experience you need. Also, check their professionalism and communication skills to work effectively with you. Some things to look for when screening potential candidates include:
Skills: Make sure that the candidate has the skills and expertise to perform the tasks you need help with, whether it's social media management, bookkeeping, or customer service.
Communication: Communication is key when working with a virtual assistant, so ensure the candidate has good communication skills and can communicate effectively and efficiently.
Professionalism: Look for professional, reliable candidates with a good work ethic.
References: Ask for references from other clients that the VA has worked with to get a better sense of their work
6. Conduct interviews.
After you've screened potential VAs, the next step is conducting interviews better to understand their skills, experience, and personality. You can conduct interviews via video chat or phone, and it's important to prepare a list of questions that will help you assess whether the candidate is the right fit for your business. Some questions to ask during the interview include:
Share your experience as a virtual assistant.
What skills and expertise do you bring to the table?
How do you handle communication with clients?
What is your availability, and how many hours per week can you commit to working with me?
How do you handle deadlines and prioritize tasks?
Make sure to take notes during the interview so that you look into them afterwards and make the right decision.
7. Make your decision
After conducting interviews, it's time to decide and offer the contract of ecommerce SEO services, social media management, data entry, or other tasks as required. Ensure that the contract outlines the scope of work, payment terms, and other important details, such as confidentiality agreements or non-compete clauses.
It's also essential to have clear communication channels and expectations, such as how often you'll check in with the virtual assistant and how they should report progress on tasks. Once the contract is signed, you can begin onboarding the VA and getting them up to speed on your business and the tasks they'll handle.
8. Onboard and manage the virtual assistant.
Onboarding and managing a virtual assistant are critical to ensuring they are successful and can provide the support you need. During the onboarding process, make sure to:
Provide an overview of your business, your goals, and your expectations.
Provide any training materials or resources the VA will need to complete their tasks.
Set up communication channels and establish protocols for how the VA should communicate with you and report task progress.
Provide access to any necessary software or tools the VA will need to complete their tasks.
Once the VA is onboarded, it's important to manage them effectively to ensure they complete tasks efficiently and effectively. This includes:
Checking in regularly ensures that tasks are completed on time and to a high standard.
Providing feedback on completed tasks and making adjustments as needed.
Handling any concerns or issues on time.
Being clear about your expectations and providing ongoing support and guidance as needed.
Summing it up!
Once you start dealing with virtual assistant companies in USA, exploring the right opportunities to scale your business is essential. When you save time and effort, you can focus on the essential core tasks to generate better returns.
We have shared some useful insights to ensure you make informed business decisions.