The most effective way to manage multiple Shopify stores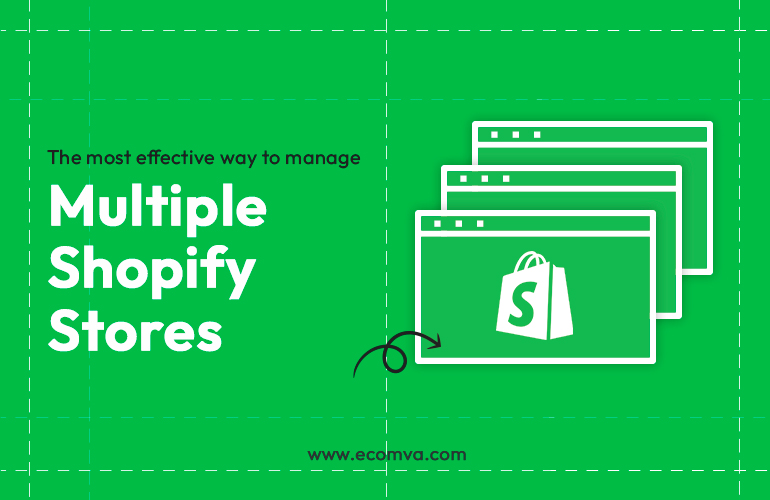 Do you know that repeat customers will generate 300% more revenue than new customers? 
Introducing a new online store is a great experience and challenge. This is a single opportunity to gain attention from the users and generate quality leads. When you manage Shopify store, it is important to bring diverse solutions and boost customer experience. 
The platform has great features and functionalities. It is just that you need to follow the right standards and strategies to scale your business. 
Your approach decides if your Shopify store is a nightmare or a success story for you. Let's give you a better solution in this content piece. 
What are the multiple stores feature in Shopify?
This is a perfect solution for people looking for diversity in their brand, selling various products, or targeting a global audience. Once an eCommerce business begins to expand on a large scale, it is important to have multiple Shopify stores. 
The platform allows you to create stores under one domain name. Shopify does not add any limitation on the number of stores you can make. With the right plan, users can operate multiple stores from one Shopify account. 
How can you create multiple stores in Shopify effectively?
To begin with, create a Shopify account, and then start the process of creating a new store:
1. Redirect to the stores tab 
Log in to the Shopify admin, and redirect to the right corner. In the dropdown menu, click on the stores tab.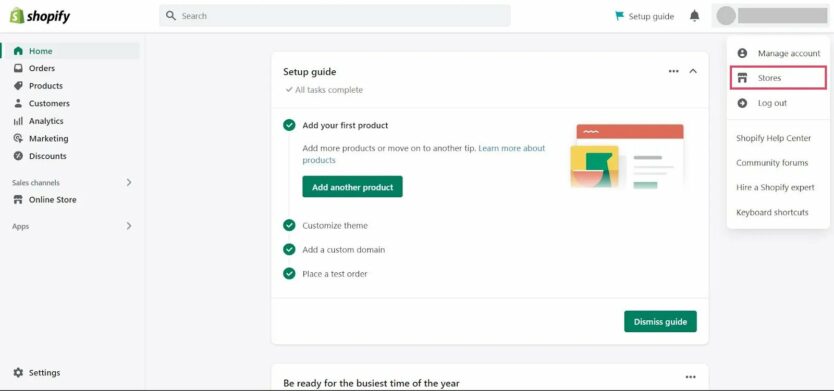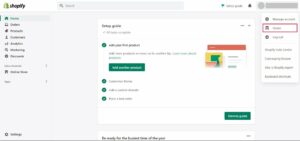 Image Source: GemPages Blog
2. Building another store
Once you click on the Store tab, click on the button "Create Another Store." 


Image Source: GemPages Blog
3. Store Name 
Then add the new store's name, and click on Create store. This will be connected with the email address used in the primary store. 


Image Source: GemPages Blog
4. Verification
Once you verify the email address, your store will be ready to use. Users can easily switch between multiple stores from the store switcher in the Shopify admin. 
5. Customization 
After the store is created, it is important to handle some tasks like:
Decide and update the theme of the store 

Integrate the right Shopify apps

Configure the settings for the Shopify store 

Add new products or copy if you are selling the same
What are the common challenges of handling multiple Shopify stores?
Managing various Shopify stores, there are some challenges that you have to handle:
Integration:

When you deal with systems like ERP (Enterprise Resource System) or POS (Point-Of-Sales) system, it becomes complicated to integrate. But with a

virtual assistant for Shopify,

this becomes a highly effective process. 
Order Processing:

When the customers place orders in different stores but from the same product collection. The process can be confusing and increases the chances of making an error. 
Inventory:

It is difficult to monitor the inventory, leading to a bad customer experience. This leads to poor stock management and dissatisfied customers affecting the Shopify store's performance. 
Customer Service:

When you have multiple stores for the business, it is important to manage customer concerns in all the stores. Building a single customer support for each store helps to provide quality services. 
Product Information:

The eCommerce stores will have a unique structure that might make it complicated to organize the information on multiple stores. Store owners usually get confused about the product titles, descriptions, photos, and more, leading to losing potential customers. 
Ineffective SEO:

To gain visibility on search engines, it is important to follow the latest trends and updates. With multiple stores, it becomes overwhelming to handle two strong domains and deal with SEO. 
Bulk Products:

The store products might be over thousands, which adds to the tasks you have to manage to run your business smoothly. Without the necessary tools, it builds stress for the owner to handle product information. 
What are the benefits of having multiple Shopify stores?
Grow Internationally 
Everything will scale eventually, be it a virtual assistant amazon FBA, Bigcommerce, Magento, or Shopify store. It is important to focus on the customer needs, lifestyles, and shopping habits of different countries to meet their expectations.  
Building a Shopify store for each country is ideal to ensure the website provides quality services. This also helps update content and generate potential leads from the local audience.
Sell Various Products 
When you have multiple product categories, there are chances that the wrong approach will lead to losing customers. Adding them to the right category will make it easier for the customers and enhance the business's sales. 
Support Multiple Languages 
When you run a business globally, it is important to support multiple languages to make it easier for the target audience. This will ease the customer journey and generate loyalty for the brand. 
Changing the Market 
Maybe you are already dealing with one model and need to explore others to generate better leads. For example, dealing with B2B (Business-To-Business) and then aiming for B2C (Business-To-Consumer). Markets today run multiple stores by assigning Shopify virtual assistant responsibilities to grow the business and broaden the scope. 
Better Shopping Experience 
Distributing the products among multiple platforms will ensure that customers have a smooth journey to find the right products. The checkout process is the common stage where ecommerce stores experience abandonment due to complicated or time-consuming processes.  
With the Shopify central catalog, the admin can categorize, update, and manage the products effortlessly. The unified feature will make it easier to manage the products through a single-cart model. 
Provides Quality Communication
With the help of Shopify virtual assistant skills managing the multi-vendor platforms becomes seamless and delivers a consistent user experience. This also ensures that all the data related to sales, customer service, and marketing is managed efficiently. 
All the communications are handled by a single admin, which means quick conflict resolution and boosts customer retention. 
Cost-Effective Solution
Customer information is highly sensitive for an ecommerce business to strategize success. This is used to customize the shipping, pricing, and other factors to provide a personalized experience. All the store's information can be used to attract customers and introduce unique features to boost sales. 
Separating Brands
With Shopify, multiple stores functionality, placing different brands and managing them under a single account is easier. This becomes an ideal solution for businesses dealing with high-volume customers and goods. Admin can maintain store-specific catalogs to make a smooth customer journey. 
How to handle multiple Shopify stores?
Some tips for managing your stores perfectly are:
1. Optimize as per the site requirements
It is effortless to define different product categories, content, and deal based on the store you are running. As each store can represent different niches and product information. Some tricks you can use are:
Set different keywords for a local site that the users will look at in the store. 

Providing relevant offers and deals for suitable products on each site 

Introduce appropriate URL structure and design for each Shopify store 

Adapt to the images, content, and products depending on the target industry 

 Build links to credible resources
2. Centralized order management 
The most important job is to complete the orders from the multiple Shopify stores, and the best solution is to have a centralized system. This will ensure that all the orders are completed across various stores and deliver quality customer service. 
3. Real-Time Inventory Management 
This ensures maintaining the right balance of products in your inventory. Many tools will update in case of low inventory and provide a smooth customer experience. Customers appreciate receiving deliveries on time, increasing the chances of returning to the store again. 
4. Product Information System 
This will help to master Shopify's product data in a structured format. This will save you from investing extra work and time to manage product information for every site. Many times data becomes inaccurate and messy, which affects the business performance. 
So, a quality PIS will place a centralized format for the product information that keeps everything clean and standardize the data for different Shopify stores. 
5. Manage the brand value 
Like some businesses that deal with luxury brands, it becomes important to appeal to the right audiences. The idea is that only actual people where the chances of gaining leads are high will have the ease of accessibility. While some audiences might look for an affordable solution, it becomes the Shopify store owner's responsibility to bring the ideal product that meets their expectations. 
Summing it up!
When you manage Shopify store, it is important to find the right solutions by investing in effective strategies. Set multiple storefronts but ensure to provide consistent customer support. 
It is important to conduct proper research, plan the budget, decide the requirements and set business targets. Also, we have given you great insights that will lead to increased revenue, streamlined operations, and profits. Just ensure that you make an informed and well-thought decision.