Accelerate Shopify Speed for Higher Conversions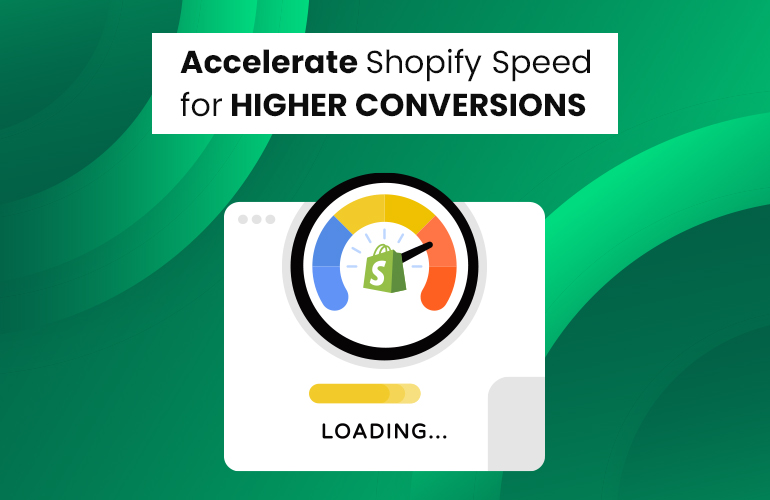 When it comes to the e-commerce industry, the one major factor that can make or break your e-commerce business i.e. Speed.
It's necessary for today's competitive world to keep your e-commerce website at high speed and give the best user experience to get customers' attention. 
With so many options, customers make their buying decisions in seconds. So you've got only a few seconds to catch customers' attention, give experience and convert visitors into customers.
Here are some recent stats about ecommerce website speed:
80% of users are more frustrated with low website speed than temporary down.
70% of users said that a slow loading website impacts their buying decision.
83% of users expect a website to load within 3 seconds or less. 

73% of users claim to turn to your peers if your website doesn't load in time. 
These recent stats clearly show the importance of speed in e-commerce websites to drive higher engagement and increase sales and conversions.
If you're running an e-commerce website on any popular platform like Shopify, you better understand your website's loading speed and what it should be.
Now the question arises, how can you accelerate your e-commerce website speed for higher conversions?
In this guide, we will explore the benefits of improving the website speed and some useful ways for shopify store management and tips to accelerate your Shopify speed for higher conversions.
Let's dive in!
Why Is Ecommerce Site Speed Important?
There's a simple formula: the faster your website the quicker buying decisions. 
Having a fast ecommerce site allows customers to quickly explore the products and make their buying decisions faster.
According to Deloitte, a 0.1-second increase in website speed can increase conversions by 8.4%.
Similarly, having an e-commerce website that loads in 1 second gets 2.5 times higher conversions.
The biggest factor in having a fast website speed is that Google only ranks websites with good website speed, to leave your customers feeling satisfied. 
If your website takes too much time to load, then Google will not give any ranking, ultimately leading to  no ranking, no traffic, no conversions, and no profitability. 
So the speed of e-commerce websites can impact many areas, whether ranking, traffic, conversions, or competition. That's why you should focus on shopify store management, optimize your e-commerce website and respond quickly to users to enhance the experience and attract customers.
What are the Reasons for Slowing Down Your Shopify Site?
Before optimizing your Shopify website, you should understand the actual reason behind slowing down your website, why it's taking too much time to load, where it lacks, and the core part that keeps overall website performance lower.
Here are some major reasons for a slow Shopify website:
1. Unoptimized Images and Videos
The first factor of having a slow Shopify website, can be  unoptimized images and videos. It means the size of these images and videos is too large that it takes time to open them, which leads to slow website speed. So you need to optimize these images and videos, compress the size without losing the quality and then update your e-commerce store.
2. Too Many Apps
It's proven that apps can enhance your Shopify website's features and make it feature-rich. However, having too many apps on your Shopify website can lower your website speed because each app brings load to your website. So try to remove unnecessary apps and keep your website space clean for faster performance.
3. Heavy Theme and Fonts
Sometimes your Shopify website theme and fonts play a big reason in slow performance. If your Shopify website has a complex theme, heavy graphics, visual effects, fonts, and videos, then it can slow the website speed. So it's better to choose a lightweight and well-optimized theme that seems attractive, has a minimalist design, has fewer graphics, and is optimized. If you're not able to find some best themes then you can hire virtual assistant usa to get the work done faster.
4. Lack of Mobile Optimization
According to statistics, 79% of traffic on Shopify comes from mobile devices. This clearly shows how the major chunk of traffic on Shopify comes from mobile devices. If your Shopify website is not mobile optimized, it will perform slower with poor user experience. So make sure to keep your Shopify website mobile optimized and keep your mobile users satisfied. 
5. Server Side Rendering Issues
Another major reason for the slow Shopify website speed is the SSR issue. In some cases, improperly implementing (Server Side Rendering) SSR leads to slow website speed. So ensure proper SSR settings with best practices to optimize websites and enhance speed. To resolve the SSR issue, it's better to connect with shopify virtual assistant to get the work done.
6 Useful Tips to Accelerate Your Shopify Site
Here are some most useful tips that can accelerate your Shopify website speed:
1. Use a Lightweight and Fast Responsive Theme
To enhance your Shopify website speed, you first need to change your Shopify theme and switch to a lightweight, simple, and fast responsive theme. It helps to give a big shift in website performance and enhance your website speed. By changing the theme of the Shopify website, you can optimize code, minimize the use of animations and graphics, lower visual effects, and show a sleek, simple, well-organized, attractive theme. 
2. Use Optimized Images and Embed Videos
Images and videos are the second most important factor for a website's low performance. So you need to optimize your Shopify website images by compressing the size of the images without losing the quality. Also, some people think that uploading a video on a website is a better option, but it's not. It lowers the website loading speed heavily. Instead, you can embed these videos as an URL in your Shopify website. 
Doing these basic changes in images and videos can do wonders for your Shopify website in terms of performance.With a virtual assistant for ecommerce, you can leverage these tasks for image and video optimization and focus on other important activities.
3. Make Your Website Mobile-friendly
As we've already discussed, around 79% of traffic comes from mobile devices only. It's a big number that can't be ignored easily. Almost all Shopify websites are now mobile-friendly because if it's not, then Google won't even rank their website. 
So it's important to make your website Mobile-friendly. The simplest way to make your website mobile-friendly is by choosing a mobile responsive theme for your Shopify website and checking how users feel after visiting it to finalize it.
4. Fix Redirect and Broken Links
Sometimes broken links can be a reason for slowing down websites regularly. So it's important to check for broken links regularly, and if found, then fix them immediately. There are various Shopify built-in third-party apps for monitoring broken links that help you to identify and eliminate redirect and broken links to enhance the overall Shopify website speed.
5. Reduce Unnecessary Apps
Shopify comes with so many built-in apps for adding various features. However, having too many apps can reduce the website's performance and shut it down. So you need to pick apps carefully and check what's the most essential app for your Shopify website. Removing unnecessary apps will optimize the website and get a faster loading speed.
6. Choose Hero Layout
Hero layout means when a new visitor comes to your Shopify website, it can't stop scrolling your whole website, from one section to another, and turn visitors into customers. Currently, if your Shopify website is not too attractive enough, then you should implement a hero layout where you need to focus on adding the following:
Sliders and Carousels

Mobile-friendly interface

Minimal design

Clear Call-to-action (CTAs)

Quick view products categories

Smooth navigation
By implementing these simple tips, you can easily do shopify store management, optimize your overall Shopify website and enhance your website loading speed. 
How Can You Find a Shopify Website Page Speed?
To track your Shopify website speed, you can use the built-in Shopify performance dashboard and check the real-time website speed. Here's the simple step-by-step process to find Shopify website speed:
Step 1. Go to your Shopify admin.
Step 2. On the left side, select Analytics.
Step 3. Open Reports.
Step 4. Go to the Behaviour tab and click on Show All.
Step 5. Open Online Store Speed.
Run your test and check the results.
FAQs
Q.1 Why Shopify website speed optimization is important?
Having a faster Shopify website allows customers to make faster buying decisions.
Q.2 How often can I test Shopify's website speed?
You can check your Shopify website speed daily and optimize your website accordingly. Also, you can try virtual assistant services to get a complete report of your website performance without spending your precious time.
Q.3 What are the benefits of Shopify speed optimization?
A fast Shopify performance can increase ranking, traffic, higher conversions, and business growth.
Q.4 What is the best speed considered for the Shopify website?
If you're using Google Lighthouse to check your website speed, it should score 90-100 as the best speed performance.
Q.5 Does Shopify website speed affect SEO performance?
Yes, speed is a major factor in Google to give a ranking. If your website speed is slow, then Google will lower its ranking.
Conclusion
Overall, speed is the biggest factor in the ecommerce industry's success. If you're running a Shopify store and want to stand out from your business, make your Shopify website have fast performance and a smooth user experience to get higher conversions. 
Following the useful tips, you can optimize your Shopify website speed and get the best results. We hope this article helps you understand the importance of speed in the Shopify website, ways to shopify store management, some major factors, and how to enhance the speed.