Top 11 SEO Tips for Optimize Your BigCommerce Store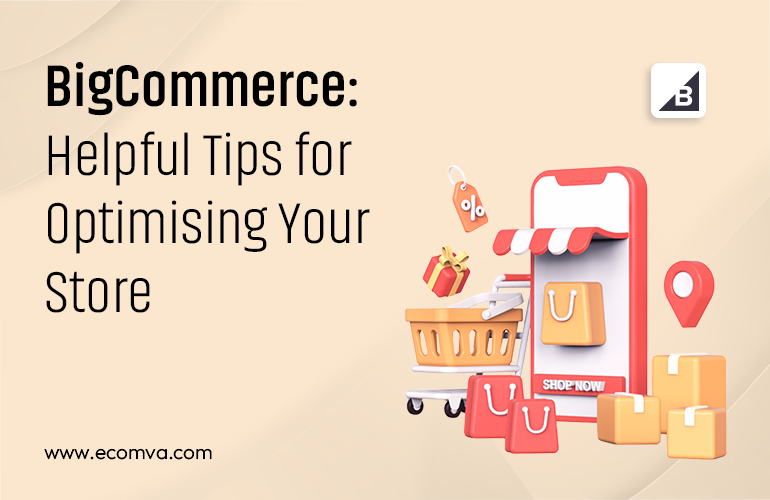 Bigcommerce is now getting attention from various merchants and retailers to set up their online store. 
It is popularly known for their multi-channel selling functionality and allows you to sell your products to your own store as well as other marketplace such as Amazon, eBay and Facebook.
So if you're having a fully-functional online bigcommerce store then you're all ready to get in front of potential audiences and drive more sales.  
Now the other most essential thing your business needs to drive more sales is Traffic.
The more visitors you're having on your website, the more chances of getting conversions.
However, it is not easy to get a top position in today's cut-throat competition. You need to implement some unique strategies, tips and consider bigcommerce product store management services to optimize your website. 
In today's article, we have given eleven SEO tips that you can implement to optimize your website for high ranking on search engines. 
Why is Bigcommerce the Best Choice for SEO Optimization?
Here are some major features that make bigcommerce a perfect choice for SEO optimization:
1. Optimized URLs
When you're using bigcommerce for your online store then each URL is well-optimized for products, categories and other important pages. Also each URL is well-optimized and unique, so there's no duplication in your bigcommerce store.
2. Content Delivery Network (CDN)
CDN helps you to improve your store ranking and drive quality traffic on your online store by enhancing the overall loading speed.
3. Automatic 301 Redirects and URL Rewrite
Bigcommerce offers an automatic 301 redirect option. So you don't need to do manual updates for each link. It automatically adjusts the URL and sets it to 301 wherever required.
4. Advanced Reporting and Analytical Tools
Bigcommerce offers built-in analytical tools that help you to analyze visitors data and order details to make data-driven decisions in marketing.
5
.
Microdata
Bigcommerce has built-in Microdata or Rich snippets that helps you to enhance your search listings that includes brand, ratings, stock levels and pricing.
Top 11 SEO Tips for Optimize Your BigCommerce Store
1. Use Buyer-Intent Keywords Research
When it comes to SEO optimization, the foundation is keywords on which your site ranks on search engines. So it's very essential to do in-depth keywords research with high traffic, easy to rank and finding similar products that match your store. 
You should do or consider bigcommerce product store management services for buyer-intent keywords research where you add keywords with high traffic keywords and mostly audiences are ready to buy. By ranking on such keywords can help you drive qualitative traffic and conversions on your store.
There are so many keywords research tools available like Ahrefs, Semrush, Google Keywords Planner and KWFinder that help you to find some best buyer-intent keywords whether it's short and long tail keywords where the chance of your ranking is higher. 
2. Use Clean, Short and SEO-friendly URLs
In order to optimize your online store, having optimized URLs is essential. You need to keep your web page URLs clean, short and SEO-friendly for better ranking on search engines. Try to avoid extra long descriptions, code or numbers in the URLs, just keep it short, concise and optimized with the right keyword with the help of bigcommerce product store management services. 
For example – 
https://yourstore.com/notebook345667dx6 (Avoid)
https://yourstore.com/notebook (Approved)
Here's how you can change your old web pages and product pages URLs for Ecommerce Product Store Management.
Web Page URL:
Go to your website admin panel and navigate to Storefront >> Web pages.

Enter the short, clean and optimized URL in the box.
Product Page URL:
Go to your admin panel and click on Products >> View.

Go to the "SEO" section and edit the product URL and keep it right.
3. Refine Your Page Titles 
Your website page Title is playing an essential role in SEO because it first appears on search engines and social media. Here are some best practices you should follow to optimize your page titles:
Keep your Title under 60 characters or less.

Use the primary keyword in the title.

Don't forget to include your brand name in the title.

Write Unique titles for each web page.

Add some incentives to encourage readers to click on the title
By following these best practices, you can keep your Title well-optimized for SEO. It's a first impression for new customers to interact with you, so make sure to put your best to take their attention. It's better to let the experts do this for you with bigcommerce product store management services.
4. Use SSL Certificate
SSL (Secure Sockets Layers) Certificate is the most essential and must-have element in a website. It helps to keep your site safe, secured and encrypted to avoid any malware attacks. If a website is not having a SSL certificate then it badly affects your website in terms of SEO, ranking and security. Luckily, Bigcommerce has an SSL Certificate for all their website owners to keep their website protected and encrypted.
5. Mobile Responsive
According to statistics, 65% of traffic in e-commerce is coming from mobile. It clearly shows how a big large number of people preferred to shop through their mobile. So e-commerce websites must be mobile responsive otherwise they'll lose a large amount of traffic. Also having a mobile responsive site is crucial for SEO optimization else the chances of getting ranking on search engines organically is almost null. Bigcommerce has pre-built themes which are mobile responsive, so if you've used bigcommerce pre-built themes for your store then surely you're having a mobile responsive site. 
6. Improve Overall Website Speed
Your website speed will determine the SEO performance and results your site is generating. In today's fast-paced world, where a few seconds of delay can cause a large number of customers, it's important to keep your store speed fast. Google itself said that speed is the major factor for ranking in search engines. Bigcommerce comes with CDN (Content Delivery Network) that helps in improving your website's speed and enhancing performance. There are some essential things you can do to improve your website speed such as minimizing the file image size, and avoiding the large number of web fonts and other external materials. It helps you to avoid extra size and keep your store lightweight for fast performance.
7. Keep Your Products and Categories Pages Well-optimized
If your products and categories pages are not optimized then no matter whether you have the most on-demand products or are getting a high amount of traffic it may not get you the desired results. So make sure to keep your products and categories pages well-optimized, proper interlinking and easy navigation for customers. Instead of putting in so much time and effort, you can use bigcommerce product store management services and let experts do this for you.
8. Use Structured Data for Rich Snippets
If you want to take your content as a rich snippet on the results page then make sure that the blogs you're publishing on your store are well-structured and enable rich snippets. It helps Google to scroll your content and get a ranking on search engines. By implementing structured data markup, you can easily highlight the important details of your business to get showcased in the rich snippets effectively.
9. Optimize Meta Descriptions
Meta description plays an essential role in SEO. It is placed beneath your page title in the search results. Try to keep your meta description well-optimized with keywords and compelling content that gives readers an inside idea of the content. 
10. Build Backlinks to Your Content
Having high-quality backlinks from other websites will enhance your domain authority and give a boost in ranking. So start building as many quality backlinks as possible and if you're not sure of the current status of your backlinks then there are tools available to check the backlink status such as Ahrefs site explorer or Semrush backlink analytics. You can check the backlinks and accordingly start adding more backlinks to improve your SERP ranking. For building high-quality backlinks you can check bigcommerce product store management services and let the professionals do the backlinking for your online store.
11. Add Alt Images to Your Product Photos
Alt tags are an essential part of the images which helps search engines to recognize the image with data. So if your bigcommerce store has any product images then make sure each image has its alt tag (which is a keyword) that you need to attach with the image to be recognized via search engine immediately and increase chances of getting ranking on the keywords. It's important to understand that search engines can only understand the text based content not images, so it's your duty to add an Alt tax of the image you added in your store to be easier recognized by search engines.
By following these 11 useful SEO tips, you can optimize your bigcommerce store and drive better ranking and traffic on your store.
FAQs
Q.1 Is Bigcommerce Good for SEO?
Bigcommerce is surely a good ecommerce assistant platform for SEO optimization. It offers various built-in SEO features that help online stores to be well-optimized for SERP Ranking.
Q.2 Which is the best tip for optimizing your online store for SEO?
One of the best tips to manage Shopify store and optimize your online store for SEO is to keep the store's URLs simple, short and well-optimized. It helps search engines to easily crawl your online store for SEO.
Q.3 What are backlinks in SEO?
When one website links with another website through an anchor text then it's called backlink. These backlinks are considered as an SEO factor, when a website has so many backlinks from authorized websites then it indicates a quality website and increases ranking on search engines.
Wrapping Up!
SEO is a major source to drive quality traffic to your online store. So make sure you're implementing all the necessary methods that can help you rank on search results and drive traffic. By following the given 11 tips, you can surely achieve the desired goals and build a strong authorized online store. Now it's your turn to consider bigcommerce product store management services and optimize your online store for SEO.