Kickstart Your Business with Walmart Automation Service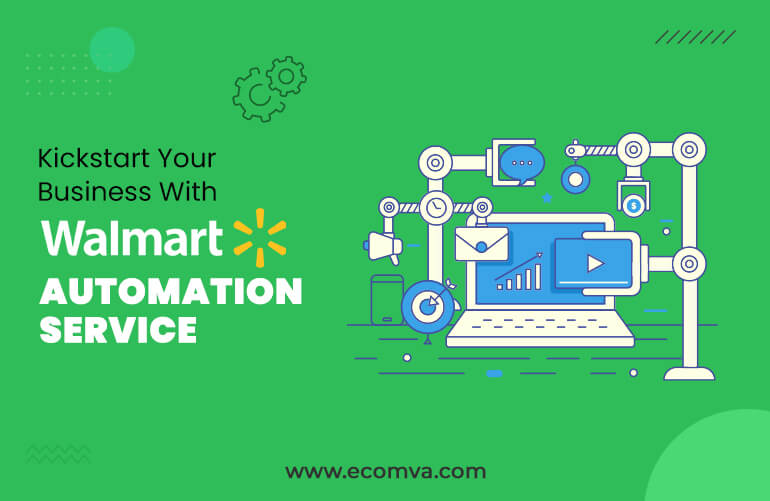 Walmart is a big American retail corporation running a chain of hypermarkets. Almost everyone knows about Walmart, but the question here is, does one know about Walmart Automation? Walmart automation is all about selling on Walmart and earning a good amount of money without putting in much effort, with the help of Walmart automation service.
We have seen a boom in the eCommerce industry over the past few years. Platforms like Amazon, eBay, Shopify, and Walmart enjoy great success. 
If we talk about Walmart, then Walmart joined the virtual space in 2009. It allows sellers to set up their virtual store on the platform and sell products to the people. It is a beneficial deal for the sellers because they can enjoy Walmart's huge customer base and reputation. 
The sellers on Walmart can easily manage their business with the help of Walmart automation business. 
What is Walmart's automation business?
Walmart's automation business is all about running the business on Walmart smoothly without much effort by recruiting professionals or hiring their services. In other words, automation implies you can make money even if you are not actively working on your business. 
What better than earning money from the business without investing much effort and time. So, this is why Walmart's automation is very impressive for sellers. 
Why Walmart over Amazon?
There may come a question in your mind why choose Walmart over Amazon. So, here, we are answering that question. 
Following are the reasons to choose Walmart over Amazon:
Less saturated market: 

Walmart's product and vendor saturation levels are not as high as Amazon's, with over 100 million listings. There is less competition; therefore, more possibilities are available.

 
Better profit margins: 

Walmart offers much better margins than Amazon. Amazon offers margins up to 12% only, whereas; Walmart gives up to 30% margin. 
Less risk: 

Amazon has no rigorous seller criteria; thus, anyone with money may open an Amazon store, which often results in account suspension. At the same time, Walmart makes sure that the seller is reliable and carries a good reputation along with him/her. 
Benefits of Automating the Walmart business
Smooth management of the business.
Managing a business is not an easy task; it requires time and effort. You may also find many tasks where it becomes very difficult for you to manage them. Here, the Walmart automation services can be of great help to you. By hiring them, you can expect smooth management of the business. 
With automation, you will be able to achieve a high level of lifestyle independence, allowing you to generate money while sleeping or traveling across the world. So, when you automate the business, You can reach more people by selling on Walmart & earn a good side income. 
The whole concept of passive income is that – you don't need to put effort into earning money, and the same goes with Walmart automation. The entire business will manage by the professionals, and they will only take a small fee of theirs, and the rest of the profit will be yours without investing much time and effort. 
Your business is in reliable hands

.
The automation service providers have a team of trained professionals who holds good expertise in managing the business. They also know how to scale the company within a quick time. It is one major benefit of automating the Walmart business. 
Gives you the freedom to enjoy your leisure time.
With the automation solution, you can spend more time with your friends and family since you won't worry about any business tasks. The professionals will manage all the functions like order processing, inventory management, customer support, etc. 
Focus on the important tasks of the business.
The automation service providers will manage the majority of the tasks of the business. Therefore, you can save time. Now, you can use that time where your presence and attention are important. You can use it to prepare plans for the business, raise funds, and attend important business meetings.   
Things to look at before choosing a Walmart automation company
The first & foremost thing to look for in a Walmart automation company is – Transparency. The company must have transparency in its fees, services, conditions, etc. 
Today, you will get many service providers, and they may promise you much high than what they deliver, which is not at all good. Also, you may come through providers who quote you less but add hidden charges at the end. So, transparency is a must to avoid any future issues. 
Provides you realistic timeline.
Never trust a service provider that promises you instant success since the automation industry is an investment, not a trade, and trades are always risky. 
If a provider gives you an unrealistic timeline, then there are high chances that he will be providing poor quality services to you, which will not be good for your business. So, try to select the company that provides you with realistic timelines and goals because they will be genuine and help you grow your business. 
Try to select a company with a good existing client base because this shows the company has a good name in the industry and provides high-quality services. A company with a high client base can be reliable, and thus you can choose them for your automating your Walmart business.  
Check the reviews of previous clients

.
You must also check the reviews of the company you are considering hiring to automate your business. You can check the clients' reviews on their website, Google, and other review websites. 
By checking the company's reviews, you can know the company's working style, professionalism, and adherence to its commitments. So, do check the reviews of the company before hiring a virtual assistant agency. 
Have a team of professionals.
To make sure your investment gets you a good return, you need to make sure that it is in the right hands. You'll need a services management team made up of industry experts that are knowledgeable about dropshipping and the Walmart platform to build up an automated Walmart shop.
Check whether the company has a team of qualified and trained experts or not. A company with a good number of skilled professionals can handle your business effectively. They can scale your business and get success. 
Conclusion
In conclusion, we would say that Walmart is the best platform for setting up your business. And, with the automation business, you can run the business without putting much effort and time. You can also hire Walmart marketplace management services for managing your entire Walmart business.