How Outsourcing To VA Maintains The Security Of The Amazon FBA?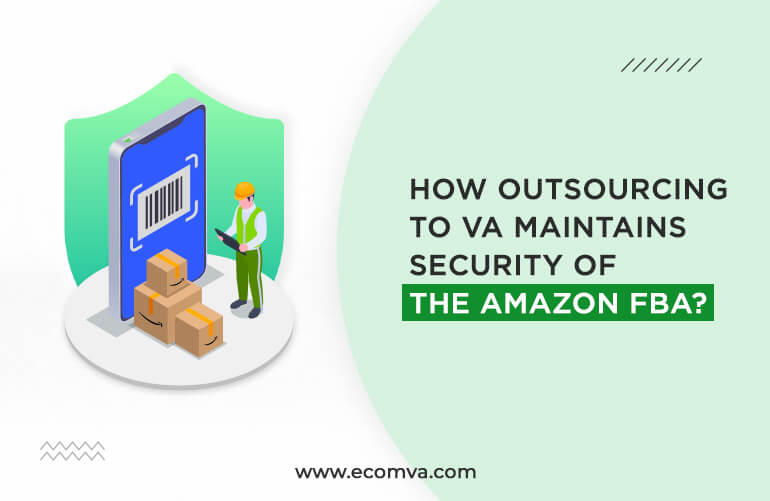 What is your journey in the eCommerce world? Challenges, struggles, or tedious? We understand all this, as you need to manage various tasks, and a single mistake can lead to bigger losses. While everyone is looking for an effective solution, you must find the best one for your business. 
Have you considered to hire Amazon virtual assistant for your tasks? Relying on others for your business requires efficiency and knowledge to ensure you have made the right decision. 
Virtual Assistants are making life easier in many industries with their skills and efficiency. But are they suitable for your requirements? 
We understand running an Amazon FBA business requires great knowledge, expertise, and resources. At the same time, some tedious and repetitive tasks can be frustrating and take away the focus from the core elements of the business. 
This content piece will disclose the best insights into getting an Amazon FBA virtual assistant.
What is an Amazon Virtual Assistant?
It is a remote worker that will help to manage the Amazon inventory and a wide range of tasks. Business owners can hire them for different purposes depending on their experience and skills. Outsourcing some functions will help save money and time and promote business growth. 
Getting assistance to manage the Amazon store will help boost productivity and avoid extra operational costs. They have in-depth knowledge, expertise, and skills to handle complicated activities. This will help to invest more time in the core tasks of the business. 
What top tasks you must outsource to Amazon FBA virtual assistant to secure your business?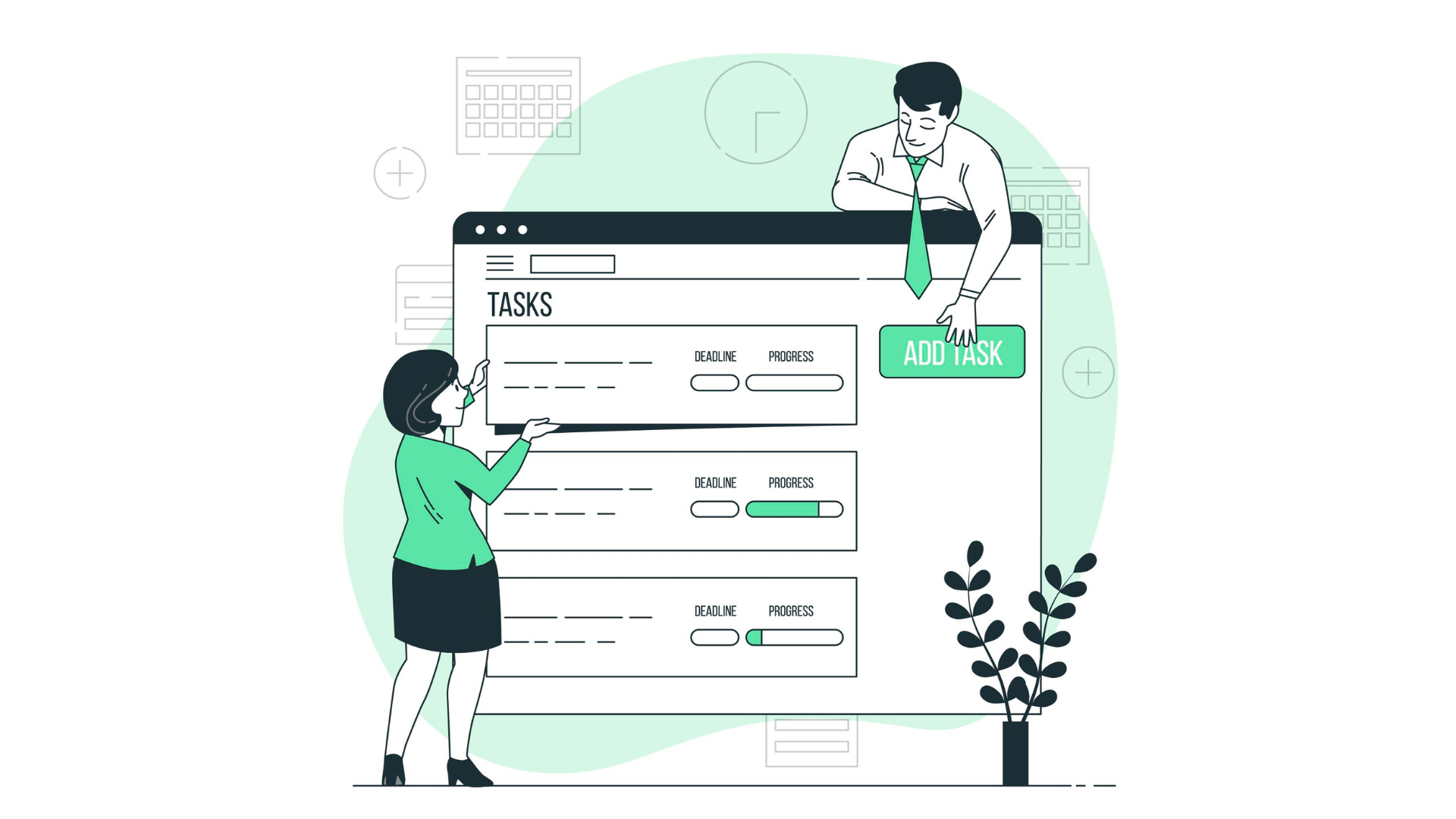 1]. Manage Inventory 
Amazon FBA has a wide range of processes that can be used for your business. With increasing demands in the market, it is important to ensure that everything is intact. Here, a skilled virtual assistant will help you maintain the proper balance and security of the business. 
It is crucial to track inventory levels for warehouses, deliveries, sales, and orders on your ecommerce store. This ensures that your inventory is secure and does not face any vulnerability. 
2]. Order Fulfilment 
It includes receiving, shipping, and processing the orders successfully. This time-consuming process goes through multiple steps to ensure successful order fulfillment. It is important to understand the difference between the various choices provided by Amazon:
Third-Party Fulfilment:

The purchase and stock of the inventory while you sell the products yourself. The task is to pick up the item and ship it to the customers.

Fulfilment By Amazon:

Amazon takes responsibility for everything related to your order. That includes picking the goods, packaging, shipping, and sending updates.

Self-Fulfilment:

You are responsible for selling, storing, and shipping the items yourselves. Also, it would be best if you handled the exchanges and returns.

Drop-Shipping:

The business owner will choose the manufacturers to manage the inventory, shipping, delivery, and labeling. 
A skilled VA will ensure that the whole process is managed securely. Your customers share sensitive information while placing orders, which should be secured. A Virtual Assistant follows the right measures to ensure their data is authorized and safe. 
3]. Safe Exchange and Return 
Sometimes, customers require exchanging or returning the products for a different reason. An Amazon virtual assistant will be able to deal with unsatisfied customers and provide them seamless journey. While dealing with customers, it is important to understand their journey in the store and provide them with effective solutions.
An FBA virtual assistant will gather all the information about the customers from credible resources. They will ensure that authenticated users get the right solution without hindering their experience on your platform.
4]. Central Management 
Getting a virtual assistant agency will keep your FBA account under the rules and standards laid out by Amazon. The platform has a one-ban policy that strictly enforces all the right rules. The VA ensures the security of your business by managing accurate inventory and shipments. 
The security steps you must include are:
Text Message:

Amazon will share a secure code to the verified phone number

Authentication App:

The smartphone with which you log in to the account will generate the code to sign in.

Voice Call:

Amazon will call and share an automated code that will help to log in to your account safely.
An experienced Virtual Assistant will ensure that you securely handle order fulfillment, timely refunds and returns, personal customer experience, and correct product listing. It is also their responsibility to ensure that every piece of information is monitored and recorded properly. 
5]. Authenticate information 
It is crucial that the information linked to the Amazon account is updated. A skilled VA will ensure that users add the right email and phone number. This will ensure that if anyone tries to access or change the settings, they will fail. 
The virtual assistant will ensure all your information is accurate and have a security layer to avoid any vulnerabilities. 
6]. Website Maintenance and Support 
Using multiple platforms for the business, you will require to stay updated with the trends and demands of customers. As many online threats can harm your business reputation. Most of the plugins and platforms require regular updates to maintain security. The qualified virtual assistant team is ideal for monitoring the site to run it smoothly. They will take backups, so all your valuables are secured. 
7]. Secure customer support
An Amazon FBA seller will let you handle customer support and returns. But it will provide better results by providing the right assistance. They will understand the issue easily as they are familiar with the customer's journey in the store. As they maintain a proper record of each data to ensure a smooth process. This gives you a secure medium to connect with the customers with the right information. 
8]. Safe payment Solutions 
The virtual assistant's standard earning differs in industry, location, and time invested. They will ensure that your platform has the right payment solutions which are highly secure and faster. This helps gain customers' trust and provides them with easy accessibility. 
Having the right knowledge of the market, they will access the security of the payment gateways added to your store. They will be responsible for ensuring customers get an effective solution to complete online payments. 
What are the benefits of Amazon FBA Virtual Assistant?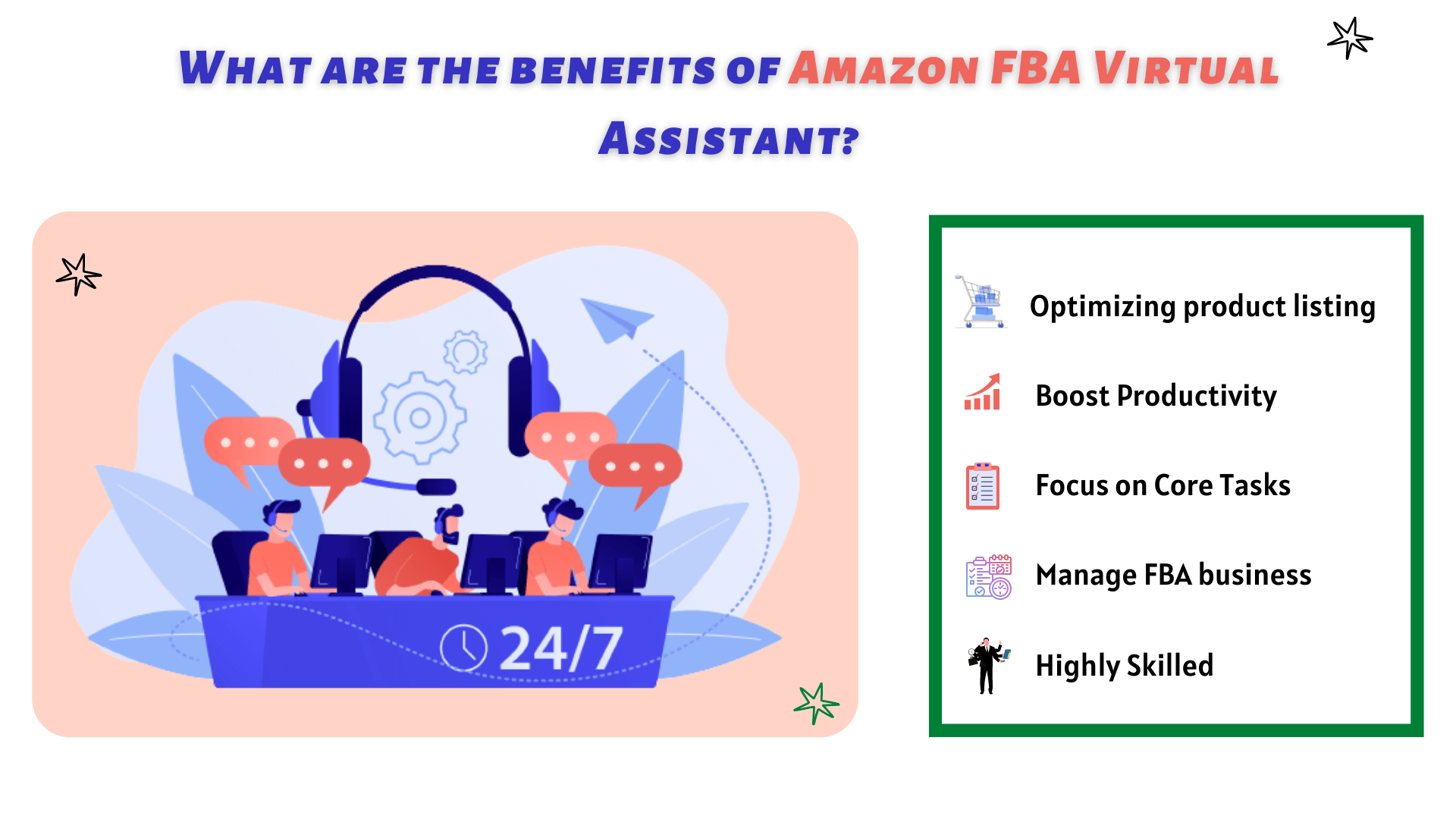 Optimizing product listing 
We understand this is a time-consuming task, and you might not want to invest in it. Being a critical task requires a strong presence, strategies, and security. This tool boosts sales as it gives the customers a real idea of the product. 
The best part of getting an Amazon FBA VA expert is that they will monitor the product listing and ensure every detail is accurate. They will be responsible for handling product titles, descriptions, and images. 
Many people face great challenges in running a successful FBA business. Getting a Virtual Assistant is a feasible solution to overcome these hurdles. They will handle collecting, packaging, and shipping processes for your business.  
Correcting the quantity, packaging, contents, and labelling of all the products you are dealing with would be easier. 
Normally, people hire virtual assistants for Amazon sellers to save time to invest in the core tasks. They assign their repetitive tasks and time consumption. These can include replying to emails, managing business, updating inventory, and data entry. This gives you time to spend on essential things and grow your business. 
A regular employee will spend a few hours in the day being productive. Virtual assistants are trained to handle tasks and complete them in shorter intervals. They are highly motivated and flexible in meeting customer satisfaction goals. 
Getting to work with someone who works around the clock and is capable of handling multiple responsibilities will boost your growth. When running an online business, you must ensure that everything is running smoothly and that issues are resolved instantly.
The End Note!
One can weave the business's success when they hire an Amazon virtual assistant with the right skills and standards. This will also help to manage and focus on the core tasks of the business. 
In this competitive industry, it is challenging to rely on someone to handle the tasks of the business. But also it is evitable to get an expert to manage repetitive and time-consuming tasks accurately.  You can always reach us if you have doubts and want skilled solutions for business growth. The main key is maintaining clarity of communication and transparency while managing the tasks.